Apple Watch confirmed to include 8GB of internal storage, but only 2GB will be available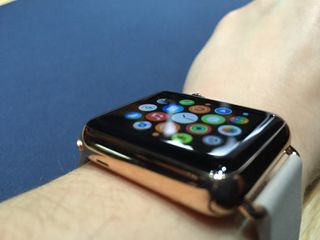 The 2GB limitation (2GB for music and just 75MB for photos) is actually generous for a smartwatch. Most consumers store countless GBs worth of music on their iPhones and the new smart wearable is a perfect companion device to control said collections. This would help negate the need to waste iPhone battery through wakening the screen and unlocking the display to access playback controls.
All three smartwatches from Apple, the Sport, Watch and Edition, will feature the same capacity. This extra storage enables iPhone owners to store some media on the Apple Watch so they aren't required to be lumbered with a larger device, ideal for when out for a jog and such.
The remaining storage will be saved for the operating system and any apps you download and install. We'll be able to find out more about storage on the Apple Watch when the smartwatches are released in April.
Source: 9to5Mac
Get the best of iMore in your inbox, every day!
I can't wait not to buy the apple watch

And you're compelled by what exactly to share your utter indifference??

Compelled by the sheer over- hype and pricing of it all, is my guess.

I am so relieved that jrlbruins is not going to buy the apple watch. Was very concerned there for awhile.

Hmm, maybe we could use more if the watch didn't come with bloat? "I'm da Blur boys!" - Me with 1200 ping. Fiber in Nashville? Save me based Google.

I'm consistently surprised about how many songs I can fit on my 2GB iPod Shuffle that is used solely for running and cycling. Granted, I'm not transferring lossless files or anything to it. I think the major use case for music on the watch will be fitness anyways, so 2GB should be sufficient

Now that I am all-in on Beats streaming, I wonder how Beats integration with iPhone will play into the Apple Watch. I am assuming that once the iTunes integration is released any songs downloaded to play off-line from a streaming selection, will also be able to be stored on the watch.

I can't believe that the author somehow tried to spin this as a good thing.

Really? Do you not visit here often?

imagine buying one of the high end watches ( $5000.00 ) and find out the device is running slow as hell due to a $20.00 storage chip. You never have too much storage. Im one of those guys who has the 128gb IPad mini and 128gb IPhone 6. What about adding future apps? Why the hell would they risk building such an expensive watch without building it with plenty of storage for future apps? Spending a few thousand bucks on a device and not being future proof would really suck. Say it ain't so Rene.

I'll pass...waiting for version 2.0 which will be WAY better and cheaper.

As interesting as it is, the Apple Watch just isn't a device that I have to have at this time. I am looking forward to it's evolution and maybe I'll wear a watch again in a few years. Especially once the trims down it's muffin top.
;P

The one thing that I have not seen an answer for yet is how big are the Apple Watch applications. If they are very tiny in size than this may work otherwise it's the 4GB iPhone all over again. Honestly I am interested in purchasing a new Apple Watch but to be on the side of caution I think I will wait until more is known about it. Like with most new items I suspect some things will have to be fixed in the beginning. Sent from the iMore App

That is BULL. The price needs to be half of what they are charging for that amount of available storage.