Apple Watch wins iF Design Gold award ahead of April launch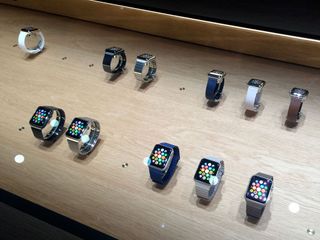 In a statement explaining its choice to award the Apple Watch with the Gold design award, the iF jury said the following:
Overall, out of a total number 1,624 recognized products over 52 categories, only 75 received the Gold designation.
The Apple Watch isn't set to ship until April, but the wearable has already started popping up in magazine spreads from the likes of Vogue, Self Magazine, and Hong Kong-based publication East Touch. Apple is set to hold a "Spring Forward" event on March 9, where it's expected we'll get many more details concerning the Apple Watch's release date and pricing.
Source: iF Design Awards; Via: 9to5Mac
That's because they haven't seen the Moto 360 or the LG urbane... Posted from the Nexus 5, Sony Xperia Z3, or the Surface Pro 3

If you take a good close look at the Moto 360, you'll see that it's really about a 270 or 280. The bottom of the 'circle' is cut off. Because, you know, bad design. Oh yeah. Speaking of bad design:
"Posted from the Nexus 5, Sony Xperia Z3, or the Surface Pro 3"

I never brought up the dimensions of the screen of the 360. I merely called it by its proper name. The circle watch design looks much better than a square. And I must ask you to clarify your last sentence. If you are insinuating that my devices are poorly designed, then you need to stop smoking crack. Those devices are very well designed. Posted from the Nexus 5, Sony Xperia Z3, or the Surface Pro 3

To be fair, they at least recognized the Moto 360 for its packaging. Cba to find the link again, but it's there if you dig around a bit.

The Moto 360 is a piece of junk, there isn't a thought behind it, it's just a round piece of crap, you have no idea what design is!

I have no idea what design is? No... I think your another iFanboy that has the mentality "if it ain't Apple then it's trash." I know if Apple made the same exact design watch as the 360, you would have the same dumb opinion regardless of the design of the watch. And, I never bashed Apple's watch design. Posted from the Nexus 5, Sony Xperia Z3, or the Surface Pro 3

All your devices are android soo... Who is the fanatic here haha. And also it seems that Moto 360'didntn win any design award, we can say apple watch has a better design . Sent from the iMore App

Just as we can say that if more devices come with Android than iOS, Android is better? :)

Dont bother. Look at his posts history, you'll gauge how many brain cells he's playing with. But as I already mentioned, as a (small) Apple shareholder I salute people like him. My portfolio needs him.

...yeah it looks like a "Watch."

What makes you think they haven't seen those devices. ? Sent from the iMore App

I guess everyone at iF got their watches early? Yawn..... all these first gen wearables suck. I have yet to see anything worthwhile or even interest peaking. I guess I will take a Pebble Time for a couple of years.

The Pebble Time is a nice looking watch. But those 4 buttons. Seriously?

Another 'award' from a group of highly biased judges. Not the best design, but it's from Apple so vote it up regardless of any objective judgement!

A 62 year-old design services company is biased? I guess they've just been lucky to be in business for that long.

iMore has a bunch of trolls that think their Android piece of crap is better than everything else!

+1 Sent from the iMore App

Frankly it is sad.
Be they Windoz, or Androts, they never seem happy with the money they spent on the products that they have.
They complain about other companies and products that they don't even know and preach gospel. I love the, "I have a friend that has "Apple this" and how they hate it, yet all they are doing is projecting their dis-satisfaction with their crappy phone, watch, pad or computer. Very angry bitter people.

IF Gold Awards are known as 'Design Oscars'.

Oh please. There's nothing about this watch's design that screams "fashion statement". The Moto 360 is a better looking watch. The Apple watch looks a lot like the Pebble Time. Does that mean the Pebble Time is a fashion watch?

Nothing personal but you're just spouting hot air here. You don't know the criteria they used or anything about design, you just personally like the look of the Moto 360 better and are angry that famous designers don't agree with you. As a former designer myself, things like the poor fit and finish of the Moto 360, (and especially the "flat tire" of the screen) are major reasons why the Moto would never get this award. These things may not bother you, but they are Kryptonite to designers and artists, so Google didn't really have a chance. It can't be stressed enough how awful that flat tire screen is. Whomever was responsible for that decision should just be summarily fired but I have the feeling it was probably Brin so ...

"Former" designer. The Apple watch isn't pretty or ugly. It's plain. It's certainly not worthy of winning any awards and it's actually pretty hilarious how similar the Pebble Time looks, yet that watch is getting compared to toys. But, yes, I'm literally the only one in the world who thinks the 360 looks better. And I lose sleep at night over the fact that "famous designers" (and "former" designers) don't agree with me. You've totally got me there.
Get the best of iMore in in your inbox, every day!
Thank you for signing up to iMore. You will receive a verification email shortly.
There was a problem. Please refresh the page and try again.