Best Leather Bands for Garmin Vivosmart HR 2022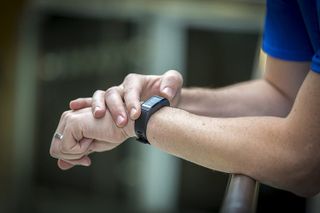 (Image credit: Garmin)
We're fans of the original Garmin Vivosmart, which is why we were thrilled when Garmin Vivosmart HR came out. Garmin Vivosmart HR features heart rate monitoring so you can keep tabs on your heart rate as you move and track your calorie burn more effectively. The Vivosmart HR comes outfitted with a silicone band, but if you're looking to add a touch of elegance and style, these are the best leather bands for your Garmin Vivosmart HR.
Elegant and stylish
We love that the Garmin Vivosmart HR features 24/7 heart rate monitoring on top of all-day activity tracking. These are our favorite leather bands, but if you're in the market for a new silicone band, check out our picks for best silicone bands for Garmin Vivosmart HR.
We love the DuiGong Leather and Silicone Band because it's elegant and sweatproof. It features dual layers; leather on top, silicone on bottom, and will stand up to the toughest sweat sessions. If you're looking for something a bit more unique, check out the Junboer Leather Flower Band for a floral accent piece. Or maybe you want something classic? The Meiruo Leather Band is the way to go. Whatever you're searching for, these are the best leather bands for Garmin Vivosmart HR.
Nicolette is a freelance writer for iMore. With over a decade of high-level experience as a health and fitness professional, Nicolette has become an expert in the industry. As a writer, quadruple-certified master fitness instructor, DJ/MC, and mom; she's had the pleasure of working with some of the top websites, studios, and brands in the world throughout her career. A dedicated creative, Nicolette enjoys writing about all things: health, fitness, audio, and home. If she's not working, you can find her sipping a glass of wine, enjoying a concert, or hanging with her family.
Get the best of iMore in in your inbox, every day!
Thank you for signing up to iMore. You will receive a verification email shortly.
There was a problem. Please refresh the page and try again.