Facebook Messenger, GoPro and more Apple Watch apps announced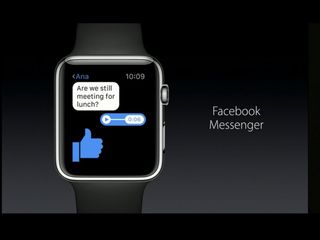 During Apple's press event in San Francisco, the company announced a number of upcoming apps for the Apple Watch. The company also confirmed that there are currently 10,000 apps for the smartwatch to download and that customer satisfaction for the Apple Watch is at 97%.
One of the native apps that will be coming to the Apple Watch will be Facebook Messenger, which will allow owners to see texts and hear audio from other Messengers users. iTranslate will also be coming to the Apple Watch, as will GoPro and an app called AirStrip. It's been designed for doctors to receive notifications alerts, heart beat waveforms, vital signs, and more. It's been developed so that it is securely authenticated until the Apple Watch is taken off the wrist.
Stay tuned as we continue to cover Apple's latest press event and its announcements.
I have been writing professionally about technology and gaming news for 14 years.
Get the best of iMore in in your inbox, every day!
Thank you for signing up to iMore. You will receive a verification email shortly.
There was a problem. Please refresh the page and try again.