JJ Abrams wore an Apple Watch to the Star Wars Celebration kickoff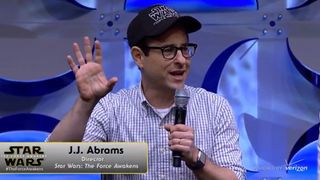 Yes, iMore — we're using JJ Abrams's choice of Apple fashion accessory to shamelessly embed the latest trailer for Star Wars Episode VII. We're not sorry.
Abrams, director of Star Wars: The Force Awakens, rocked a 38mm Apple Watch with Midnight Blue Modern Buckle Sport Band (looks like a custom job from Apple) during the opening keynote of Star Wars Celebration, which was streamed live courtesy of Verizon. (The rest of the Star Wars Celebration panels will also be streamed live, if you, like me, relish in all things Star Wars.)
It's not particularly surprising to see Abrams sporting an Apple Watch — the director has long had ties with Apple, and Lucasfilm's Disney partnership (and Disney's close relationship with Apple) certainly didn't hurt.
What I really want to know is: Does his Apple Watch have a custom app for controlling BB-8?
For the record, R2 Builders Club: I may not have $17,000 for an Apple Watch Edition, but I would pay a ridiculous sum of money for a working BB-8 model.
Source: Star Wars
Serenity was formerly the Managing Editor at iMore, and now works for Apple. She's been talking, writing about, and tinkering with Apple products since she was old enough to double-click. In her spare time, she sketches, sings, and in her secret superhero life, plays roller derby. Follow her on Twitter @settern.
Oh wow. I was just telling someone the other day that this dude didn't wear watches. Guess I was wrong. Thanks for the update. Any chance that someone caught what he had for lunch? I also said he didn't partake in loose meat sandwiches. It would suck to be wrong twice. Sent from the iMore App

I find it interesting he chose the 38mm model.

True. I've heard it's tiny and woman size. I'd still sleep with condalezza rice for the space black one.

Do you ever say anything that isn't some kind of mean bigoted remark? And he's wearing the 42mm one anyway.

Not sure you know the definition of bigot. I'm all for choices and a persons right to make their own. Sent from the iMore App

Wow way to try and avoid it. Sent from the iMore App

Are women no longer smaller than men? You're an idiot. Sent from the iMore App

I initially thought about getting the 42 and after trying on the 38, I realized it's better for my wrist size.

Chewy, we're home.............Aaaaaaaeuuuuurgh!!! Sent from the iMore App

I'm blown away by the BB8 and can't wait to learn more about how they made it.

I am pretty sure that BB8 is CGI.

It's an actual prop; it's not CGI. When you think about it, all it is is a Sphero with a head that balances on top, probably via magnets. Sent from the iMore App

It's actually a physical prop, they confirmed that when the first trailer came out. Posted via the iMore App for Android

He probably just wore whatever watch Apple gave him as a gift. It's great marketing on Apple's part. Sent from the iMore App

Chewy, were chrome. Sent from the iMore App

Wow R2 and the BB-8 on stage is truly awesome. Having been following any news surrounding this movie. I just got interested. So Abrams didn't want to splurge on an Edition? Sent from the iMore App

#ChewyWereHome #tears
#cantwait
Get the best of iMore in in your inbox, every day!
Thank you for signing up to iMore. You will receive a verification email shortly.
There was a problem. Please refresh the page and try again.