It's usually a pretty pricey endevour to restyle your Apple Watch with official Apple Watch bands, but thanks to a limited-time discount at Amazon, you can save over 50% on select styles of the official 44mm Apple Watch Sport Loop Band while supplies last. You can also find the official 40mm Apple Watch Milanese Loop Band on sale at $85.
Apple's Sport Loop Band for the Apple Watch is on sale as low as $22.52 in Hibiscus, while the Indigo version is just a dollar higher at $23.52. Both options offer a stellar discount of over 50% off the regular cost of $49, and it's also the lowest either of them have ever reached on Amazon. Only 44mm models of this band are currently discounted, though they're compatible with all series of Apple Watch which are 44mm or 42mm.
Tick Tock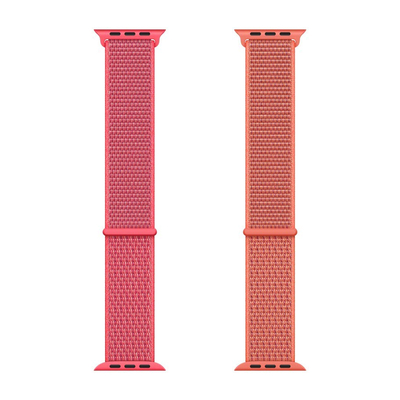 Official Apple Watch Sport Loop Bands
Select styles of the official 44mm Apple Watch Sport Loop band are now at some of their lowest prices in history via Amazon, including Hibiscus and Nectarine colored models which regularly sell for twice the cost of today's deal.
From $23
The Sport Loop Band is designed to be soft, breathable, and lightweight. Its double-layer nylon weave features dense loops on the inside like a cushion that keep your skin comfy while allowing moisture to escape. That means they're perfect for exercising or even to wear when you're out in the sun. There's a hook-and-loop fastener to make adjusting it on your wrist easy, and since the attachment loops are seriously durable, you won't have to worry about them breaking off just from daily wear and tear.
The Apple Watch Milanese Loop Band on sale for $85 is a great deal as well, especially if you're on the hunt for a 40mm band rather than a 44mm model like the ones above. You should see an additional discount added at checkout to bring it to this price. Only the Silver model is on sale currently, though you can pick up other models like this Gold Milanese Loop Band for $99.
Not looking to spend so much on your next Apple Watch band? Our best Apple Watch Bands in 2019 guide can help you find plenty of third-party options which are arguably just as nice for much less.
We may earn a commission for purchases using our links. Learn more.