Beginner's Guide: How to set up and start using your Nintendo Switch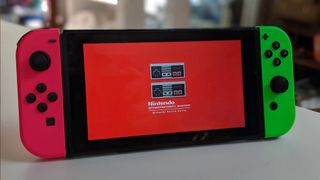 (Image credit: iMore)
Congratulations! You've got a new Nintendo Switch, Switch Lite, or Switch OLED. So what now? Well, let us help you set it up! The Nintendo Switch is a pretty unique console, and it allows you to play a variety of different ways to accommodate any situation. As such, we wouldn't blame even the savviest of techies for needing a bit of help after taking it out of the box for the first time.
That's why we've compiled all of our help and how-to articles that will help you get up and running on your Nintendo Switch after you've taken it out of the box. From the first setup to playing the best Nintendo Switch games, let us show you just how easy it is to get going.
How to set up your Nintendo Switch hardware
There are several things to do after taking your Nintendo Switch out of its box — we need as much time as we can to play it, after all! These tips will help you get your Nintendo Switch set up in a hurry. One of the first things you'll want to do is apply a screen protector to your Nintendo Switch to prevent that expensive screen from getting scratches. If you do it right, you won't have any bubbles or fingerprints to stare at when you're done.
Now that the exterior is protected, we can start using it. If you want help we can show you how to set up your Nintendo Switch or how to make a new Nintendo account, which you will need in order to buy and download any games from the eShop. By the way, if you have a Nintendo Network ID from the DS days, then you'll need to make a new Nintendo account for your Switch since Nintendo shifted how its services work. Here's how to link your Nintendo Network ID with your Nintendo account.
If you are upgrading from one Switch to another, then you'll need to transfer your account. It can be kind of tricky and some games do not have the ability to transfer data, but here's how to move your account to a new Nintendo Switch if you already have one.
Getting Started with Nintendo Switch settings and software
Once you have everything set up hardware and software-wise, one of the very first things you should do is update your Switch since there will undoubtedly be several updates the Switch must go through before it can play any games. You can make changes so settings are perfect for your preferences like changing the menu to a dark theme or adjusting the brightness. Now's also the time to make your profiles and accounts, change the settings to make it work exactly how you want, and get online.
Setting up Nintendo Switch Online
If you want to be able to play a game's online aspects, you will need to pay for a Nintendo Switch Online subscription. There are both individual and family plans available to meet your specific needs. This membership also gives you access to select NES and SNES games. And don't worry, there is a way to get Nintendo Switch Online without a credit card if that's what works for you.
As of October, subscribers can also opt for the Nintendo Switch Online + Expansion Pack, which gives players access to a collection of select N64 and Sega Genesis games to play including The Legend of Zelda: Ocarina of Time, Star Fox, Paper Mario, Sonic the Hedgehog, and more. Not to mention, more titles are coming to this service in the coming months including Majora's Mask. If you manage to find them in stock, you can even purchase an N64 controller to make playing these retro games easier.
When it comes to Nintendo Switch Online, the service that allows you to participate in online Switch game functions, it's possible to create a Nintendo Switch Family Group. This puts everyone's Nintendo accounts together so they are under one Nintendo Switch Online Family subscription so you don't have to have separate ones for everyone.
Nintendo Switch Parental Controls & Family set up
Parents, if you're buying a Switch for your little ones and you have concerns about the content they'll access, do know that there are powerful parental control options available to you. By the end of it, you'll have full control over what your kids can download, see, and play, as well as how long they can play on any given day. Plus, you'll be able to control it all from your phone.
First off, you'll need to create a Nintendo Account for your child. The process is slightly different from if you were setting one up for yourself or another adult. Once that's done, it will be time to set up Parental Controls on Nintendo Switch. This will make it so your child cannot access certain content or view certain videos. You can also make it so they cannot purchase anything without your password. You also get to determine how long they're allowed to play each day. If you need to, you can also lock the Switch so it's inaccessible for a specified or indefinite amount of time. Once everything is in place, you'll be able to view parental control settings and child activity from your phone.
We can help you understand the Nintendo Switch Parental Controls app, if you'd like. After all, it's there that you can determine whether or not to whitelist Nintendo Switch games via Parental Controls.
Best Nintendo Switch Accessories
Your experience can be greatly enhanced with the best Nintendo Switch accessories. For starters, everyone should at least have a microSD card since the Switch and Switch Lite only have 32GB of internal storage while the Switch OLED is only slightly better at 64GB. That means you can easily run out of room after playing just a handful of games - about three large games on Switch and Switch Lite and about six large games on Switch OLED.
Nintendo Switch capture cards
Thinking about streaming Nintendo Switch gameplay on Twitch or another streaming service? You're going to need one of the best Nintendo Switch capture cards. These connect between your Switch and a computer so you can share your favorite games with others. If you have a camera set up, you can even show yourself in the corner while you play.
Nintendo Switch controllers and cases
Considering the portable nature of every console in the Switch line, every Switch owner should have a protective carrying case, so you can bring it around with you without damaging it. That's especially true if the Switch is in kid hands since it's more likely for this expensive hardware to get broken if dropped or handled incorrectly.
Additionally, if you're a competitive player or someone who loves to play solo games then you really ought to consider getting one of the best Nintendo Switch controllers. They feel far more comfortable than the colorful Joy-Cons since they actually have an ergonomic grip and are designed more like a traditional controller. The right ones feature rumble, motion controls, and amiibo scanning abilities. If you like the idea of a more comfortable way to hold your Switch but don't necessarily want to pay for another controller, purchasing one of the best comfort grips will do the trick. These slide onto your Switch in handheld mode making it far easier to hold the console for long stretches.
It's also nice having one of the best wireless headsets for Nintendo Switch so you can hear your gaming audio better without disturbing those around you while playing in handheld mode. Only a handful of Switch games, like Fortnite, actually support voice chat, though, so don't expect to get a ton of use out of the mic unless you play those games specifically.
What are amiibo and what do they do?
Speaking of which, amiibo are little figurines that depict characters from Nintendo games. They have NFC chips inside that can be scanned to make things happen in certain games. Arguably the most important ones are Super Smash Bros. amiibo since they allow you to work on a character and then save their stats to the amiibo.
Another important set are the most useful amiibo for Legend of Zelda: Breath of the Wild since they can make extra goodies appear in-game like the legendary horse, Epona, or special armor. Lastly, Animal Crossing amiibo cards are very important among players since they let you invite specific villagers to your island instead of needing to wait for a random one to appear. It's worth noting that amiibo can be very expensive if they've been out on the market for a while and store availability has become scarce.
Best Nintendo Switch Games
You should be ready to play now! Pop in a game and have some fun! Need suggestions on new games to buy? We're constantly checking out all the latest titles so we can bring you the best recommendations on what to play. Be sure to explore all of the best Nintendo Switch games. There's something for every kind of player and preference. Not to mention, there are several free Switch games if you want to check those out. Just keep in mind that the Switch Lite cannot play certain Switch games.
You'll definitely want to look at all Zelda games, Pokemon games, and Mario games as these make up some of the biggest exclusive experiences on the Switch.
Don't worry, there are also several adult Switch games to entertain mature players. We also recommend checking out the best indie Switch games since there are several hidden gems to discover.
Troubleshooting
Running into trouble with your Nintendo Switch? We can help you solve the most common problems you might run into with our Nintendo Switch troubleshooting guide. Try everything you can to solve any problems you have with your Switch before opting to call Nintendo.
Play On
Nintendo Switch is one of the best gaming consoles Nintendo has ever made, but it's also one of the most unique. And with a huge catalog of new hits, indie favorites, and old classics, there has never been a better time to get a Nintendo Switch. You're bound to hit a snag or two in your setup process, so be sure to use one of our many handy guides to help set everything up.