Best Accessories for Your Joule Sous Vide Cooker in 2022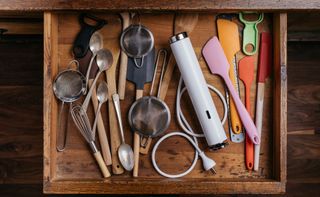 (Image credit: Joule)
Sous vide cooking is a fantastic way to make super tasty and healthy meals. The Joule sous vide wand from ChefSteps is one of the best on the market. Slimline and sleek looking, it's smart, connected, and very popular. We're taking a look at some accessories that will help you get the most out of your Joule cooking experience from the absolute essentials to more peripheral products that are just handy to have.
Sous vide swank
From products like the Tupolors silicone gloves (opens in new tab) that will keep you safe, via products like the Boao trivets (opens in new tab) that will keep your kitchen worktops safe, as you can see there is a plethora of useful bits and bobs that will improve your Joule cooking experience and up your sous vide skills.
Not every Joule chef will need every item on this list, but products that can help keep your sous vide bags underwater, ensure your food is cooked properly, and give you the desired finish on your food are well worth considering.
Getting the basics right is essential, though, which is why we recommend investing in a decent container. The Everie container (opens in new tab) we've highlighted is designed especially for the Joule sous vide wand, so you could argue you can't get any better than that.
Amy-Mae has been writing about consumer technology since before the iPhone was even a twinkle in Steve Jobs' eye. She started out in magazine publishing with the UK lads' mag 'Boy's Toys' then moved online with startup Pocket-lint.com as the first full-time member of staff, helping grow the site to one of the UK's largest gadget sites. Amy-Mae then moved to Mashable when it only had a staff of around 10 people. After working her way up to a senior role there, Amy-Mae left in 2014 to have her daughter. Since then Amy-Mae has continued to contribute to Mashable and The Daily Dot, keeping up-to-date with the latest consumer technology and social media trends. For iMore.com, Amy-Mae gets to her explore her love of home cooking, concentrating on all things kitchen tech.
Get the best of iMore in in your inbox, every day!
Thank you for signing up to iMore. You will receive a verification email shortly.
There was a problem. Please refresh the page and try again.