Thursday's best deals: robotic vacuum cleaners, Baby Yoda, and more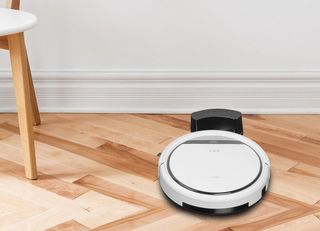 (Image credit: ILIFE)
Black Friday and Cyber Monday may seem like distant memories, but there are still plenty of deals to spend your cash on. We've scoured the net finding the best deals so you can splurge while still feeling good about yourself. Today's best deals are listed below so you don't even have to hun them down.
ILIFE V3 Pro Robotic Vacuum - $118.99 (Save $41)
If none of the deals over Black Friday weekend convinced you to pull the trigger on a robot vacuum cleaner, perhaps this one will. Amazon has the popular ILIFE V3 Pro Robotic Vacuum on sale for just $118.99. It normally sells for $160 and today's discount is the best price it has seen in over six months. If you missed the one-day sale on it back in February when it went to $7 lower, this is likely your best chance to get it at a discount for a while.
This vacuum cleaner is great on hardwood floors and low pile carpet and can rid your home of dirt, dust, pet hair and debris without you lifting a finger.
The deal given is no longer valid and we do not have a better one. However, we have found some similar deals
iLife Shinebot W400s mopping robot
$172.49 $230.00 Save $58
Mops in four stages: sprays your hard floor with clean water, scrubs with a microfiber roller, removes the dirty water, then wipes off any residues with a rubber scraper. Has multiple cleaning modes and can clean up to 600 square feet.
ILIFE A9 Robot Vacuum Cleaner
$159.99 $229.99 Save $70
This smart robot vacuum cleaner automatically maps and navigates your home to keep it clean. Control it with the free app or even with your voice and a smart home assistant like Alexa or Google Assistant. Clip the on-page coupon to save.
ILIFE V8s Robot Vacuum Cleaner
$169.99 $249.99 Save $80
$149.99 $179.99 Save $30
ILIFE A9 Robot Vacuum Cleaner
$179.99 $299.99 Save $120
Funko Pop! Baby Yoda Figures - From $9 (Save up to 25%)
The new Disney+ show, The Mandalorian, introduced Star Wars fans to one of the series' cutest characters ever last month. Known as "Baby Yoda" by fans and "The Child" in the show, now's your chance to own one of the first pieces of merch for this new character and at up to 25% off. The Funko Pop! Star Wars: The Mandalorian - The Child "Baby Yoda" figures are now available for pre-order at Amazon, and locking your order in now will save you up to $10! Plus, with Amazon's pre-order guarantee, if the price drops any lower between now and the release date, you'll only pay the lowest price it hits rather than whichever price it was when you pre-ordered. The smaller version is only $9.
Aoycocr Mini Smart Plug, 4-pack - $19.79 (Save $13)
How many times have you wished you could turn off your favorite lamp with your phone or power on the box fan in the corner of your room without getting out of bed? Smart plugs can make all of it possible, and more, and they're extremely affordable these days. Right now, you can even snag this 4-pack of Aoycocr Mini Smart Plugs for just $19.79 when you add them to your cart via that link. They're normally sold right above $30 on average as a set, though with today's deal you'd be snagging each one at just $5 apiece. That's a small price to pay for everything this 4-pack brings to your home. Alternatively, you can grab 1 plug for $7.79 if you don't need 4, though you'll probably want to smarten up another appliance or two down the line.
Aoycocr Mini Smart Plug (4-pack)

Appliances you already own can be controlled with your phone with help from these mini smart plugs. Adding to your cart via this link scores you 1 for $7.79 or 4 for under $5 apiece.
Choetech USB-C to USB-C Cable, 2-pack - $4.40 (Save $7)
This 2-pack of Choetech USB-C to USB-C cables is already affordable at $11 but it drops to just $4.40 when you clip the 5% coupon on its product page and enter code 56WQKEB6 during checkout. At that price, you're paying just $2.20 per cable. Seriously, why have you not bought them yet?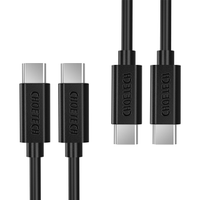 Using the below code and the on-page coupon takes over half off the cost of this 2-pack of durable USB-C to USB-C cables. You get one 3.3-foot cable and one 6.6-foot cable in the bundle for just $2.20 apiece.
The deal given is no longer valid and we do not have a better one. However, we have found some similar deals
Choetech 100W USB-C Cable
$4.94 $15.97 Save $11
Reach faster charging speeds with this 6-foot USB-C cable which supports up to 100W. Being Thunderbolt 3-compatible, it also features 10Gbps data transfers, 4K video, and more. Clip the on-page coupon and enter the below code for the full savings.
Choetech Wireless Charging Bundle (2-pack)
$14.54 $22.99 Save $8
Choetech is offering an extra $5 off a two-pack of its popular wireless chargers right now. You'll score a 10W wireless charging stand and a wireless charging pad. Just clip the on-page coupon to score the additional savings.
Choetech USB-C to HDMI Cable
$4.23 $18.70 Save $14
This HDMI cable by Choetech was designed to be more versatile than traditional models. It has a USB-C connector on one end so you can plug it into your phone or USB-C computer without needing an adapter. Use the coupon to save.
Choetech 5-in-1 USB-C Hub
$6.98 $19.99 Save $13
Choetech's 5-in-1 USB-C Hub is equipped with two USB 3.0 ports, an HDMI port that supports 4K video, and an SD/microSD card reader. Just clip the coupon on its product page and use the following code at checkout to score this low price.
Choetech car air vent wireless charger mount
$6.99 $11.98 Save $5
Amazon Kindle Unlimited - $0.99 (Save $29)
Buying book after book after book can get pretty expensive very quickly, which is why Kindle Unlimited makes for the perfect alternative. Becoming a member unlocks access to Amazon's vast selection of digital books and more to read when you please, and they're all accessible via the free Kindle app which you'll be able to open and use practically anywhere you go. Now you can take all your favorite books with you without weighing down your luggage, and the best part is you can join today with a three-month membership for only $0.99.
Kindle Unlimited usually costs $10 per month which is why you do not want to miss out on this offer. You'll get to read as many books as you can within that three-month timespan all for only $1, and if you decide that the service isn't for you, you can turn off auto-renew in your account settings at any time without being charged anything extra.
Amazon Kindle Unlimited 3-Month Membership

Score three months of access to Kindle's digital eBook library for only $1 with this exclusive deal at Amazon. You'll be able to read the eBooks using the free Kindle app on a myriad of devices; no e-reader required.
Anker USB-C to Lightning Cable - $11.99 (Save $8)
Fast charging has been possible on iOS since the iPhone 8's release, though you couldn't always find affordable Lightning cables to use. Thankfully, that's since changed as companies other than Apple can now produce MFi-certified Lightning cables too and offer them at much better prices. Take this Anker Powerline II Lightning to USB-C Cable. Its price falls to just $11.99 today at Amazon. That's thanks to a direct price drop to $14.99 and coupon code AKCMCTL6 taking a further $3 at checkout. This is the lowest we've ever seen this 6-foot cable go and the deal applies to both the black and white versions so you can take your pick. Shipping is free with Amazon Prime or with orders totaling $25 or more.
Anker Powerline II USB-C to Lightning Cable

You don't have to break the bank to unlock the fast charging capability in your iPhone or iPad. Just snag this extra-long Anker USB-C to Lightning cable with the below code and get its best price to date. It works on both the black and white models.
Eufy Lumi Night Light, 6-pack - $12.99 (Save $6)
Hey, darkness is scary, and that's okay. You can admit it. When you're getting out of bed and stumbling around, the last thing you want to do is stub your toe because you couldn't see something left forgotten on the ground. Leave the days of using your toes for geolocation behind you. Grab a six-pack of Eufy's Lumi night lights on sale for just $12.99. This pack usually sells for around $19 but is discounted right now to the lowest price we've seen. The Lumi 2-pack is $10, so you're getting three times the number of lights for just a couple of bucks more.
Eufy Lumi plug-in warm white LED night light 6-pack

The lights will only turn on when the ambient lighting is insufficient. Require less than 30 cents a year to operate, so they won't run up your energy bill. They are compact in size and come with an 18-month warranty.
The deal given is no longer valid and we do not have a better one. However, we have found some similar deals
Eufy cordless stick vacuums and robot vacuum cleaners
As low as $140
Choose from a cordless stick vacuum or a robot vacuum. The cordless vac includes 120AW suction power for 8 minutes or 25 minutes in standard mode. Helpful for getting into tight spaces. The robot has 1300Pa suction and lasts up to 100 minutes.
Eufy Security Wi-Fi 2K resolution video doorbell
$119.99 $160.00 Save $40
You'll get a wireless chime you can use somewhere else in the house to hear the door wherever you are. Has a 2K resolution image with advanced HDR and distortion correction. Includes two-way audio, motion detection, and smart alerts.
Eufy RoboVac 15C Max Wi-Fi connected robot vacuum cleaner
$175.99 $ Save $
Comes with super strong 2000Pa suction so it can pick up even stubborn dirt. BoostIQ feature will even boost the suction when you need it. Lasts for up to 100 minutes. Use the EufyHome app and connect it to your smart home for more control.
Eufy Spaceview Security by Anker baby monitor camera bundle
$129.99 $170.00 Save $40
Has a large 5-inch 720p display for a sharp picture. Let's you see everything your little troublemaker is doing. Can pan 330-degrees and tilt 110-degrees so you can see the whole room. Get instant alerts. Has a range up to 1,000 feet.
Eufy Security SpaceView 720p video baby monitor with night vision
$109.99 $160.00 Save $50
Has a large 5-inch 720p display for a sharp picture. Let's you see everything your little troublemaker is doing. Includes a wide-angle lens for when your baby starts moving around more. Get instant alerts. Has a range up to 1,000 feet in open area.
Nintendo Switch Lite - $179.99 (Save $20)
For a limited time, Amazon Prime members can take $20 off the Nintendo Switch Lite gaming console at Woot. That brings the total down to $179.99 from its usual $200. Black Friday and Cyber Monday were a bit of a bust for Switch deals with best being the regular price plus a $25 gift card. So while this might be $5 less in savings, it is at least a direct discount. At Woot, you'll see the price display at $189.99, which is the price for nayone, though logging in with your Amazon Prime account takes a further $10 off at checkout. Even if you're only on the Prime free trial, you can still access the deal.
This is one of the best discounts to reach the new Lite edition of the Nintendo Switch. This model is designed for portability and has built-in Joy-Con controllers. It's down to $190 at Woot but Prime members automatically get it for $10 less.
The deal given is no longer valid and we do not have a better one. However, we have found some similar deals
Nintendo Switch Animal Crossing: New Horizons Limited Edition console (Refurbished)
$269.99 $299.99 Save $30
This limited edition Nintendo Switch console features a design inspired by Animal Crossing: New Horizons and is currently $30 off when you purchase a refurbished model at Best Buy!
Nintendo Switch Lite with $20 Amazon credit
Limited Time Only
The Nintendo Switch Lite is a slightly smaller version of the Nintendo Switch that's solely meant for handheld play; this Switch can't connect to your TV like the normal one can though it's $100 less in cost!
Mar10 Mario Day sales event on games, controllers, microSD cards, and more
Various Prices
Save up to $45 on Mario Games for the Nintendo Switch, get a Best Buy gift card with a Switch Online subscription, grab a discounted Nintendo-themed microSD card, and more. These deals are only available through the end of the day.
Ring Fit Adventure for Nintendo Switch
$69.99 $79.99 Save $10
One of the most popular and hard-to-find Nintendo Switch games of the past year is now on sale at Amazon! You'll save $10 and score the game along with the essential Ring-Con and Leg Strap accessories.
Nintendo Switch with free Mario glass set
$299.99 $339.98 Save $40
Though this year's main Nintendo Switch deal for Black Friday has sold out pretty much everywhere, GameStop just unveiled more Nintendo Switch bundles you can snag with a free 4-piece set of Mario glassware!
Anker Soundcore Liberty 2 Pro - $109.99 (Save $40)
The AirPods Pro are great, but you don't have to spend anywhere near $250 to score a great pair of in-ear true wireless earbuds. Anker's Soundcore Liberty 2 Pro come in at $100 less than their Apple competition on any given day, and they've even been recommended by multiple Grammy Award-winning producers for their in-studio performance. Thanks to a current sale at Amazon, you can snag a pair today for only $109.99. That's not only $40 off their usual price but also the best deal ever offered on these headphones at Amazon.
Anker Soundcore Liberty 2 Pro True Wireless Earbuds

These well-reviewed true wireless earbuds are built for studio performance, but they're fantastic for casual listening too. They last for up to eight hours on a single charge and come with a charging case that can recharge them twice while traveling.
Mint Mobile 3-Month Plans
Answer the call

Mint Mobile is offering up to 40% off its service plans for three months when you join now! You can score any data plan for only $15 monthly for three months, though you'll need to pay the full three-month cost in advance.
Extra security

Security and privacy are important, but that doesn't mean you can't make a saving! This limited-time Black Friday offer at PureVPN drops the monthly cost to just $1.19 with code THRIFTER10. It works great on iOS, Android, macOS, Windows, and more.
SiriusXM Essential 3-Month Subscription
Free radio

This service launched earlier this year costs only $8 a month anyway, but you can get three months for free. The Essential bundle includes 300 channels of music, comedy, talk radio, and more. It's only for online streaming not using your car's satellite radio. Remember it will auto renew.
Get more iMore in your inbox!
Our news, reviews, opinions, and easy to follow guides can turn any iPhone owner into an Apple aficionado
Adam Oram is a Senior Writer at iMore. He studied Media at Newcastle University and has been writing about technology since 2013. He previously worked as an Apple Genius and as a Deals Editor at Thrifter. His spare time is spent watching football (both kinds), playing Pokémon games, and eating vegan food. Follow him on Twitter at @adamoram.