Farm Heroes Saga: Top 10 tips, hints, and cheats!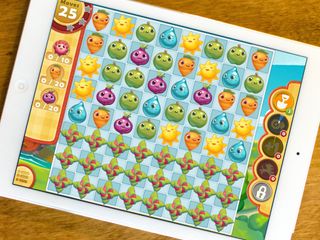 Farm Heroes Saga by King is a classic match-three game that tasks you with collecting the right crops and materials for your farm. Along the way you'll collect animals, hatch chickens, pick flowers, and even go head to head with Rancid the Raccoon. Whether you're new to Farm Heroes Saga or are just looking for ways to hone your game play skills, we've got the tips and tricks you need to get further, faster!
1. Draw on your Candy Crush experience
Farm Heroes Saga comes from the same makers of the insanely popular Candy Crush Saga. If you play that, a lot of our Candy Crush tips and tricks apply to Farm Heroes Saga as well. Look to make rows of four, rows of 5, "L" shapes, and "T" shapes. These all rack up your points faster than just standard match-three moves. I especially look for rows of five in Farm Heroes Saga since it completely clears the board of all crops of that kind. A very useful move in almost any occasion.
Completing a row of four will spawn multipliers on crops that surround the cleared ones. That means you rake in crops faster with less moves. Always a winning move.
2. Ride those Hero Mode multipliers
Whenever you complete a level with moves to spare you will activate a special Hero Mode. During Hero Mode the game spits out a bunch of random multipliers. Don't rush through them! Take your time to look around the board and swipe the ones that get you the most points. If you have quite a few moves left, leave some large multipliers be until the very end if you can since they most likely will just grow larger. Just make sure you leave them in a position that won't let you cash them in.
3. Don't waste beans on Rancid
Most Rancid levels aren't hard to beat. At least the first few aren't. So don't use your beans to make them easier. If it takes you a few times to pass it, that's okay. Beans are much more useful for buying boosters, particularly the shovel for those problem crops that are stopping you from clearing a level.
4. Understand multipliers and beans
Your score is based on how many crops you collect. Multipliers, well multiply it. Each crop is worth one point on your score. A multiplier adds that many points, or crops. So where a regular three crop line gives you three crops, multipliers add whatever the multiplier is on top of that. Always try to meet goals by clearing crops with multipliers. It'll save you a lot of moves in the end.
Beans basically translate to whatever your final score is. If you had 150 crops, that's how many beans get added to your bank. You can then cash those out later to buy boosters or to help you beat Rancid.
5. Flowers first
In levels where flowers come into play, always get problems ones out of the way first. Mainly problem flowers are defines as ones that are smack in the middle of the game board. They prevent you from making matches and trying to make them around the flowers just cause you to waste more moves than you need to. Instead, meet your flower goal first and then worry about matching the other crops you need.
6. Extra moves
Extra moves cost you gold. Don't ever spend gold on extra moves. We'll get into what you should spend gold on in just a few minutes. One thing you should never spend it on is extra moves. Unless you're completely and utterly frustrated with a level and know 100% that you can beat it with five extra moves, don't bother. It's never a sure bet and more often than not, it's a waste of your gold.
7. Don't let eggs build up
Once you get to the levels that require you to match three eggs in order to start hatching chicks, be sure you don't let too many eggs build up on the board. You'll spend more moves trying to get rid of them than you will actually swapping crops to meet goals. I try and keep all the eggs congregated in one area when I can and then match what I need as I see it come up. For the most part it's a strategy that works.
8. Stay low to the ground
As with most match three games, whenever you match towards the bottom you have more of a chance to create a cascading effect towards the top. Whenever you have moves at the bottom that are beneficial to you, always take those over moves towards the top. You gain new pieces and have a better chance of getting a combo.
9. Use gold to unlock gates, nothing else
Use your gold towards unlocking gates, not extra moves or other boosters that replenish on their own over time. It's a much better use of your gold and if you're keen on not spending real cash on in-app purchases, it's the wisest way to use it and keep you on track to do just that.
10. Lives cheat: Set your clock ahead
If you don't like bugging your Facebook friends for lives or you're just downright impatient, there's a glitch in Farm Heroes Saga, just like in Candy Crush, that lets you move your system clock ahead to replenish lives. Simply perform the following steps:
Go into **Settings > Date and Time > Set ahead a few hours
Pop into Farm Heroes Sage and your lives should replenish
Go back and change the time back
When you launch the game again, you should still have five full lives. If you don't just keep setting your clock ahead and playing that way, just be aware sometimes when you set it back you'll see negative lives. Results may vary but setting it forward when you can't wait to play any longer always works.
Your tips and tricks?
If you play Farm Heroes Saga be sure to let us know useful tips and tricks you've found that help you clear levels faster or keep you from spending real cash. If you've had issues with problem levels, let us know that too!
Master your iPhone in minutes
iMore offers spot-on advice and guidance from our team of experts, with decades of Apple device experience to lean on. Learn more with iMore!
iMore senior editor from 2011 to 2015.