Farm Heroes Saga: Top 10 tips, hints, and cheats!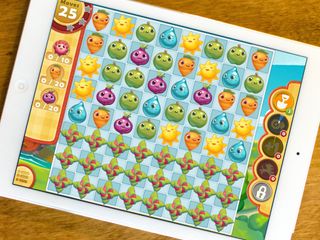 Farm Heroes Saga by King is a classic match-three game that tasks you with collecting the right crops and materials for your farm. Along the way you'll collect animals, hatch chickens, pick flowers, and even go head to head with Rancid the Raccoon. Whether you're new to Farm Heroes Saga or are just looking for ways to hone your game play skills, we've got the tips and tricks you need to get further, faster!
1. Draw on your Candy Crush experience
Farm Heroes Saga comes from the same makers of the insanely popular Candy Crush Saga. If you play that, a lot of our Candy Crush tips and tricks apply to Farm Heroes Saga as well. Look to make rows of four, rows of 5, "L" shapes, and "T" shapes. These all rack up your points faster than just standard match-three moves. I especially look for rows of five in Farm Heroes Saga since it completely clears the board of all crops of that kind. A very useful move in almost any occasion.
Completing a row of four will spawn multipliers on crops that surround the cleared ones. That means you rake in crops faster with less moves. Always a winning move.
2. Ride those Hero Mode multipliers
Whenever you complete a level with moves to spare you will activate a special Hero Mode. During Hero Mode the game spits out a bunch of random multipliers. Don't rush through them! Take your time to look around the board and swipe the ones that get you the most points. If you have quite a few moves left, leave some large multipliers be until the very end if you can since they most likely will just grow larger. Just make sure you leave them in a position that won't let you cash them in.
3. Don't waste beans on Rancid
Most Rancid levels aren't hard to beat. At least the first few aren't. So don't use your beans to make them easier. If it takes you a few times to pass it, that's okay. Beans are much more useful for buying boosters, particularly the shovel for those problem crops that are stopping you from clearing a level.
4. Understand multipliers and beans
Your score is based on how many crops you collect. Multipliers, well multiply it. Each crop is worth one point on your score. A multiplier adds that many points, or crops. So where a regular three crop line gives you three crops, multipliers add whatever the multiplier is on top of that. Always try to meet goals by clearing crops with multipliers. It'll save you a lot of moves in the end.
Beans basically translate to whatever your final score is. If you had 150 crops, that's how many beans get added to your bank. You can then cash those out later to buy boosters or to help you beat Rancid.
5. Flowers first
In levels where flowers come into play, always get problems ones out of the way first. Mainly problem flowers are defines as ones that are smack in the middle of the game board. They prevent you from making matches and trying to make them around the flowers just cause you to waste more moves than you need to. Instead, meet your flower goal first and then worry about matching the other crops you need.
6. Extra moves
Extra moves cost you gold. Don't ever spend gold on extra moves. We'll get into what you should spend gold on in just a few minutes. One thing you should never spend it on is extra moves. Unless you're completely and utterly frustrated with a level and know 100% that you can beat it with five extra moves, don't bother. It's never a sure bet and more often than not, it's a waste of your gold.
7. Don't let eggs build up
Once you get to the levels that require you to match three eggs in order to start hatching chicks, be sure you don't let too many eggs build up on the board. You'll spend more moves trying to get rid of them than you will actually swapping crops to meet goals. I try and keep all the eggs congregated in one area when I can and then match what I need as I see it come up. For the most part it's a strategy that works.
8. Stay low to the ground
As with most match three games, whenever you match towards the bottom you have more of a chance to create a cascading effect towards the top. Whenever you have moves at the bottom that are beneficial to you, always take those over moves towards the top. You gain new pieces and have a better chance of getting a combo.
9. Use gold to unlock gates, nothing else
Use your gold towards unlocking gates, not extra moves or other boosters that replenish on their own over time. It's a much better use of your gold and if you're keen on not spending real cash on in-app purchases, it's the wisest way to use it and keep you on track to do just that.
10. Lives cheat: Set your clock ahead
If you don't like bugging your Facebook friends for lives or you're just downright impatient, there's a glitch in Farm Heroes Saga, just like in Candy Crush, that lets you move your system clock ahead to replenish lives. Simply perform the following steps:
Go into **Settings > Date and Time > Set ahead a few hours
Pop into Farm Heroes Sage and your lives should replenish
Go back and change the time back
When you launch the game again, you should still have five full lives. If you don't just keep setting your clock ahead and playing that way, just be aware sometimes when you set it back you'll see negative lives. Results may vary but setting it forward when you can't wait to play any longer always works.
Your tips and tricks?
If you play Farm Heroes Saga be sure to let us know useful tips and tricks you've found that help you clear levels faster or keep you from spending real cash. If you've had issues with problem levels, let us know that too!
Get the best of iMore in in your inbox, every day!
iMore senior editor from 2011 to 2015.
Eu preciso que alguém me ensine a liberar as flores, não estou conseguindo, me ajudem

Best Farm Heroes Saga Cheat that I found: http://www.hackscommunity.com/farm-heroes-saga-hack/

Settings, Application manager, find FHS and clear data. That will bring ur lives back and reboost ur boosters without having to change ur times.

That worked AMAZINGLY!!!!! THANKS

Does anyone know how to get gold bars without spending money?? I am on a level that requires 10 of one fruit and they only give you 4....so it is forcing you to purchase bars to get past the level.

Does anyone know how to beat level 121, they only give you four green. I can collect all the others, but no more green appears, you only get 4 and you need 10.

You must match other colors until the four greens add up to the ten you get. They should be worth three, four etc ape ice for total of ten. Do not match greens until then

Does anyone know why I'm not getting any of the life's people are sending me? Also how do I send my game friend life's? I'm about to give up.

Hi Kim, I play this game on Facebook on a desk top, not mobile, but I believe the mobile game is very similar. To request lives from your friends you have to try to continue playing a level after you run out of lives, when you click the play button a new window will open that will allow you to send a request to your friends for more lives, you can repeat this process as many times as you like thereby sending multiple requests to multiple friends. Receiving lives is a little more complicated. In the desktop version when the game is loaded, a series of windows will pop up allowing you to send your friends different help, like extra lives, extra moves or to invite them to play, the last window to open should be titled Your Messages. If your life bank is full (5 being the maximum) when the Your Messages window opens then each life requests that you sent and have received a replied to will give you a 100 magic bean bonus, I only ever use these magic beans for buying shovels at the start of a level which you can only do if your shovel bank is empty. If your life bank is less than 5 when you load the game then any life requests that you sent and have received replies to will give you extra lives. Only accept lives until your life bank reaches 4, then close the Your Messages window by clicking the X in the top right corner of the Your Messages window, when you do this a small envelope will appear in the top left corner of the game window, if you run out of lives again you can click the envelope and accept more lives from Your Messages. The reason a state that you should only accept lives until you have four in your bank is because if you accept 5 and fill your bank then it will reset the 1/2 hour timer that gives you even more lives. So if the timer is down to 1:30 and you only accept up to 4 lives then in a minute and 30 seconds you will have 5 lives. It's just a way to get a few extra lives. Hope this helps you on your quest. PS You should never have to spend anything on Boosters to complete this game. I'm presently at level 460 waiting for King dot com to add more levels so I can continue playing and I have never had to buy Boosters. Though I do use the ones that replenish over time frequently.

Thank U!!! Life Endless so nice

When the box pops up for me to ask friends for lives, none of the friends that are playing the game are on the list. Even one person's memorial page comes up. Anyone have a solution. I am getting lives from friends when they choose to send them, but haveno way to ask for them when I need help.

I invite all Farm Hero's Saga players to add me as a friend on Facebook, I've been playing the game since before there were 100 levels and right now I believe that I have the highest score of all my friends that have completed the first 100 levels I'm starting on the next hundred now, This is more of a skill game than most would consider it to be. I challenge you to beat me.

I am on level 61 and you have to spill the water out of buckets to be able to get blue matches. I am confused as to what triggers the blue rain drops to come out. Does anyone know the magic trick? I have did several matches around the buckets but when they spill I'm not sure what move caused it. I can never seem to get enough blue raindrops out to beat the game.

Hi Nancy, you've probably figured this out by now but here goes anyway, You have to make two matches next to a bucket and a third match will cause it to spill over but if a crop is covered with ice then the match will only break the ice and doesn't count towards filling the bucket. You shouldn't have any trouble beating this level, just try to get as many matches as you can on the lower bucket and you should get some cascading matches on the upper one. try to collect the suns and apples when the multipliers are high and take any matches of 5 in a row whenever you can.

I play farm saga on my Ipad and Iphone, for some reason I only have the plus 1 booster on my ipad and not my iphone. Ive gone back to level 12 on my Iphone and beat it in hopes to get the booster but its not working. Any advice??

Hi Karlie, If you have used your +1 booster it becomes disabled for 18 hours then it replenishes, It's 6 hours for shovels, 12 hours for tractors, 18 for +1 boosters and 24 hours for the collector or you can get them by beating the farm Club levels. The +2 move booster can be requested but only after failing to beat a level 15 times or sometimes your friends are offered an opportunity to send you one if you have not advanced a level for the past 48 hours. Any other boosters are rewarded once at different points in the game but once they are used you have to buy them to get more. If this doesn't help I apoligise, I only play on desktop.

The following statement which was taken from my previous post dated May 22,2014 is no longer true, King dot com has changed the programming and now rewards some players with a daily bonus which sometimes includes +2 and +5 move boosters. The +2 move booster can be requested but only after failing to beat a level 15 times or sometimes your friends are offered an opportunity to send you one if you have not advanced a level for the past 48 hours.

Ik zit vast op level 525 ... alle dieren vrijgespeeld ... Wat nu ... ???

Hi. I'm stuck on level 67. I can't seem to get down to unfreeze the frozen veggies for ages. Then I only get about 7 water droplets (need to get 22). Can anyone help with any tips/tricks?! It's driving me nuts!

Hi julietPurcell, I just replayed level 67 and beat it with 14 moves left to go on the first try. As soon as I knew there was enough water drops on the screen to total 22 after the multipliers were used I used a green bonus multiplier and a purple collector booster. Use shovels and matches to break as much ice as you can early in the level and pay close attention to the total value of the water drops after each move.

Hi Timothy. Thanks for your reply, but I've nowmanaged to get through level 67, finally. Used a +1 bonus thing to help me. On 75 now. Onward & upward!
It's a great game.

I also play Candy Crush Saga, but am stuck currently on level 269 on that, so started playing this game!

I need help guys. so basically, I changed the date for farm heroes so I could get more tools to finish this hard level I been stuck on for days (which I still haven't finished) I changed the date back to the normal date and now my shovel, truck and dog have been back logged to reset in 2089 hours

Does anyone know how to get rid of crabby cropsies on level 78? There are a LOT! (There is no grass for them to fall onto) it's a "Rancid" level, and with only 20 moves, I've been stuck a couple of days.

Hi Terrie, I just replayed this level in free mode and had the count down to 17 without using any Boosters at all, It's been a long time since I played that level and I don't remember what Boosters you have enabled at that point in the game but there is a Booster that will clean up all of the spoiled Cropsies, but I'm not sure at what point in the game it becomes enabled. Apparently you don't have use of it yet. You should be able to beat this level in easy mode just by taking the highest value matches you can find and when you don't have a good match take a match in the lower part of the table and just hope for the best. If you have a +1 and a Purple Collector Booster at that point in the game they would be very useful. Also after being stuck on a level for more than 48 hours you should start to get a +2 move booster from your friends if not than it's because your friends don't realize that they have to reload the game sometimes to get the opportunity to send them. If you want you can add me as a friend and I'll get them to you. My name is Timothy Siscoe, My profile pic is of me holding a little girl in a Green witches Halloween costume. I invite any Farm Heros Saga players to add me as a friend. PS, You only get three of the Boosters that can be used to clean up the spoiled cropsies when they become enabled and when they are gone the only way to get more is to buy them so use them wisely. and learn to live without them. lol Hope this helps and good luck

Hi Timothy,
Thanks so much for the tips! Managed to make it to 83, and only booster to clean crabby cropsies costs 14 gold bars. ( Looking forward to the booster you mention being activated!)
Don't think any of my friends (or myself) were aware of a +2 move booster; we're all pretty new at this one. By reloading game, do you mean deleting app & re-purchasing, or just re-booting by turning off device? HATE to spend $ on a game, and sorta' dropping CC because of that.
Thanks again. (did send friend request)
Terrie

On an iPad where do you go to find the farm club. The help says on the map but I can not find it, need my boosts.

Hi missbecky, I'm presently waiting for a reply from King dot com on this issue. I've played my game on both desktop and Ipad and have realized that the boosters don't match, example, I have 6 tractors available on my desktop on Facebook but when I log into my game on an ipad and connect to Facebook I only have one. However all of my level progression does match up on both devices. So for now my suggestion to you would be to go onto a notebook, laptop or desktop and use whatever farmclub boosters to play whatever level that you are having trouble with then if you choose to you can go back to playing on your ipad and your progress will match up. If you don't own any other device then maybe you could borrow a friends. If I get a reply from King dot com I will add it to this reply.
Hope this helps
Tim

How do I give a life to a friend? On candy crush when I'm asked I just tap on the request and it takes me to the game and I can send them one. But when I do it on farm it just takes me to play with no option to send them a life. Can someone give some simple steps on how to send a life please.

Van someone explain how I send a life to someone?

Hi Fay, Depending on the device you are using, Options to send a life to a friend occur when the game is loaded or when you click on a disc to start a level. Otherwise you can only send a friend a life if they have sent you a request for a life, see my earlier reply to Kim Foster about requesting lives. When you try to send a life at the start of a level you can only send lives to the players that have advanced in the game to the level you are playing. If you are trying to send a life to someone that is not as advanced as you are then go to level 7 through the farm club and you should be able to send it from there. I play on a desktop, if you are using an ipad then you can't get to the farm club level menu so you would have to scroll to whatever level your friend has advanced to. Hope this helps. PS I have an open invitation to be added as a friend on Facebook by any Farm Hero players. I normally play daily so the worst that can happen is that you get a few extra lives. My new profile pic is of me sitting in a chair with two of my grandchildren in my lap, one wearing a green stripped onesie and the other is wearing a red top. Good luck

Please clarify the question.

I have completed level 160 on Farm Heroes Saga with three stars and all three animals on the roadblock are open. However, the next level will not open. HELP

Hi Donna, your request for help is a little confusing. Level 159 is a farm club level, where if you get three stars it will help you to get farm club boosters, but has nothing to do with level 160 or the roadblock that follows level 160. If you have clicked on the roadblock that follows level 160 and sent out a help request to your friends and three of those friends have sent you a reply to your request, then you should have no problem continuing on to level 161. Please double check to see if you have sent the required help request. I hope this helps.

Anyone know how to use companions when playing on an iPad? It is doing my missus' head in as it is there on her Galaxy and on Facebook. Thanks in advance

What is up with level 367 in farmheros? Is it even possible to beat??? I mean without spending alot of money to buy gold. I have been on this level for so long and do not ever come close to beating it!!! I have used up all the beans and I have used every tip ,trick, and hint I know even spent money too!!! Help!! I may be done with this game and thats sad cuz I really enjoy it but the fun is gone!!!

Hey how do beat level 367, i have been on this forever and just about ready to give it up. I have used every tip trick and skill that i have used thus far.Nothing is gettingme even close. I am done with buying gold for moves and beans.Please anyone if you can help,i love this game but i feel beat. Thanks

Hi Julia, I sent you a friend request and a message but you either didn't realize it or you chose to decline it. it would help if I knew what type of device you are using i.e. laptop, desktop or mobile device. Do you have Champions or can you get to your Farm club. basically you'll need a few extra shovels which you need to use early to clear out the suns and probably a collector to use later in the level to clean up whatever you require to beat the level. It's usually helpful to use your shovels in succession because the bonuses on the cropsies don't reset when you use a shovel so using shovels repeatedly increases the bonuses.

Twice now I have loaded a new game to get free lives by beating 8 levels in one day and I don't get free lives.... Wat am I doing wrong?????

Hi Alana, I think the problem might be that you are closing your Farm Hero's game to load whatever game that is offering the reward of free lives. when you run out of lives just click the link in the offer and try to beat however many level are required to get the reward, once you beat the required # of levels go back to Farm Heros and you should receive the reward.. I'm not sure how this works on mobile devices because I mainly play on a desktop. Hope this helps

I love the game farm animal heros ni am one level 159 I totally cannot figure out the game I donot know what I am suppose to do it is very frustrating ?????

I play on my Nook without being logged onto the net. I was up to level 147 but the next time I started to play it was back on level 1! Do I have to start all over again???

im on level 503 and im dealing with fireflies, how do I get them to leave (enough points)

I need to know how to clear fire flies

You need to clear a path around the fireflies and release the water before they explode. Don't get frustrated, it can be done once you get the hang of it. Hope I helped.

Could anyone tell me how to use my beans to get boosters? I'm on level 944 and every site I've searched, tells me that I need a few shovels to finish the level. I only play on my Samsung Galaxy s5. Thank you so much for any help you can give me!

I can't reply directly to a comment but clearing your data brings you back to level one and you lose everything. Don't do it.
Thank you for signing up to iMore. You will receive a verification email shortly.
There was a problem. Please refresh the page and try again.