FarmVille 2: Country Escape: Top 10 tips, hints, and cheats!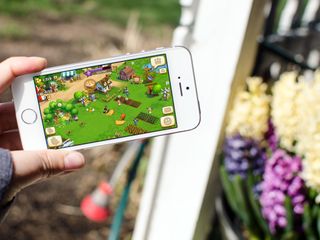 In FarmVille 2: Country Escape, you are tasked with building your own farm from the ground up. In order to do so you'll need lots of resources including crop fields, mills to turn your crops into product, and more. While you could always spend real cash in order to acquire these items quickly, if you have a little patience we've got the tips, tricks, and cheats you need to play strategically and level up fast enough on your own, no real money required!
1. Don't use your Keys to finish tasks
Keys are the hardest kind of in-game currency to obtain so hold onto them until you need them. One of the biggest ways to waste your Keys is by using them to rush tasks. Instead, perform shorter tasks while you're playing the game and then start the longer ones before you quit so they can continue while you don't have the game open.
2. Make more money selling your crops at the Farm Stand
Selling your crops and finished goods is one of the easiest ways to acquire cash and XP. Before you do though, check the Farm Stand once you've unlocked it. There you have some say on what you get for crops and goods and it's typically more than the general Farm Orders board will net you.
As a side note, you should also make sure you aren't selling crops you need to unlock a task. Save those and finish your tasks with them instead.
3. Make sure you collect daily spins
Each day you play FarmVille 2 you'll have an opportunity to spin the wheel for bonuses — once you unlock it that is. Be sure to launch FarmVille 2 each and every day even if it's only to collect your daily spin. What you can win gets higher and higher as you play consecutively without missing a day.
4. Use Keys to upgrade your barn before anything else
I told you earlier to save all your Keys, but what's the point in that? Upgrading your barn is where you're going to want to use most of them. You are limited on how many crops you can store at a time and if you're trying to stock pile, you're going to need to expand your barn. Do this as soon as you can. The further you get the more storage issues you'll run into.
5. Visit your friends' farms to earn coins and bonuses
In FarmVille 2 you can visit your friends farms and earn free cash, and sometimes even Keys. Do this daily and spread some Friendship Fertilizer in order to reap the rewards.
6. If you're going to spend real money, spend it on Keys
If you're okay with spend a little real cash in order to move along a little faster, spend your cash on Keys, not coins. For the most part coins are easy currency to come by and the only thing you really need them for on a regular basis is to build tools and buy more land. Most crops and items you actually need are fairly cheap and don't even put a dent in your coin bank. Keys however are given out sparingly and are required for almost everything.
7. Connect your Facebook account and get 25 free keys
When you first start playing FarmVille 2 you should be prompted to connect your Facebook account. If you aren't, you can easily do so through settings. This doesn't mean you have to harass your friends if you choose not to, but you get 25 free keys for doing it. If you really don't want them linked, just do it long enough to collect your reward and then unlink them.
8. Ask your Facebook friends for Speed Seed
Speed Seed lets you grow crops a heck of a lot faster but it's a hard commodity to come by, mainly because you have to rely on your Facebook friends to get it. If you have friends on Facebook also playing FarmVille 2, be sure to give them Speed Seed so they return the favor regularly.
9. Take advantage of Grandma's Glade every 15 minutes
Grandma's Glade can be foraged by a farmhand every 15 minutes and that's greats news for you, mainly because you always find rare items that are either worth a lot of XP or needed to complete quests. However, don't waste keys doing it. Every 15 minutes is often enough and you'll find enough scarce items to cash them in and start leveling up in no time.
10. Cheat time by changing your system clock
Lots of games, including FarmVille 2, are susceptible to the infamous time cheat. Simply hop into your system settings and move your clock forward. Re-open FarmVille 2 and longer tasks will be completed. Since the game pulls from the time on your iPhone or iPad, changing it changes your standing in the game. Whenever you get really impatient waiting on something you need, this cheat never fails.
Bonus tip: Co-ops help you level up and add more fun!
Once you get to level 11 you will unlock the option to join co-ops. This not only adds new ways for you to acquire cash and XP, it's also a heck of a lot more fun since you get to interact with the FarmVille community. I'd highly recommend checking it out as soon as you're able.
Your Farmville 2 tips, hints, and cheats?
If you're playing FarmVille 2, have you found any great tips, tricks, or cheats that have helped you level up and get further without spending real cash? Be sure to let me know in the comments!
Get the best of iMore in your inbox, every day!
iMore senior editor from 2011 to 2015.
Hi Alison. Additional couple of hints and cheats for farm ville. If you purchase items from market and close your game whilst the market window is still open, the item(s) you bought will be doubled, even taking you past your barn capacity. Second way to multiply rare items is to work within your coop. If one person shares and item and everyone refreshes the market quickly at the same time, everyone can then see and purchase the same item. Each person then takes their turn to re share which multiplies rare items for everyone who joins in. Silent players who buy items quickly which doesn't give others time to refresh and buy are not welcome. It spoils the game.

Give me cheatcheat for increase
levels

can you give me some cheat for my Farmville 2 for I can increase my levels

Farmville 2: country escapes was a lot more fun when we could double our items. People talked more and helped each other. The game is getting boring now.

Switch your coop till you find one with fun ppl that play.

Can anyone tell me how to get the co-op exclusive button for this game?

Mine came automatically with an update. Have you completed all updates?

This seems to work fine for me to gett free farmbucks, really easy to use have been using it for months check this out ==> bit.ly/1TCxQaL Copy and paste in your browser

Do you know anything about syncing game from smart phone to kindle?

Hey these are nice tips and I like that you don´t need one of those scammy cheat engines for that... The Top 10 Cheats for Farmville 2 you can find on our site. VISIT US HERE:
bit.ly/1MRbR9G Copy and paste in your browser

I have found, when I go to Merryweather Mine, and use the "Irish Setter" along with other people, I will get 3 quartz instead of 2 Quartz. Hope this helps others.

grow crops and collect before you plant crops again exit game
change your system date to one month back eg. 23/06/16 to 23/05/16
go back to Farmville plant crops exit change date back to what it was load game
and you will get a present open it and you will get 100 keys and other items repeat as mutch as you like

That is very helpful.but also i would like to have lots of keys to buy some prized animals.thank you so much....I'd very happy to know....