Teenage Mutant Ninja Turtles: Rooftop Run: Top 8 tips, hints, and cheats you need to know!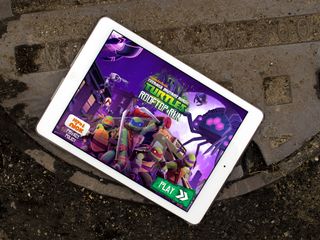 Teenage Mutant Ninja Turtles: Rooftop Run is an endless runner by Nickelodeon that lets you play as your favorite turtle characters. You'll have to defeat enemies on rooftops and in the streets in order to make it as far as you can before your energy meter runs out. Along the way you can play mini games, search for pizza, and collect Mutagen, the game's form of premium currency. These are the tips, hints, and cheats we think you need to know to achieve your furthest run ever without having to spend tons of real world cash!
1. Make sure you're collecting green orbs whenever possible
If you run out of energy, game over. As you run you'll have to collect green orbs in order to build back up your energy while you're running. If you have a choice between fighting an enemy or jumping over them to collect orbs, always go for the orbs.
2. Save your Mutagen for defeating enemies
Mutagen is Rooftop Run's premium form of currency and is rather hard to come by. If you run out of energy due to getting hit or from lack of orbs, you'll have to cough up Mutagen to continue on or you'll have to start over. Each time you decide to continue on, the amount of Mutagen you have to cash in gets higher and higher. This is why it's smart to use it wisely and typically save it for when you're battling an enemy.
3. If you're going to buy anything, buy Mutagen
If you decide you want to spend some real money in order to give yourself an edge, coins are easy to collect in-game so pass on them. Instead, buy yourself some Mutagen so you can continue on during runs when and if you need to.
4. Fill your energy meter to activate Turtle Time
If you completely fill your energy bar by collecting enough green orbs, you'll activate Turtle Time which is a sort of bonus game. In the mini game, you'll have the opportunity to rack up tons of coins quickly, so be sure your always aiming to fill that meter.
5. Buy Turtle Power Magnets and other boosts to give yourself an edge
The store offers lots of items for sale. One of my favorite boosts is the Turtle Power Magnet which attracts all green orbs near you so you don't have to go after them. If you find yourself having a hard time making it past rooftop enemies, the laser bot will most likely be your best bet. Regardless what you choose, boosts aren't terribly expensive, you can trigger them whenever you'd like, and you're free to stock up on as many as you'd like.
6. Focus on leveling up a single turtle instead of unlocking them all
Instead of unlocking all 4 turtles, a better strategy, at least in the beginning, is to concentrate on leveling up one. This way all your coins are going to giving you the maximum amount of armor and energy as fast as possible. So pick your favorite in the beginning and stick with them for a while.
7. Increase energy and armor capacity before anything else
Increasing energy and armor means you can take more hits and go longer without having your energy meter fall. For most folks this will mean that you'll have a better chance at getting farther without having to use Mutagen. You'll be thankful you have the extra armor and energy when battling enemies.
8. Don't forget to visit the garage to upgrade the Shellraiser
You'll need to protect and upgrade your vehicle just like you upgrade your character. Increasing armor should be at the top of your todo list followed by adding better launchers. Just choose wisely when it comes to spending money on the Shellraiser and on your character.
Your Rooftop Run tips, hints, and cheats?
If you've been playing Teenage Mutant Ninja Turtles: Rooftop Run, what tips, hints, and cheats have you found to be helpful? Be sure to let us know in the comments, along with the length of your best run yet!
Get the best of iMore in in your inbox, every day!
iMore senior editor from 2011 to 2015.
Here's a Turtle game I can get into!

This isn't new, its probably at least a year old. They did just recently make it free though. Posted via my Galaxy Note 3 on the Android iMore App
Thank you for signing up to iMore. You will receive a verification email shortly.
There was a problem. Please refresh the page and try again.