Supernauts: Top 10 tips, hints, and cheats you need to know!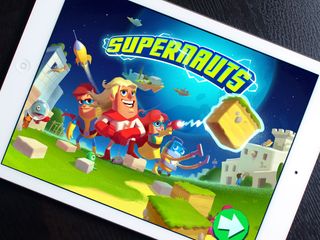 In Supernauts, you are tasked with rebuilding a world and saving all citizens from Earth. The more they know and the more you build, the more rewards you'll collect. If you enjoy games like Minecraft Pocket Edition, you'll most likely enjoy Supernauts. Instead of crafting, deploy bots to do it for you. In order to rescue your citizens from Earth, you'll need to solve puzzles and use your creativity to find and get them back home with you. As you progress, puzzles and tasks become harder. That's where iMore comes in! These are the top tips, hints, and cheats we think you need to level up and rescue citizens faster than ever in Supernauts!
1. Don't forget to collect medal rewards
In the top left of the screen there is a trophy that accumulates the medal awards you have won so far. It bounces up and down when there's a new reward available but it's also hard to miss if you're doing other things. Not only do you get a medal, you also get a reward that typically comes in the form of gems, which are the most rare form of in-game currency. Metal rewards typically give you 1-2 gems per achievement so be sure to collect them since they can add up quickly.
2. Rescue citizens and educate them as soon as you can
An educated citizen pays higher rents than uneducated ones. I highly suggest educating citizens as early as you can. Before you're about to close the game for a while, be sure that each citizen has as book in hand so when you come back, they've reached a new level of education. When that happens their pockets become deeper too! So rescue folks as soon as you unlock their world and educate them right off the bat.
3. If you're going to spend real cash, buy gems
Gems are a lot more rare than coins. Throughout the game you'll have plenty of chances to pick up coins but gems are far more hard to come by. If you're ever contemplating buying in-game currency, go for the gems.
4. Upgrade your world core as often as you can
Your world core is how you level up in Supernauts. Upgrade it as often as you can in order to unlock new items and challenges. At level 5 you'll also be able to join a crew, which is an added way to compete to earn free gems and coins. It's also a way to chat and interact with other folks playing Supernauts.
5. Keep your bots busy at all times
As you add bots to your world, you'll want to keep them producing as often as you can. The more building materials you have, the more valuable you are. You can never have too much of an item, and when you do, that's where the Block Market comes in. Before you quit playing Supernauts, be sure your bots are at max efficiency and the ones that have queues available, fill them.
6. Wait to start long tasks until you're ready to take a break
Some tasks take a lot longer to complete than others. Don't tie up Sinclair and pay to rush tasks unless you absolutely have to. Tasks that take more than a few minutes are better spent when you're not playing the game. This way you come back to new items and you didn't have to spend gems to complete them and move on.
7. Check Sinclair's list frequently
Sinclair's list is one of the most important parts of the game. If you're ever looking for a task to complete or a way to earn rewards, check in with him frequently in order to stay on track. Sinclair is also a good resource if you get stuck on a specific objective. Pass it and check his list to move on to something else for the time being.
8. Sell of materials you aren't using in the Block Market
If you have a large excess of material, other folks are willing to pay for it. Be sure to check in with the Block Market frequently in order to snag great trades. If there's a trade that doesn't work for you, simply decline it and swap it out with someone else. Deals do expire after a period of time though so be sure you check back frequently.
9. Build with Fab materials whenever you can
The little rainbow icons that you'll see next to certain building materials and items is there Fab count. The higher the Fab, the more rent your citizens will pay to live there. Fab materials are typically a little harder to come by but whenever you can use them, be sure you do.
10. Store and reuse materials by zapping them
If you aren't too keen on a building or structure you've built, you can always recycle the materials using your zapper. Just tap on it and then tap the blocks you'd like to add back to your inventory. This is incredibly useful for times when you need to build something to complete an objective but don't have enough material. No one said you can't take it from someone else and then put it back after you complete the objective.
Your Supernauts tips, hints, and cheats?
If you're as addicted to playing Supernauts as we are, be sure to let us know what tips, tricks, and cheats you've found that have helped you solve hard puzzles or level up faster!
Get the best of iMore in in your inbox, every day!
iMore senior editor from 2011 to 2015.
Thank you for signing up to iMore. You will receive a verification email shortly.
There was a problem. Please refresh the page and try again.