Best waterproof cases for iPhone 6 Plus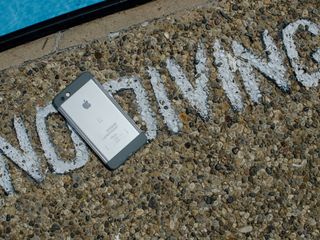 A waterproof case not only protects your iPhone 6 Plus from water damage, but from sand, dust, and dirt as well. It also lets you take awesome underwater pictures! Since failure isn't an option, it's so important to make sure you pick the right waterproof case for you. Here are the ones we recommend!
Have an iPhone 6 instead? No problem! Here are the best waterproof cases for iPhone 6!
Lifeproof Nuud
Why you can trust iMore Our expert reviewers spend hours testing and comparing products and services so you can choose the best for you. Find out more about how we test.
Waterproof without the screen protector
I love Lifeproof's Nuud line of cases because they don't implement the bulky screen guards many other waterproof options do. Instead, a vacuum seal system allows you to have full access to your screen while still providing excellent waterproof protection at up to 2 meters (6 feet) for up to 2 hours. You also get drop protection up to two meters.
Seidio OBEX
Ultra-slim waterproofing
The Seidio OBEX, which comes in a variety of colors, features a super-slim design that also makes it a great general purpose protective case when not in the water. The OBEX exceeds IP-68 ratings. That means it can withstand submersion of at least 1 meter (around 3 feet) for extended periods of time.
OverBoard
Waterproofing on a budget
If you want a waterproof case that only goes on when you go in, OverBoard is a great option. It functions more like a vacuum seal bag system but still gives you complete access to your iPhone 6 Plus. It's reusable, floats if you drop it in the water, and works at a depth of up to 6 meters (over 19 feet).
Catalyst
For deeper depths
Catalyst will protect your iPhone at depths of up to 5 meters (over 16 feet). It also provides complete protection against snow, dirt, and dust. The Catalyst comes in two different colors: black and white, and also supports most aftermarket Lightning cables so you don't have to take the case off to charge it.
Click the buy now link for your color choice on the preorder page and you'll see the Catalyst case for iPhone 6 plus is indeed shipping now
Your picks?
If you found a great waterproof case for your iPhone 6 Plus that I didn't mention here, be sure to let me know what it is in the comments. If you picked up one of the above cases, let me know how that's working for you!
iMore senior editor from 2011 to 2015.
I love the catalyst case. I have gone through 4 of the life proof cases. they either weren't water proof when I tested them or the tabs on the Lightning port cover cracked off when I closed it. The quality of the life proof case for the 6 plus just dosnt seem to be the same as in the past.

I want one but the reviewers have given some grief because of a gap between the screen protector and the screen causing issues scrolling and opening Notification Center and control center. I had this issue with the lifeproof fre on my iPhone 5 years ago. It made using the touchscreen on a phone call impossible to the point that I couldn't even press the End button to end the call without the proximity sensor locking the screen. I had to use the lock button instead. It also caused problems with Notification Center. How is your experience? Sent from the iMore App

After buying an Otterbox waterproof case for my iPhone 5 two years ago ($65) I've come to the conclusion that if my phone was not purposefully designed for swimming then I keep it on land. The otterbox I had purchased passed the home test per instructions but failed when I took it on a camping trip swimming in less than 5 ft of water. Needless to say it broke my phone and I've never broken a phone ever. I now have trust issues with these types of products. :o(

"swimming in less than 5 ft of water."
Have you tested your toaster in the bath tub yet?
Or better yet, have you tested the airbags on your car?

Haven't tried the toaster because I don't want my toast getting soggy but I have tried the airbag 20 years ago. Ran a car off a cliff but it didn't hit nose first, who would of thought the car would flip in midair.

Hi Ally, which of these cases have you used yourself? Sent from the iMore App

I'm using the catalyst myself at the moment and I'm enjoying it more than the nuud. My nuud charger port cover broke and the Touch ID cover made it hard to unlock the phone. Though I slightly miss the no screen protector aspect of the nuud I feel more confident in water with the catalyst and I find the Touch ID cover on the catalyst causes no problems when unlocking the phone. Plus I feel the catalyst feels better in the hand.

Stay away from life proof. They just look good because of the fancy packaging. Made extremely cheaply. They come apart. Way overpriced for a piece of cheap plastic from china.

The Catalyst by far is the best case mentioned. I tried the lifeproof, and after owning one for previous models I will say the otterbox influence is quite evident, sound is very muffled on it and its very poorly made for a $100 case. The OBEX has rainbowing on screen protector and very murky which hinders viewing. Sound is very muffled on it as well. Catalyst isn't perfect but it is better made than others, sound is decent and screen has no rainbowing and is reasonably clear. Only knock on Catalyst is shipping cost and time to receive it. I wish iMore store would carry them, I enjoy there reasonable and quick shipping.

Do any of these heavy-duty waterproof or battery cases significantly attenuate any of the cellular, wifi, or bluetooth signals that the device uses? Since the battery cases contain metals, I would think that some attenuation would happen, but I have never seen anything on the subject or any test reports, so maybe it is not a problem, but for someone living in an area with weak cellular signal, any attenuation from a heavy-metal-containing case could be a problem.

buy those waterproof case from Apple Store , Apple Store trust worthy

As other are saying, Lifeproof isn't that durable and also slightly overpriced at the same time.

This is great! Since im outside a lot .The extra waterproofing is essential,I"ll look forward to getting this iPHONE 6 soon.

Will the over board fit over an otter box? I would like to be able to leave the otter box on my phone and put something safer than a zip lock bag over my phone when I am near water. I have no intention on submerging my phone in water but I am heck on phones. love that the over board floats. Thanks

I liked the lifeproof case for the iPhone 6 plus until the clip on the charging port broke and lifeproof does make a clip to put the phone on a belt. I had to go back to otter box for a case that is not waterproof but the charging cover durable. Lifeproof is owned by otter box and they need to work together own the quality of their cases.

I want a waterproof case without a screen cover, like the Nuud. Is the Nuud the only case that offers this?

Consider trying FrogSuits made by Gulf Marine Technologies. They are made from neoprene are waterproof to at least 20 feet indefinitely, they float and have a good lanyard and come in very bright colors to be found. Frog suits can be used over a Lifeproof or Otterbox to make it float. Frog suits are also available for iPads. I invented Frogsuits for people who WILL be in the water, not for those who get there accidentally. Cost is $30.00
Thank you for signing up to iMore. You will receive a verification email shortly.
There was a problem. Please refresh the page and try again.