Castle of Illusion: Top 10 tips, tricks, and cheats to help Mickey defeat Mizrabel!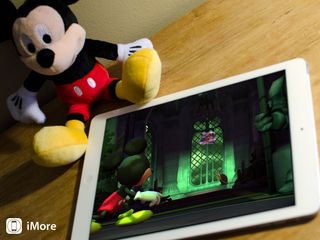 In Castle of Illusion, Mizrabel has kidnapped Minnie Mouse and it's Mickey's job to find her. From enchanted forests to lands filled with milkshakes and library books, Castle of Illusion is full of levels to tackle and obstacles to overcome. Along the way, Mizrabel throws all kinds of challenges and bosses to defeat your way. That's where iMore comes in! Here are our top 10 tips, tricks, and cheats to clearing stages and defeating Mizrabel!
1. Know your enemies
You come in contact with lots of different enemies and bosses in Castle of Illusion. Knowing what their weaknesses are works greatly to your advantage as you work your way through the game. For example, there are many kinds of ghosts and they all act differently. Red ghosts you can never jump on while blue ghosts can carry you around. The green ones let you jump high off their heads onto something else.
The same thing holds true in The Castle act with the suits of armor. Some throw things while others eyes light up and their swords can drop down and injure you. Some suits don't do anything. As you approach them, give them time to try and attack before jumping.
2. Defeating bosses at the end of each Act
Whenever defeating a boss, make sure you check out the environment around you and watch how each boss at the end of each act behaves. Each of them needs to be defeated differently but the end result is that you need to jump on their heads when they're dizzy in order to knock down their health. Only jump when they're dizzy otherwise you'll injure yourself.
3. Watch your shadow
Sometimes jumping from object to another can prove to be a little tricky for Mickey. A way to make sure your aim is spot on is to watch your shadow. This serves to be especially useful in acts like The Library where you're inside the milkshake bottle. When jumping from one cake to the next, make sure that you see your shadow on the next cake or adjust Mickey's landing so you do. If you let your shadow be your guide, you'll never have to worry about falling short or teetering off an edge.
When facing certain bosses like the jack in the box, watching your shadow to gauge your landing when trying to dodge the boxing gloves is extremely helpful. This also proves very useful when facing Mizrabel herself.
4. Be strategic about when you throw instead of jump
Aside from picking up diamonds, each level also contains objects that you can collect to throw at enemies. In some cases, items to throw are pretty sparse. Make sure that you're only using them when you need to. For example, The Castle stages, save all your candles and throw them at suits when your headspace is low and you can't jump over them. If you use them too prematurely you'll run out and get stuck in a sticky situation.
5. Replay levels to collect more diamonds
If you find yourself stuck in the Castle of Illusion not able to advance to the next act due to a lack of diamonds to unlock the next world, repeat a level! Go back to an easy one such as the Forest or Storm acts. They're super easy to beat and can rack up quite a few diamonds. You really only need a little over 300 to complete the game but there's 800 total hidden in all the stages.
6. Collect the free life upstairs in the Castle of Illusion
Upstairs on the writing desk there is a free life for the taking. It appears every so often so if your'e running low on lives, go back to the Castle and check to see if there's another free life waiting for you before continuing on. I'm not sure how often it replenishes but it always seems to be there whenever I return to the Castle from one of the acts.
7. Defeating Mizrabel: Alternating platforms
You'll need to hit Mizrabel a total of 6 times in order to defeat her. In order to hit her you have to jump on top of a platform and bounce off her head. Each time you get past one of her spells a platform will appear. That platform will alternate sides after each spell so remembering which side it appeared last could save you some time and help you make sure you hit her before it disappears on you.
8. Defeating Mizrabel: Attacks after each spell
Mizrabel will try and send her ghosts after you after each failed attempt to kill you with a spell. She typically shouts out words like "Attack!" or "End him now!" and these words should be your cue to jump as high as you can to avoid the resulting blow. After she does this, a platform appears for you to counter-attack.
9. Defeating Mizrabel: Short and low jumps are best, most of the time
MIzrabel throws all kinds of spells at you and some of them involve hopping over her ghost army so they don't hit you. On these kinds of spells, use short taps on the screen. This only makes Mickey jump slightly from the ground. The longer you hold down, the higher he jumps and the harder it becomes to gauge where he is going to land.
Short jumps are enough to get you over the ghosts while leaving you enough time to process what she's throwing at you next. This is especially useful in the third attack where the ghosts circle the room and you have to hop over them extremely quickly.
10. Defeating Mizrabel: Target practice
The fourth spell Mizrabel casts will create a green target around you in which she then throws ghosts at you. This is actually the easiest spell to avoid and walk away from without a scratch. Simply run in small circles right in front of her. The ghosts will never hit you and then you can counter-attack easily.
Your picks?
If you've been working your way through Castle of Illusion and have some tips or tricks that we've missed, make sure to let us know below! Have you worked your way completely through the game yet? Are you stuck? Let us know that too!
Master your iPhone in minutes
iMore offers spot-on advice and guidance from our team of experts, with decades of Apple device experience to lean on. Learn more with iMore!
iMore senior editor from 2011 to 2015.