Best accessories for iPhone SE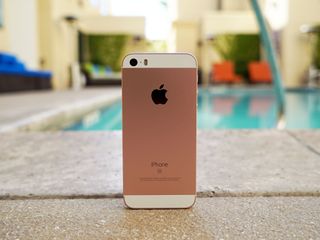 Updated March, 2017:
You've got your iPhone SE and you love it, too. Sometimes, it's not enough to just have the phone; you need ALL the accessories to go along with it. Whether you're constantly on the road, taking part in high-impact activities, or just love chilling and listening to jams, accessories make the iPhone SE experience richer and more fun! Here are our favorites.
Best cases
You can always trust iMore. Our team of Apple experts have years of experience testing all kinds of tech and gadgets, so you can be sure our recommendations and criticisms are accurate and helpful. Find out more about how we test.
Best overall case: Lifeproof NÜÜD
If you're in need of the best all-around protection for your iPhone SE, then the Lifeproof NÜÜD is what you're after. It offers some of the best drop protection money can buy, along with waterproofing, making your iPhone SE nigh impervious to harm.
The Lifeproof NÜÜD case offers stellar protection for your iPhone SE's corners, which are the weakest points of any phone. Lifeproof guarantees that a drop from around 6.5 feet won't kill your iPhone SE and you can even submerge it in 6.5 feet of water for an hour without issue. The craziest part is that these cases don't even feature a screen protector; you remain in full contact at all times.
For some folks that may be a deterrent, but the Gorilla Glass display is hardy enough to withstand minor scratches and bumps.
If you want a heavy duty case that's lightweight and relatively thin, while offering maximum protection, then Lifeproof NÜÜD is where it's at.
Best heavy duty case: OtterBox Defender
When most folks think of heavy duty cases, OtterBox is likely the first name that comes to mind. With a longstanding reputation for making some of the toughest cases in the cellular world, OtterBox's Defender maintains tradition and protects your iPhone SE from life's harshest bumps and jostles.
The Defender offers three layers of protection in the form of a hard polycarbonate inner shell, a soft synthetic rubber slipcover, and a built-in screen protector. The hard inner shell sturdily holds your iPhone SE and the rubber slipcover offers shock absorption, protecting those delicate corners and softening any bumps or drops.
All your ports are covered, blocking dirt and dust, and your screen is completely covered, protecting it from scratches and chips, while maintaining full functionality.
If you're constantly on the go and need peace of mind that your iPhone SE is as protected as it gets, then consider the OtterBox Defender. It may add a little bulk, but it'll certainly diminish the odds of your iPhone SE getting damaged.
Best thin case: Spigen Thin Fit
You want to protect your iPhone SE, but you don't want to add too much bulk to it and you don't want to spend an arm and a leg. The Spigen Thin Fit is what you're after. Spigen is an expert in making cases that fit phones snuggly and its Thin Fit case for the iPhone SE promises an exact fit for all you minimalists out there.
All of your buttons and ports are left open for easy access and you'll barely notice that there's a case on your iPhone SE at all. This is truly a case for folks who aren't too rough on their iPhone SE but want to protect it from the everyday perils that may befall it.
The Spigen Thin Fit comes in black, Shimmery White, Mint, and Crystal Clear (great for maintaining the original look and feel of your iPhone SE), so you can mix and match to your taste.
Starting around $10, Spigen's Thin Fit is the way to go if you want a bit of protection but hate feeling like there's a brick in your pocket or purse.
Best clear case: Ringke Fusion
Clear cases are for those who truly appreciate the thought that went into designing the body of their iPhone SE. If you want to maintain the original look of yours, then consider the Ringke Fusion.
It leaves all the necessary ports and button open, while offering solid protection, especially for being so thin. These cases are comprised of a hard polycarbonate back fused with a soft TPU bumper around the perimeter of your iPhone SE. This offers excellent scratch protection for the back of your iPhone and shock absorption around the edges, protecting the all-important corners.
On the front of your iPhone SE, the TPU bumper features a raised lip to protect your screen when you lay your iPhone face down. The Ringke Fusion fits precisely but also allows for a screen protector, which you should look into, especially if you keep your iPhone in the same pocket or purse as keys or other sharp metal bits. Check out a few of our favorite screen protectors if you like a scratch-free screen.
Grab the Ringke Fusion if you like the way your iPhone SE looks but just can't stand the thought of it becoming scuffed up.
Best battery case: Maxboost Atomic S
If you're constantly on your iPhone SE, checking Facebook, playing games, and messaging everyone under the Sun (who isn't ?!), then it's a great idea to consider a battery case. Maxboost's Atomic S offers protection, while giving your iPhone a second life if it happens to die during the day.
The battery in the Atomic S offers an extra 2,400mAh, which can effectively double the life of your iPhone SE, while adding minimum bulk at that! Perhaps the best thing going for the Maxboost Atomic S is the ability to charge the case and your iPhone SE simultaneously. It features both a Micro-USB port and a Lightning port, so you never have to take it off and allows you to sync your iPhone SE just as you would without the case.
If you go ham on iPhone usage throughout the day and are on 10% battery by midday, then you need a battery case and the Maxboost Atomic S is top dog. If it doesn't fit your style, then check out the rest of our favorites.
Best third-party Lightning cable: Anker Powerline
Let's face it, there's no better Lightning cable than the one Apple makes because, well, Apple makes it. But if you can't stand sitting only 3.5 feet away from the outlet when your iPhone SE is charging, then Anker's Powerline Lightning cable should be your next choice.
It comes in a 6-foot version, which is very highly reviewed on Amazon – and for good reason. It's super durable and made of kevlar fiber, so if your pet likes to chew, it'll have a harder time getting through this one before you notice.
It also comes with a velcro cable tie and an 18-month warranty, so you can keep it untangled and if anything goes wrong within an year and a half after you buy it, then you're covered.
The Anker Powerline Lightning cable is available in black, blue, red, Space Gray, and white. If you're looking for a better solution to Apple's all-too-short Lightning cable but still want the same reliability, then go with Anker.
Best USB wall charger: Anker PowerPort 4
Anker wins again with its 40W 4-port wall charger that lets you speedily charge up to four of your devices at once. If the family suddenly has an iPhone SE charging crisis, then Anker has you covered.
Offering up to 2.4 amps, per port, the PowerPort 4 will simultaneously charge all devices that are plugged into it, at top speed – no need to wait any longer than necessary.
If anything goes wrong, Anker provides its standard 18-month warranty, so you, your iPhone SE and any other devices that might need charging are safe.
If you've got multiple Apple devices and can't stand it when batteries run dry, then consider the Anker PowerPort 4. It could save you some major headaches.
Best USB car charger: Scosche ReVolt Dual
If you're running to that next meeting or carting the kids around to soccer practice, then baseball practice, then karate, you're not going to have time to stop and tether yourself to a wall socket to charge your iPhone SE. You need a USB car charger!
The Scosche ReVolt Dual is a reliable and fast way to charge up to two devices at top speed. If you're driving around at night, it can be perilous to try to find the USB port on your car charger, but the ReVolt Dual features LED ports so that you can get your iPhone SE plugged in without having to take your eyes off the road for too long (or at all if your peripheral vision is any good).
The ReVolt Dual has a low profile, so it won't clutter your console, and it works with any other device that charges via USB. If you're constantly on the go and your iPhone SE needs a boost on the road, then consider the Scosch ReVolt Dual.
Best car mount: TechMatte MagGrip CD slot magnetic universal car mount
It's dangerous to hold your iPhone SE to your ear while you drive and in more and more places, it's becoming illegal. Save yourself a hefty fine and/or costly crash and grab yourself a car mount. We like the TechMatte MagGrip CD slot mount. Bet you never thought the CD slot would be used for anything but CDs!
With Bluetooth functionality rendering the CD players in newer cars obsolete, TechMatte has brilliantly repurposed the slot-drive design with its MagGrip mount, which slides into the CD slot and tightens into place with a few knob turns.
It comes with one rectangular plate for placing inside your case, or one disc-shaped sticker for adhering to the back of your iPhone.
(Warning: TechMatte claims in this video that applying the adhesive disc is permanent, so it's going to be tough to remove without leaving marks of some sort.)
The strong magnets hold your iPhone SE and are mounted on a ball mount, which allows you to orient your iPhone SE any way you like it.
If you want hands-free use of your iPhone SE while you're on the road, then the TechMatte MagGrip is a great option.
Best Bluetooth speaker: UE Boom 2
Ok, you've got your sweet case, your car mount, and you're ready to go anywhere with your iPhone SE. Wouldn't it be great to have a Bluetooth speaker that could keep up with you and go everywhere with you? Enter the UE Boom 2.
This stellar Bluetooth speaker blows all of the others out of the water with its phenomenal sound, top-of-its-class 100-foot range, and maximum portability. I really can't say enough awesome things about the UE Boom 2.
It's waterproof in up to 3 feet of water for about half an hour and is dustproof, meaning it's – as UE says – "designed for adventure." With up to 15 hours of battery life, depending on your usage, you could make a solid dent in your Apple Music library.
Even when cranked to 11, the UE Boom 2 maintains clarity with a crisp high-end, present mid-range, and warm and rich low-end. It also comes in a bunch of colors and designs to match your style.
If you like to go places and you like your music, podcasts, and video audio to go places with you too, then the UE Boom 2 should be your first consideration.
Best Bluetooth headset: Plantronics Voyager Legend
It's dangerous and, in some states and most of Canada, it's illegal to hold your iPhone in your hand while you're driving. It can also be cumbersome if you work from home; the iPhone SE is not comfortable to pin between your ear and your shoulder. You need a Bluetooth headset!
We recommend the Plantronics Voyager Legend. It features Plantronics' Smart Sensor Technology, which senses when you place the headset on your ear and automatically answers calls. When you put the headset down, it reroutes audio to your iPhone SE.
It's also water-resistant to sweat, rain, and coffee spills, so no worries if you're stressed out on your morning commute, it's pouring rain, and the java's a-flyin'.
One of the main reasons we recommend the Voyager Legend over other headsets is its noise-cancelling capabilities. We all know how annoying it can be to try and talk on your iPhone in the car, especially with the road noise and noise inside your vehicle.
The Voyager Legend can actually separate your voice for up to 80db of background noise, so that you're not fighting with all the ambient noise and not having to constantly repeat yourself.
If you're a constant talker on the road, then you either need a car with Bluetooth or you need a Bluetooth headset. Since the Plantronics Voyager Legend is only around $60 and a new car is worth 250 times that, you might as well go with a headset.
Best headphones: Bang and Olufsen BeoPlay H6
You can load your iPhone SE with your own music and you can stream all the Apple Music you want. If there's any ounce of audiophile in you, then you know that good quality headphones make music all the more enjoyable.
Speaking personally, the Bang and Olufsen B&O Play H6 is the best pair of headphones I've ever had the pleasure of listening to. The low-end is rich and warm, the mid-range is present and sings out nicely (all those harmonies are distinguishable but not intrusive), and the high-end is crisp but in no way overwhelming or shrill. It's a perfect balance.
They're fairly expensive (around $300), but they're worth every penny, especially if you value clarity, tonal neutrality, and cranking it up to 11 with no distortion whatsoever.
What's your favorite?
Do you have a favorite iPhone SE accessory that you just can't live without? Sound off in the comments below and let us know if we missed anything!
Master your iPhone in minutes
iMore offers spot-on advice and guidance from our team of experts, with decades of Apple device experience to lean on. Learn more with iMore!
Mick is a staff writer who's as frugal as they come, so he always does extensive research (much to the exhaustion of his wife) before making a purchase. If it's not worth the price, Mick ain't buying.