Best Anti-Gravity iPhone Cases in 2022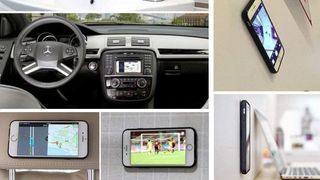 (Image credit: Amazon)
An anti-gravity iPhone case has a sticky back that allows you to place your phone anywhere. This is a convenient way to mount your iPhone on a dashboard, mirror, tile, whiteboard, cabinet, or any other smooth surface. Once mounted, use them to watch videos, or even take selfies hands-free. If you are on the look-out for an anti-gravity case, here are the best options!
Peel and stick
Anti-gravity cases are a fantastic way to add a little extra convenience and protection to your iPhone. The latest anti-gravity iPhone cases use micro-suction technology, so they and be stuck and unstuck repeatedly without leaving any residue or damage behind. Simply stick one of these cases to smooth surfaces like glass, and you can sit back and relax while watching your favorite show.
If you just want a simple, no-nonsense, anti-gravity case for iPhone 11, then the Selendis Anti-Gravity Case (opens in new tab) is the one for you. This affordable, form-fitting case features a dust-resistant film that can be rinsed off when needed, ensuring that it will always be ready for mounting.
However, if you want something a little fancy or colorful, and you have an iPhone XR, then take a look at the Dimaka iPhone XR Case (opens in new tab). This case comes is available in 27 different patterns and colors, each of which protects your phone from drops with a thick bumper. Dimaka's cases also let in a little color from your iPhone through with transparent areas.
Christopher spends most of his time writing and dreaming about all things HomeKit. If you wish to join him on his quest to automate everything, you can follow him on Twitter at @itschrisclose.
Get the best of iMore in in your inbox, every day!
Thank you for signing up to iMore. You will receive a verification email shortly.
There was a problem. Please refresh the page and try again.