Best Battery Cases for iPhone 7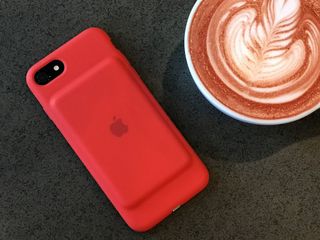 The iPhone 7 is one of the coolest tech toys to come out least year, but want to know what's not cool?
Your battery dying before noon. CUE DRAMATIC MUSIC
Luckily for all of us who love to use our phones constantly, there's a simple solution to keeping your iPhone 7 charged and always ready to go: a battery case!
Here are a number of reliable battery case options to browse through if you're looking for the perfect power-up for your iPhone 7!
iPhone 7 Smart Battery Case
Why you can trust iMore Our expert reviewers spend hours testing and comparing products and services so you can choose the best for you. Find out more about how we test.
If you're looking for the ideal battery-rific partner to go with your iPhone, then why not head straight to the source and check out Apple's iPhone 7 Smart Battery Case?
Designed with a soft microfibre lining on the inside, and a smooth silicone exterior, the iPhone 7 Smart Battery Case increases your talk time up to 26 hours, and your internet use up to 22 hours. Plus, it worked seamlessly with your iPhone 7, displaying the case's power status on your iPhone's screen so you know precisely how much charge is left!
The case doesn't come in a huge variety of colors, but you can pick from an incredibly sleek white, black, or (RED) case for around $99.
See at Apple (opens in new tab)
Trianium Atomic Pro iPhone 7 Case
With nearly 200 5-star reviews on Amazon, the Trianium Atomic Pro iPhone 7 Case Battery Charger is a powerful little backup battery to consider pairing with your iPhone 7.
Designed with a protective, 360 degree bumper case, and able to charge your iPhone with the push of a button, this protective battery case will add an additional 14+ hours of talk time or nearly 10+ hours of web browsing time to your iPhone 7's battery life.
Unlike plenty of other battery cases, the Trianium Atomic Pro is actually quite slim and compact (though it's definitely not designed to be ultra-thin and minimalist). You can pick up this particular battery case in white/turquoise, white/grey, black/burnt orange, and classic black for around $60.
See at Amazon (opens in new tab)
Maxdara Charging Case iPhone 7
If you're looking for a case that'll add over 15 hours of talk time to your battery life while still protecting your iPhone from scratches, falls, and accidents, then take a peek at the Maxdara Charging Case iPhone 7.
After sliding your iPhone 7 into the Maxdara, you'll instantly add 17+ hours of talk time, or a whopping 10+ hours of additional app-use time to your iPhone's battery. On top of that, one more unique feature the Maxdara has is its power-level indicator using 4 multicolored LED lights that let you know when you're runnin' out of juice.
While most battery cases come in a small handful of colors, the Maxdara Charging Case comes in over six, including black, blue, gold, pink, silver, white, and rose gold (plus, for only $17.99, why not check it out?!)
See at Amazon (opens in new tab)
Mophie Juice Pack Air
Mophie's Juice Pack Air case has been a favorite for years, but now there's an option for your iPhone 7: and with Mophie's excellent product design, it's a good bet you'll <3 it for your iPhone 7, too!
Not only does the Mophie Juice Pack Air keep your iPhone 7's battery alive for an additional 27 hours (say whaaaaaaa?!) but it also has the ability to charge wirelessly with one of Mophie's chargers. That means you no longer would have to worry about hauling lightning cables around with you! Or replacing them when they fray and die!
This sleek and sharp case may not be the thinnest, but it looks and pairs perfectly with the iPhone 7's aesthetic and feel.
You can pick up the Mophie Juice Pack Air in four colors, including black, rose gold, navy blue, and (RED) for around $99.
BoxLegend iPhone 7 battery case
The BoxLegend case promises to pack quite a power-punch: after you slide in your iPhone 7, you'll get up to an additional 92 hours of music or 27 hours of talk time, along with 16 hours of extra app use. It takes around 2 and a half hours to fully charge your iPhone 7 once it's dead, though!
This fairly thin, 0.51-inch case may not be the most protective option for your iPhone 7, but it is a wonderful option if you're looking to squeeze a little extra juice out of your tech.
The BoxLegend case comes in only two colors: rose gold and black for around $20 a pop.
See at Amazon (opens in new tab)
Alpatronix BX170 Ultra-Slim charging case
If you're looking for a reliable battery case that won't add a terrible amount of bulk to your iPhone 7, while still being able to (almost) perfectly match any iPhone color, then check out the BX170 Ultra-Slim charging case from Alpatronix!
Apple-certified, designed with a scratch guard, as well as a raised bezel in case you drop it face-down on the ground and super-duper easy to install, the Alpatronix BX170 Ultra-Slim charging case is an incredibly well-designed and durable battery pack for your iPhone.
One downside? The Alpatronix BX170 Ultra-Slim charging case case doesn't work with Apple's EarPods or with a Lightning cable or traditional 3.5mm headphones – it's only compatible with any wireless Bluetooth headphones or Apple AirPods, since it takes up the Lightning port on your iPhone. #sadtrombone
That being said, the BX170 is relatively affordable (around $32) and comes in colors that perfectly match your iPhone 7! Well, unless you have a space gray one...
See at Amazon (opens in new tab)
What's your pick?
Is there a battery case that you're absolutely obsessed with? If so, let us you know favorites in the comments below!
Updated July 2017: All options on this list are still the best of the best.
Get the best of iMore in in your inbox, every day!
Cella writes for iMore on social and photography. She's a true crime enthusiast, bestselling horror author, lipstick collector, buzzkill, and Sicilian. Follow her on Twitter and Instagram: @hellorousseau
Smart Battery Case is $129 in Canada, $99 in US.

The apple case is so ugly. It should be called the Beluga Whale. Steve Jobs would never okay that case.

There's a lot of design in that case.

True. After some research it became my first choice. However, for the price the case is below Apple's usual quality standards. Two cases stopped connecting, each withina month. Expectedly, Apple exchanged them with absolutely no issue. I finally have one now that's been working fine for a few months, even though it takes a phone reset to communicate sometimes. Besides that, I really like it. AND it has the Apple logo on it. 👍🏻

My biggest issue with the official battery case (hideous looks notwithstanding) is it's nigh on impossible to use your phone on a flat surface. Try and use the home "button" and the phone tips down. Press anywhere from the middle up and it tips the other way again like some overpriced seesaw. It's also worth noting that the Mophie case allows wireless charging with any Qi compatible charging plate, not just Mophie ones like the article states.

Have you actually tried the official battery case? It doesn't tip, even though it looks like it would

I own one on a 7Plus (given to me by my employer) and it does tip. Perhaps it doesn't on the smaller 7 model but definitely on its big Bro.

You must have an aftermarket copy smart battery case for the iPhone 7 Plus - because currently there isn't an official one from Apple. Maybe that's why it seesaws. Sent from the iMore App

You're right, it's not an official one, it had a big apple on the back so assumed it was. I retract my original statement. Sorry Apple!

I just purchased a mophie case, for the reasoning of - I bought one for my iphone 6 plus, and it was the most protective case I had, (other than an otterbox of course) that gave me a charge. BUT in saying this, Otterbox & Mophie are actually teaming up together to make a case! So keep your eyes peeled!

I have a problem with 2 things mainly: running out of juice before noon and bulky phones. So that was hard to hit a good case. I settled for the Baseus Slim Case. Good battery power 2,750mah and not so bulky. Has anyone tried that one?
Thank you for signing up to iMore. You will receive a verification email shortly.
There was a problem. Please refresh the page and try again.