Best battery cases for iPhone SE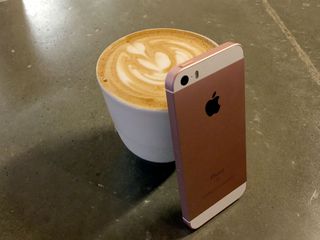 It's happened to all of us. You're out playing Pokemon Go, you're waiting at the doctor's office binging on Netflix, you're shooting an epic story on Snapchat, and then BOOM. Battery warning. Sure, you could run back home to your charging cable and let your digital life pile up around you. Or you could get a battery case for your iPhone SE and just keep going!
Maxboost Atomic S iPhone Portable Charger
You can always trust iMore. Our team of Apple experts have years of experience testing all kinds of tech and gadgets, so you can be sure our recommendations and criticisms are accurate and helpful. Find out more about how we test.
Maxboost, as a company, is all about battery life. They offer chargers, battery packs, and battery cases for phones, as well as screen protectors and holsters. The Atomic S is their top-of-the-line battery case and it fits your iPhone SE perfectly!
The Maxboost Atomic S packs a wallop with its 2400 mAh battery that adds 120% battery life to your iPhone SE. That's around 12 hours of talk time and around 15 hours of web browsing. The case is a solid build and formidable enough to protect your phone from low drops and dings. It's also got a nifty kickstand, so that when you're streaming all day because you have so much battery life, you don't have to hold your phone.
Unlike many battery cases, you can sync and charge your phone at the same time. The micro USB port communicates with the Lightning port so that you're not having to always rely on wireless sync or take your phone out of the case.
Like many battery cases, the hole for the audio jack may not be big enough for all headphones. It does come with an extension, though.
Skiva PowerFlow AP120
The Skiva PowerFlow AP120 more than doubles your iPhone SE's battery life, with 2000 mAh to the SE's 1642. It's solid and has a textured feel so that it's not constantly sliding out of your hands. The case is impact-resistant (to a degree; let's not go playing racketball with it), so your phone is not only juiced, but protected as well (for the most part).
The Lightning port and micro USB charging port aren't integrated, but the Lightning port remains open, so you can charge both the case and your phone at the same time. While convenient compared to some battery cases, leaving the bottom and top of the phone bare (as well as all the buttons) kind of makes the phone feel vulnerable. The case is impact-resistant, but if you drop it the right way, say on a curb or something, you might have a bad time.
It's a little bulky, though, around the thickness of the phone itself, so it's like having two SE's in your pocket. That bulk makes it sturdy, though. And it has a good-sized battery and is very affordable.
Alpatronix BX120plusSE
Just like the Maxboost, the Alpatronix BX120 comes with a 2400 mAh battery, so you're getting 120% of your SE's battery life. For such a big battery, the BX120 is incredibly slim, but it doesn't feel cheap. There's some weight to it, and it feels like it could withstand a bump or two. It also comes in a wide variety of colors, so if you've got a particular style (come on, you do), then Alpatronix has a case to fit you.
In the box you get a free screen protector, so you're cover all the way around. Do not get the white one, though. For some reason it's glossy and slippery and you're gonna have a bad time. Some folks have had some damage done to their charging port, so be gentle.
Mophie Juice Pack Air
The Mophie Juice Pack Air is the slimmest battery case on the list. While other case are at least half the thickness of the phone itself, this one barely adds any more bulk than the average OtterBox would. Mophie also knows you like to style, so the Juice Pack Air comes in seven colors, from gold to hot pink.
The Juice Pack Air fits snug as a bug in a rug and feels great in your hand, just like a regular phone case should, but with the added benefit of increasing battery life.
That slimness comes at a price, though. With only a 1700 mAh battery, the Juice Pack Air won't double your battery life. It'll help you see the end of the day, but that's about it. It's also around the same price as other cases, so the smaller battery isn't as attractive when you compare overall battery life.
Still, it's Mophie and it's thin, and for some people that's all they need to know.
Lenmar Meridian
For being such a slim case, the Meridian has a 2300 mAh battery, which will at least double your iPhone SE's battery life while only feeling like a regular phone case. It's rubberized, so it's nice and grippy; none of that slippery-smooth-plastic-masquerading-as-textured business.
You probably don't want to count on this case too much for protection, though. It is quite thin and the lip around the screen isn't raised all that much, so it may not survive a good drop. The charging and Lightning ports aren't integrated either, so you have to remove your SE from the case if you want to sync with iTunes or plug directly into the wall.
For what you get, it's a bit expensive, around $10- $20 more than what you'd pay for better cases. So you have to really like the look to go for it.
Your favorite battery case for iPhone SE?
Let us know which battery case you go for, or if you've already gone for one, which one you got! If we missed your favorite, make sure you let us know all about it in the comments!
Master your iPhone in minutes
iMore offers spot-on advice and guidance from our team of experts, with decades of Apple device experience to lean on. Learn more with iMore!
Mick is a staff writer who's as frugal as they come, so he always does extensive research (much to the exhaustion of his wife) before making a purchase. If it's not worth the price, Mick ain't buying.