Best clear cases for iPhone SE: The next best thing to naked!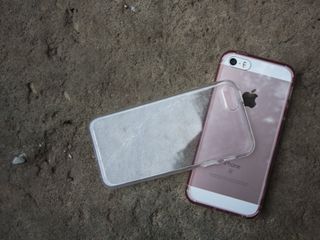 If you want something thin and inconspicuous for your iPhone SE, take a peek at these cases. Instead of jazzing things up or going for flash and flare on the outside, these let Apple's design shine through. They won't provide the same level of protection as rugged cases, but they don't have as much bulk either. Best of all, if you have an iPhone 5s — or even an iPhone 5 — you can use these cases as well!
MXx clear case protector
Why you can trust iMore Our expert reviewers spend hours testing and comparing products and services so you can choose the best for you. Find out more about how we test.
Perfect for protecting your iPhone SE without the distracting color or bulk of other cases, the MXx clear case protector is an ultra-slim fitting transparent case.
The MXx's crystal clear back panel and specially formed, high-quality TPU bumper tightly grip all sides of the phone for some added protection, while precise cutouts for charging ports and audio jacks are easily accessible so you're not constantly taking the case on and off.
Designed with anti-scratch and enhanced, dual-coating technology, you shouldn't have to worry about dropping your phone and with the MXx clear case protector on your iPhone SE.
See at Amazon (opens in new tab)
Case-Mate Naked Tough case
Never has naked looked so tough with Case-Mate's clear dual-layered, clear Naked Tough case!
While unbelievably thin and inconspicuous, the Naked Tough case is perfect if you're someone who constantly drops their phone: the protective bumper features enhanced impact resistance with shock dispersion to keep your iPhone SE wrapped in metaphorical bubble wrap at all times.
The only color (if you could even call it that)! the Naked Tough case adds to your phone is the metal accents on the sides for your volume buttons, but you'll barely notice them.
See at Case-Mate (opens in new tab)
Case-Mate Barely There case
Case-Mate's Barely There iPhone SE case is thinner than the Naked Tough case and exactly what the name implies: a transparent, ultra slim case that's barely there.
The case for the iPhone SE is put together with a classic protective design that shows off the slim profile of your iPhone SE, while showcasing it in all its technological beauty via its crystal clear design.
Hard-shelled and impact resistant, the Barely There case comes with a lay-flat bezel to protect your iPhone SE's screen, while anti-scratch technology stops your case from getting scuffed up and dirty from day-to-day use.
See at Case-Mate (opens in new tab)
The Veil
The Veil case is so thin and inconspicuous, you can barely tell it's on your iPhone SE at all!
Using advanced injection moulding techniques to create the perfect combination of stiffness and flexibility, The Veil iPhone SE case is the perfect partner to showcase your phone's design and true beauty.
A premium matte feel keeps the case clear of fingerprints and dirt, while precision manufacturing assured full access to your iPhone SE's ports and buttons.
See at Caudabe (opens in new tab)
Speck CandyShell case
Speck's CandyShell promises military-grade drop protection through a one-piece, multi-layer design. Unlike most clear cases, the Candyshell comes with two layers of next-generation clear material that resists UV yellowing, so you don't need to worry about any discoloration.
The dual-layer, military-grade protection with custom engineered soft acrylic will absorb the impact from most shocks and falls, so you don't need to worry about your new iPhone SE shattering.
See at Speck (opens in new tab)
What's your pick?
Is there a transparent iPhone SE case that you cannot live without? Let us know what your favorite iPhone SE case is and why in the comments below!
Get the best of iMore in in your inbox, every day!
Cella writes for iMore on social and photography. She's a true crime enthusiast, bestselling horror author, lipstick collector, buzzkill, and Sicilian. Follow her on Twitter and Instagram: @hellorousseau
Easy pick! The Naked Tough, for the metal accent buttons for volume controls.......Subtle, but pretty neat looking---i like the contrast!

OtterBox redesigned their Crystal Series case for the SE. Only the rear is clear, however.

Every clear case bar none discolours over time :-(. I buy them anyway. One of my current favourites is the Ringke Fusion. It's cheap and well made. And for me one of the best combinations of being thin but not too thin. It offers some nice protection and it's a tiny smidgen rubbery, just enough.

Yeah that's the one I have right now. It's working well for me, I even dropped my phone once and it was just fine.

I've had a couple of clear ones in the past, but they do turn a little yellow over time, and as they are clear, they do also show dust and fluff between the case and phone too.
I ultimatley went for a case more for protection than style - an Urban Armor Gear Case.

I'm currently a fan of the Gear4 Piccadilly case: http://www.gear4.com/shop/104-piccadilly-55sse.html

Currently using the Tech 21 case. Clear enough to see the phone but also has great drop protection. Sent from the iMore App

JTech clear case is the best Sent from the iMore App

snack-size ziplock bag. protects from rain and sweat. adds no weight or bulk. no drop protection but who would drop a phone that fits so perfectly in the hand??? you can get 50 of them for like $2. boom.
Thank you for signing up to iMore. You will receive a verification email shortly.
There was a problem. Please refresh the page and try again.