Best gold iPhone 6s cases that really bring the bling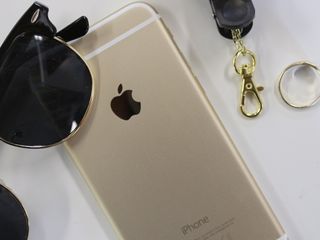 The gold iPhone 6s, like other gold iPhones before it, is more of a champagne color. It's tasteful. It's elegant. It's everything we expect from Apple. But it's not everything we can get from gold. If bling is your thing, here are our favorite glitzy, gilded iPhone 6s cases to really up your gold game!
Geometric Kaleidoscope Case
Why you can trust iMore Our expert reviewers spend hours testing and comparing products and services so you can choose the best for you. Find out more about how we test.
Stylish, modern, and definitely eye-catching, felonycase's detailed, handmade kaleidoscope gold iPhone 6 case brings the bling in a polished, pristine way!
Made from precision moulded polycarbonate, the kaleidoscope case provides lightweight protection for your iPhone with the unique texture of crushed gold. Easy clip-on installation means this case is fastened tightly to your iPhone 6, while open access to all buttons and ports means you don't have to snap it on and off to charge it or headphone port.
See at Etsy (opens in new tab)
Mophie Juice Pack Air
Protective, light-weight, and blinged out with a gold finish, the Mophie juice pack air combines functionality and style into one convenient iPhone case.
With the flip of a switch, the juice pack delivers more than 100% extra battery to your iPhone with the simple flip of a switch. The raised bezel around the gold case creates a ridge to prevent your phone screen from cracking or scratching, while 2,750mAh deliver more your extra battery and extend your talk time from 14 hours to 28.
The best part? This super sleek gold gadget enables pass-through charge & synch. Your iPhone charges first, and then the juice pack charges itself, so there's no need to charge to separate devices.
Gold Mirror Hardback case
The Gold Mirror Hardback iPhone case looks like a melted pool of glistening gold, and doubles as a crystal clear mirror to boot, making it both practical and bling-tastically beautiful.
The case comes in two parts: a luxury air aluminum metal bumper, and a mirror effect electroplate back piece which acts as the reflective surface. The comfortable and lightweight design snaps together and protects without any additional bulk being added to your iPhone 6 or 6s Plus.
See at Amazon (opens in new tab)
Royal Gold LuxAddiction Case
You wanted something blinged out, eye-catching, and fierce? Then look no further than LuxAddiction's Royal Gold iPhone 6s case; a case that redefines the term glitz.
Made with dozens of tiny, glistening jewels, the Royal Gold case is the definition of decadence and glamour. Set yourself apart from the crowd with this durable, hard-plastic LuxAddiction case (keep in mind, the intricate details of the jewels may come loose if you're pulling your phone in and out of your pocket constantly. Even though the base is tough, the jewels may require a more delicate touch).
Marc Jacobs Foil
To quote the product description, "Wrap up your phone like a hot baked potato with… perfection".
This durable polycarbonate case is made with embossed crinkle foil for a texture like that of tinfoil dipped in 24 karat gold. You'll feel like a bling-tactic baked potato with the Marc Jacobs' signature-stamped logo on the lower right hand corner of this sleek and stylish, designer case.
The case also comes with full access to all device features and ports, so you don't have to pry it off and snap it on and ruin the beautiful gold detail.
See at Zappos Luxury (opens in new tab)
Lux Zero Halliburton iPhone 6 Diamond Case
Have a little extra money to spare? How about $5,995? Because that's how much the Lux Zero Halliburton iPhone 6 diamond case costs.
A collaboration between Brikk and Zero Halliburton, the luggage manufacturer who made famous the classic aluminum briefcase that holds millions of dollars, the Lux Zero Halliburton is made using the same look and style that Zero is known for globally.
The base material is a lightweight aircraft aluminum and is covered in multiple layers of 24K yellow gold, and the cherry on top? A single diamond embedded directly in the case to ensure the Lux Zero's perfection.
What gold iPhone 6 cases are your favorites?
There's a lot of glitz, glamor, and gold out there – what's your favorite blinged-out iPhone 6 case and why? Do you prefer something a little more practical, or something a little more flashy? Let us know in the comments below!
Get the best of iMore in your inbox, every day!
Cella writes for iMore on social and photography. She's a true crime enthusiast, bestselling horror author, lipstick collector, buzzkill, and Sicilian. Follow her on Twitter and Instagram: @hellorousseau