Best Harry Potter iPhone Cases for Playing Harry Potter: Wizards Unite in 2022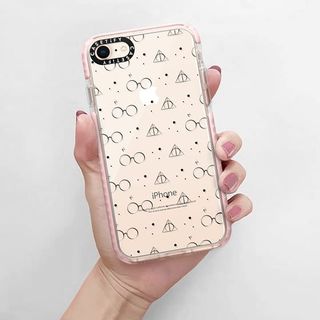 Harry Potter Wizards Unite is the latest AR game from Niantic, makers of Pokémon Go, so wizards and witches all over will be out and about playing and defending the Wizarding World from the Dark Arts! Since a lot of you will be using iPhones to play, we need to make sure that those devices stay safe and protected. Here are the best Harry Potter-themed cases to keep your iPhones safe.
Casetify Harry Potter Case
Customize it for a price

Casetify makes some high quality cases with great designs and patterns. You can have this subtle Harry Potter pattern (Harry's glasses, the lightning scar, and the Deathly Hallows symbol) on a case type of your choice (six to choose from), and even pick the color of bumper or other accents (if available, depending on case type). This custom case is also available for pretty much all iPhone models (going all the way back to 4S).
(opens in new tab)
Hogwarts Antique Book Style Wallet Case for iPhone XS
An all-in-one solution

This wallet case has a unique and distinctive antique book style that will surely turn a few heads. It's made from premium synthetic leather that is durable and protective. There are three card slots inside, and the front cover doubles as a phone stand for horizontal viewing. Plus, it has the Hogwarts houses emblem on the front.
(opens in new tab)
DURARMOR Slim Harry Potter Case for iPhone XS
Durable protection

These hardshell cases from DURARMOR feature dual-layers for super scratch-resistant and shock absorption. The exterior is a hard polycarbonate material, and the interior is a soft-touch TPU material that absorbs impact. You get full port and button access. And you have a few Harry Potter designs to choose from.
(opens in new tab)
MAYCARI Hogwarts Spells Comics Case
Slim yet protective

These Hogwarts Spells Comics cases have a slim profile so they don't add any bulk to your device. While they don't offer the best protection, it will keep your device scratch and scuff free. There's a design for each book in the main series and they're all cute and charming. You have a total of seven designs and several case options to fit your iPhone model.
(opens in new tab)
Marauder's Map Holo Case with Phone Grip
I solemnly swear I am up to no good

You'll always manage your mischief with this shiny foil Marauder's Map case for your iPhone. The case itself is made from a flexible and soft TPU material. It's easy to get on and off within seconds. It's also fairly slim, which is great for those who don't want a lot of bulk. It has a shiny foil effect that is pretty, and it also comes with a matching phone grip attachment.
(opens in new tab)
Unov Deathly Hallows Clear Case for iPhone XS Max
Clear and subtle

This clear case from Unov has a subtle Deathly Hallows pattern, so it won't draw too much attention if you don't want it, and it lets your device's beauty shine through. It's made with a flexible TPU material. It's easy to get on and off and a raised lip keeps your screen safe if you place it face-down on a flat surface. It's lightweight and has a slim profile as well.
(opens in new tab)
Lex Altern Hogwarts TPU Case
Take Hogwarts with you

This custom case is made of a flexible TPU material that is easy to install and remove on your iPhone. The back design features Hogwarts castle along the bottom, while allowing your iPhone's natural beauty to shine through above the castle. The case is custom made to fit whatever iPhone you need.
(opens in new tab)
Society6 Harry Potter iPhone Cases
Plenty of unique options

Society6 has plenty of original and distinctive Harry Potter designs that are created by individual artists in the community. You'll find plenty to choose from and these designs are available on several different case types, including Slim, Tough, and Adventure, depending on what you're looking for. Not every design comes in every style, but you should be able to find something you like. It also comes in sizes for every iPhone.
Official WB Harry Potter iPhone Cases
Official goodness

If you prefer to go for the source, the WBShop has a slew of Harry Potter phone cases to choose from, with a few exclusive designs. These cases are thin but ultra firm, giving you good protection and durability from drops and everyday wear and tear. And don't worry about ports and buttons, because you'll still get full access. Each case is made to order and cover the iPhone 5 to iPhone X (availability depends on case).
Protego!
Why you can trust iMore Our expert reviewers spend hours testing and comparing products and services so you can choose the best for you. Find out more about how we test.
These are just some of the best Harry Potter themed iPhone cases we could find. With these cases, other witches and wizards are sure to notice your phone, and it could perhaps be a conversation starter while you're working together to fight the Dark Arts and save the Wizarding World.
If you want some recommendations, we definitely think the Casetify Harry Potter pattern (opens in new tab) options are nice. You can pick whatever kind of case suits your own needs and tastes, and there are a few ways to customize it to truly stand out. I personally like their Impact cases.
Another nice option are the Society6 Harry Potter iPhone Cases (opens in new tab), because there are a ton of unique designs that you won't find anywhere else. And since the artwork is submitted by the community, it is much more interesting than the standard, official stuff.
If you're on a budget, the MAYCARI Hogwarts Spells Comics cases (opens in new tab) are a good one to consider. They're slim and protect your device from small scuffs and scratches, and the designs are cute and charming. Really, what's not to love about them?