Best Holster and Belt Cases for iPhone 7 Plus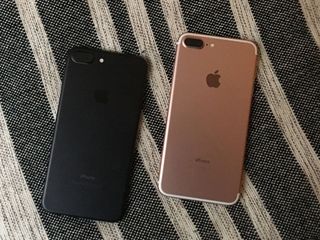 They may not look totally schway, but a hip holster or belt clip for your iPhone 7 Plus keeps it readily accessible and keeps you from having to awkwardly jam it in your pocket, making it just as awkward to get it back out again.
Here are our favorite belt cases!
Zizo Bolt Cover
Why you can trust iMore Our expert reviewers spend hours testing and comparing products and services so you can choose the best for you. Find out more about how we test.
The Zizo Bolt Cover is made for folks who lead active lives. Offering military grade drop protection, the Bolt Cover's multilayer design provides excellent shock absorption, keeping your iPhone 7 Plus safe and secure.
The belt clip slides over your phone's screen to protect it from scratches while it's on your hip, and it slides off when you need your iPhone in a hurry.
The Zizo Bolt Cover comes in 11 color combinations and features a handy kickstand and comes with a free tempered glass screen protector (bonus!).
See at Amazon (opens in new tab)
Trianium Duranium
The Trianium Duranium is not a Red Hot Chilli Peppers album, rather it's a very protective case comprising a flexible TPU bumper and a hard polycarbonate shell, which provide protection against scratches, bumps, and drops. The TPU is reinforced in each corner to provide extra shock absorption where your iPhone 7 Plus needs it most.
Yeah, it might look like a knockoff of Spigen's Tough Armor, but the Duranium has two things Tough Armor doesn't: a built-in screen protector and a belt clip holster. The screen protector snaps into place and is fully touch sensitive, while the belt clip holster slides over your iPhone's screen, protecting it while it's on your hip.
Trianium Duranium comes in gunmetal, black, silver, gold, and rose gold.
See at Amazon (opens in new tab)
Kingsource leatherette horizontal pouch
Kingsource's pleather belt holster is how you carry your iPhone 7 Plus in style. It has an almost crocodile leather-style look and keeps your iPhone at the ready, should you need to snap a quick picture or answer a call.
The holster is held shut by a convenient magnetic flap, and the inside is softer, so as not to scratch up your iPhone.
This holster might be a bit on the larger side, but it looks great and it easy to put on and take off of your belt. Note that though the listing says iPhone 6s Plus, this will fit the iPhone 7 Plus. It's also prudent to note that this holster will only accept a bare phone or one in a minimalist case. Thicker cases just won't fit.
See at Amazon (opens in new tab)
Encased belt clip case
Encased's belt clip is for those who want their iPhone 7 Plus on their hip but want as little bulk as possible. The textured rubber case fits over the back of your phone, offering extra grip, while the thin holster fits over the front, protecting your screen while your iPhone is attached.
The holster is built Ford-tough, able to withstand up to 110 pounds of pressure, which means it shouldn't break off while you run or if you get your hip caught on a door frame.
Part of the back of the case folds back into a convenient kickstand for hands-free video-watching or FaceTiming, and the case's surface is dirt and smudge-resistant, so it always looks slick.
See at Amazon (opens in new tab)
Lorem leather belt clip holster
This is the perfect belt holster for folks who want that smooth leather look but don't want to break the bank. For around $10, you'll get a quality case that features a strong magnet flap to keep your iPhone 7 Plus secure and three durable belt loops that keep the case in place and prevent it from flopping around when you walk.
The inner lining is soft, so there's no worry of scratching up your iPhone, and there's even room for an iPhone 7 Plus with a thinner case, so you can keep it doubly protected.
See at Amazon (opens in new tab)
i-Blason Transformer
i-Blason's Transformer is a rugged case that comes with a locking swivel belt clip, so you can wear your iPhone 7 Plus horizontally or vertically on your hip.
The protective case features a lot of extra protection in the corners, which is imperative, since a drop on a corner usually means certain death for your phone's screen. The case has a hard back to protect from bumps and scratches, and the volume and power buttons are covered, but tactilely responsive, so you're never guessing.
The back of the Transformer folds out into a sliding kickstand that both looks cool and provides you a convenient way to watch videos, play games, or FaceTime hands-free.
The i-Blason Transformer comes in black, blue, pink, or white.
See at Amazon (opens in new tab)
Belt it out!
Are you using a sweet belt clip or holster case that we didn't mention? Let us know in the comments below!
Get the best of iMore in in your inbox, every day!
Mick is a staff writer who's as frugal as they come, so he always does extensive research (much to the exhaustion of his wife) before making a purchase. If it's not worth the price, Mick ain't buying.
Seidio surface with holster clip

Seidio surface with holster clip for me to. I had one for my iPhone 6 and love it. I just ordered the new one for the iPhone 7 Plus and I hope it is just as good. I got two years out of my last one. They are not cheap but they are well made and seem to last. I am using a holster from Encased now with a Spigen case but the holster doesn't stay on my belt very well.

I want someone to come out with a holster called "The Dad", since the only people I see with holsters are older guys with families lol

lol, you must either be really young or don't get out much. The biggest selling case for just about any version of the iphone is the offerbox defender which just happens to be a holster case. Stop only looking at older guys and maybe you'll see everyone else that's wearing holsters haha

With the bigger phone... it doesn't fit as well in pockets, especially when you sit. A nice, cool looking or stylish holster is perfect for the plus. Sent from the iMore App

I have the Encased on my 7+ and so far so great! I used to have a Seidio case/holster combo on my 6, but it was causing noticable signal degredation for cellular and BT.

Don't rule out Otterbox Defender. That case is impressive and durable. Sent from the iMore App
Thank you for signing up to iMore. You will receive a verification email shortly.
There was a problem. Please refresh the page and try again.