Best iPhone 6s Plus cases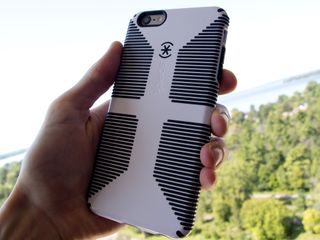 We're putting together a list of our favorite cases for the iPhone 6s so you can make sure yours gets through your punishing day-to-day activity in one piece. We've looking to have something for everybody here; rugged cases, slim cases, waterproof cases, leather cases, flip cases, battery cases, and everything in between. We'll be updating this list continually as more manufacturers update their product line and confirm their existing products are compatible. The size difference between the iPhone 6s Plus and the iPhone 6 Plus is negligible, so be sure to hold onto your old cases before upgrading.
Apple Leather Case
Why you can trust iMore Our expert reviewers spend hours testing and comparing products and services so you can choose the best for you. Find out more about how we test.
Apple's own leather case got a few new color options with the announcement of the iPhone 6s Plus. On top of classic black and brown, there's blue, gray, and a "saddle" brown. The slim case offers impeccable simplicity and style, not to mention being one of the few options that still proudly shows off the Apple logo. The case doesn't add much bulk to the phone, but adds a nice layer of protection and grip to the phone while holding it. Being real leather, it will age over time, making each case become unique after some use. You can pick the case up from Apple, Best Buy and a number of other retailers for around $50.
See at Apple (opens in new tab)
Urban Armor Gear
The Urban Armor Gear case for the iPhone 6s Plus is as tough as it looks. The inner rubber layer disperses impact over a honeycomb membrane, while a hard outer shell takes care of scratches. Pass-through buttons are available for all of the important keys, and there are a wide range of color options, including white, black, navy blue, and clear. There are even folio options available, if you're in the market. UAG confirms its iPhone 6 Plus cases are compatible with the iPhone 6s Plus.
See at Amazon (opens in new tab)
TwelveSouth BookBook
TwelveSouth's BookBook is one of the better-looking wallet cases available for the iPhone 6s Plus. It has the look of a well-worn novel, complete with real leather exterior construction, but on the inside, you'll find slots for your ID cards and cash. The BookBook series has been available for older iPhones, but they've recently added a mounting mechanism so you can slip off the wallet portion when you need to. The underside is a soft-touch shell that works fine on its own without the front cover.
This design also allows the outer wallet layer to act as a stand for your iPhone 6s Plus. It's nice to not have to carry both your iPhone and your wallet around thanks to a case like this. TwelveSouth says in their initial tests that the iPhone 6 Plus case works with the 6s Plus, but they still have some confirmation to do.
See at Amazon (opens in new tab)
Speck CandyShell Grip
Speck's CandyShell Grip cases are both stylish and practical. There's a bunch of colors available, but they all feature an extra-grippy rubber lining along the sides and back to ensure your iPhone 6s Plus never slips from your hand. These ridges also mitigate impact before anything hits the hard plastic shell, while a raised lip protects your screen from face-down drops. Speck has confirmed that their existing lineup of cases fits the iPhone 6s and iPhone 6s Plus, including the other options in their lineup.
See at Amazon (opens in new tab)
Seidio Surface
The Seidio Surface case is an extra-slim case that comes complete with a swiveling holster clip and a built-in kickstand. The two-piece hard case is available in a range of solid, bold colors, including burnt orange, cyan, and orchid. Cutouts for the Lightning port, headphones, power, and volume keys offers all the access you could need. Seidio ensures us their iPhone 6 Plus cases work with the iPhone 6s Plus.
See at Amazon (opens in new tab)
Spigen Tough Armor
The Spigen Tough Armor offers complete protection without the bulk. It covers the iPhone 6s Plus with a combination of a hard plastic outer plate and flexible rubber core. The Lightning port has a little extra wriggle room to accommodate third party accessories. Additional bumpers along the back keep the case raised just a little bit off flat surfaces to avoid scratches. The beveled edges help glance impacts, but also look extra-sharp. Spigen even has a new rose gold option to match the latest iPhone 6s Plus color.
See at Amazon (opens in new tab)
LifeProof FRE
The LifeProof FRE case puts total waterproof protection into an extremely slim profile. A gasket sits between the two halves of the FRE case, and covers up the headphone jack, leaving power and volume keys accessible via pass-through buttons on the case. Touch ID still works just fine through the built-in screen protector. You could dunk your iPhone 6s Plus underwater up to two meters for an hour with this case on if you felt like it. The LifeProof FRE case can handle drops of over 6 feet. You can run with the LifeProof NUUD too, which offers all the same waterproofing, without needing a screen protector. You won't be able to use an iPhone 6 Plus version though, as the iPhone 6s Plus is just slightly thicker and requires you to buy the compatible version.
See at LifeProof (opens in new tab)
Your favorite iPhone 6s Plus case?
We're excited to see more iPhone 6s Plus cases as they come out, and we'll be sure to update this list when they do. Drop a link in the comments to the cases you're particularly interested in.
Get the best of iMore in in your inbox, every day!
Editor-at-very-large at Mobile Nations, gamer, giant.
Apple's silicone cases are easily my favorite. Slim and grippy.

I was kinda meh on the silicone case because of the grippiness. It made it really hard to get in and out of my pocket, also the silicone fell off the corners which prompted me to get an Apple Leather case which I love so much more

my silicone case is also falling apart. I hear mixed reviews about the leather cases. I always thought they looked better but was worried they would wear terribly and fall apart. What about the leather case do you love so much?

I've had my black leather Apple case for nearly a year now and you can barely tell it's been used. I like that it adds so little to the weight/thickness and the lip around the edge of the screen is so minimal but keeps the screen from getting scratched when placed face down.

I love Apple's leather one... got it on my iPhone 6 plus and it's great.
I had the Silicone one and really didn't like it. If the case was made with the same plastic from the sport band, it would be great (Maybe)... but with the silicone case, it's too grippy.. everything stick to it (dust,...) and it doesn't slide well in your jean pocket...

I'm a big fan of the über thin Peel cases. Per a tweet I sent them, they're planning on launching new cases for 6s and 6s Plus this Friday buypeel.com

Looking forward to trying out Dog & Bone's Wetsuit case

I've always wanted a case like the Book Book... a wallet and case all in one. I just can't stand that thought of my cards exposed like that when I'm on the phone. Are there any cases like the Book Book that addresses that concern?

I bought a Doc Artisan wallet case in anticipation of my new iPhone. Sasktel sucks and gets everything later than everyone else but I like to have a case available for when I finally get my phone. The case looks and feels really good. I have gotten used to having my phone and wallet in the same package and I really like it. I have my Driver's License, my debit card and my MasterCard in it; that's all. Of course, Apple Pay isn't available in Canada...

WOW! no Spigen in the list...

I've tried a ton of cases with different iPhones over the years and IMO Apple got it right with their leather and silicone cases last year with the 6/6+. I already have several Apple cases ready to go for my 6s+, leather for everyday use and silicone for workouts.

They missed Incipio completely. Tried several cases, many that are mentioned here. 1st runner-up is the CandyShell Grip. Very nice, except for the added bulk -- price for it is OK if they run a sale, but otherwise overpriced. The winner for me would be the Incipio NGP. Just-right in important ways: thin enough to be practical, thick enough to protect -- a few waist level drops to asphalt and not a nick or scratch on my iPhone 6+. Interestingly, the case itself has no scratches after 7 months of use. The pliable material has a smoothly-textured surface that adds just enough grippiness without being a lint magnet. Slides in and out of pockets with the same ease as a caseless device. Easy on... Easy off... Translucent so that the Apple logo shows through. I like the Apple-brand cases, except for not covering the bottom of the iPhone. Next time I upgrade, a device with 'no scratches except the bottom' will bring in less on eBay. The layer of leather on the Apple case is so thin, after a pavement drop it starts to look like shredded tissue paper. The price is extremely fair, retails for $20, even less on Amazon Prime. https://www.imore.com/e?link=https2F2Ft%2F2-485495-... http://www.amazon.com/gp/product/B00MUQ9UPS?psc=1&redirect=true&ref_=oh_...

I'm gonna have to add in an obvious choice that was also missed: Tech21 Evo Mesh Sport case. I have one for my iPhone 6 and I already purchased one for my pending iPhone 6s Plus. Best phone case I've ever owned on any of my iPhones (and I've spent way too much $$$ on cases over the years). https://www.imore.com/e?link=https2F2Fc2F4...

I know this is for cases but what about skins? Imore can you do a post on best skins available? I am getting the new iPhone and I really want the black front but silver back (I like the pure aluminum look of the silver over the space grey...hopefully they come out with more black faceplate options soon!). Anyway... I was looking at the dbrand and with the black space grey model. If you buy the matte black back pieces and just put them in the top and bottom on the back it reminds me of the original iPhone! Not sure if anyone has done that but at least online it looks really cool to see the old styling and colours on the brand new phone! Sent from the iMore App

Poetic Affinity is what I'll be using. It's a great case and company, 3 year warranty and great customer service. $14.95 with prime shipping. http://www.amazon.com/gp/aw/d/B00NJ19KTO/ref=mp_s_a_1_2?qid=1443045315&s... Posted via the iMore App for Android

Got a Ringke Fusion to try. Slim case but should offer enough protection for me. But looks like it might be a month before I can get the phone. Ugh. Got some Walmart gift cards that would knock off a good amount and not do any contracts.

I used this case the entire time with my 6 Plus and loved it. Very low profile, port covers, and good protection. I dropped it numerous times on concrete/asphalt/tiles without and damage. I have a couple other cases (Spigen) I am going to try this go round, since I got a great deal on em ($18 for 3 cases and a glass screen protector!), but if I don't like em I will be going back to the Ringke! Only bad thing is at some point I got something between the case and the phone, and it scuffed it a little bit, but that is my fault for removing the case and putting it back on without making sure it was clean.

I see so many people with tech21 cases and they sell them at all the major retailers, awesome, slim fitting, colorful, cool looking, great drop protection, never a single mention from imore.

100% Agree! I've got one for my 6 and love it! Best case I've owned and I've owned dozens over the years. Never a mention on any of imore's lists. Does it have anything to do with them endorsing what they have on their online imore shop? Sent from the iMore App

Is the 6s+ compatible with the 6+ Otterbox Defender case? It may sound crazy that whether I stick with the 6+ or go for the 6s+ comes down to whether it'll work with my Otterbox, but it absolutely does. Here's why: I'm still under the Verizon "14-day worry free guarantee", where for $35 and the tax difference, I can walk in with my current phone, and say "gimme", and walk out with a 6s+... ...but the way our family budgeting works, we have "company money" (gas, groceries, bills, etc), and then the wife has "her money", and I have "my money". Jodee has made it abundantly clear to me that if I trade in the 6+ for the 6s+, it all has to come out of my money. So, here's why that's important: 1) I CAN afford the $35 plus tax. But I CANT afford the $35 plus tax, plus a new case. 2) I'm a klutz, so carrying around a shiny, expensive new flagship phone without protection for two weeks is suicide, and 3) While the differences between the 6+ and the 6s+ are definitely intriguing, and while there is a certain pride factor in having the latest and the greatest, I deem the difference between the two models to be INSUFFICIENTLY SIGNIFICANT to warrant the exposure and the jeopardy of going caseless.... ....so that's why I'm REALLY hoping you'll say the old defender case will work! Because then I can upgrade. Hell, I don't even care if the screen protector will prohibit 3D touch, because I can wait to use those features til I can replace the case - as long as the phone will at least physically fit, it's protected in the meanwhile, and that's all that matters. I can wait on all the rest. :-) Lemme know gang! I'm dying to find out! Thanks!

What about Pad & Quill's wallet cases?! Classier than the BookBook stuff, IMHO.

My favourite is the Spigen Capsule series, I have the black and grey. I'm the kind that has loads of different ones. I have an Apple silicone and leather plus a few others. The ones that have spent most time on my phone are the capsule though. Sent from the iMore App

Just got the Saddle Brown Apple Leather Case, looks fantastic. I previously used the Speck Grip also a very good case.

I am a fan and use the Apple dark blue leather case, its slim and offers good protection. I also have and do like the Spigen cases, tough armor, slim armor and neo hybrid.

OTTERBOX DEFENDER. Yup it's pretty big, yup it won't win best dressed award but it defends the $900 phone like nothing else.

I like the tech 21 Evo sport , I'm rocking one in black/ smoke

Speck mighty shell for those drunken nights. Or sober ones... Sent from the iMore App

Using a Spigen Tough Armor Tech (different than the non-Tech one in the article) after I watched a youtube video from some guy who likes to take 10-12 phones and different cases and drop them 50 feet off a tower onto the concrete pad under it. He was testing the regular 6s not the Plus, but the Spigen TAT was one of the few cases that allowed the phone to actually survive totally intact. Most at least had a dent in the corner, though all did much better than when he tested the non "s" 6's though with the softer aluminum and less break resistant screen. Last year's 6 on the regular Tough Armor did not survive. The Fre on a 6s actually survived as well, though you might need to replace the case after if you cared about water proofing.

Ive used a few different cases for my 6s Plus. Ive had two different Spigen cases. I had the Slim Armor and then also the Tough Armor Tech. Both were great cases. Protected the phone well from common waist height and talking-on-the-phone height drops. I just didnt like how they didnt come real far above the screen to keep it off surfaces and free from scratches. That is when I decided to bite the bullet and spend the money on a Lifeproof Nuud. Love the case. Feels sturdy as a tank and adds minimal bulk and weight to the phone. Plus waterproof. It can be tricky to deal with at first. If you dont put it in just right, you get buzzing when using the built in speaker and people on the other end of the line can have a hard time hearing you. However with a couple more tries removing it and placing it back in, you can negate those almost completely.

Spigens tech armor is pretty great, if you don't mind dust covers.

Evutec case iPhone 6,6 plus and both s models#The best thin case ever Sent from the iMore App
Thank you for signing up to iMore. You will receive a verification email shortly.
There was a problem. Please refresh the page and try again.