Best Cases for iPhone 7 Plus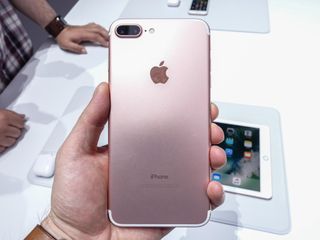 (Image credit: iMore)
The iPhone 7 Plus deserves an ultra cool case to keep it safe. Whether you are looking for a very protective one, or just something to prevent scratches, there are a number of options available to you.
Apple makes its own line of cases for the iPhone 7 Plus and tons of third-party accessory makers do as well. Hunting down the perfect case can take some time, so here are some of the best options available!
Apple Leather case
Why you can trust iMore Our expert reviewers spend hours testing and comparing products and services so you can choose the best for you. Find out more about how we test.
Apple has been making its own leather cases for a few years now, and they are some of the best cases that you can add to your iPhone 7 Plus. The cases fit snugly on your phone, provide a great layer of protection, and look great.
Being real leather, they all wear differently, so your case ends up becoming even more unique over time. They are available in a variety of colors to match your preference, from blue to grey to red.
While being a bit more expensive than other options, Apple's leather case is worth the money if you want a case that will look great and hold up for a long time. Pricing starts at $49.
See at Apple (opens in new tab)
MoKo Clear TPU
If you want to pick up one of Apple's new black colors, you are not going to want to hide it. Unfortunately, the Jet Black is going to be a fingerprint magnet, and it is likely to attract and show hairline scratches quickly. A clear case is a great compromise in this situation so that you can still show off your color choice while keeping it protected.
The case is made from a scratch-resistant material, so it will stay looking great for the long term. It has precision cutouts for the ports, and the TPU material makes it easy to put on or take off and comfortable in the hand.
For under $10, it's a no-brainer to put one of these on your brand new iPhone 7 Plus.
See at Amazon (opens in new tab)
Spigen Thin Fit
If clear cases aren't your thing but you still want a thin layer of protection on your iPhone 7 Plus, Spigen's Thin Fit cases are the way to go.
Available in black, satin silver, gold, and rose gold, you can find one that matches your phone and doesn't add any bulk to it. The case clips over the phone and provides protection from scratches and dings to the back and four sides of the phone.
You'll have access to the buttons directly, as the case has cutouts for them instead of requiring you to press through the case to use them. For around $10 at Amazon, this is a great option for those who don't need a super protective case but still want to keep their phone safe.
See at Amazon (opens in new tab)
Peel iPhone 7 Plus Case
If you're looking for a super thin iPhone case that'll have little to no bulk at all, then take a peek at the Super Thin iPhone 7 Plus Case from Peel!
Designed without any crazy designs or visible logos, and measuring around 0.35mm thin with a subtle lip to protect your camera lens, the Peel's Super Thin iPhone 7 Plus Case is perfect for people who really don't like having a case on their iPhone 7 Plus.
You can pick up your Peel Super Thin iPhone 7 Plus case in black, jet black, black, silver, gold, or rose gold, AKA the perfect color match for your iPhone 7 Plus! $25 at Peel.
See at Peel (opens in new tab)
i-Blason Transformer
If protection is your main concern, i-Blason's Transformer case may be a great addition to your collection.
Made of two layers, the case has an impact-resistant exterior and a shock-absorbing inner sleeve to ensure that your phone stays safe inside of it. In addition, the Transformer case has a built-in kickstand, so you can keep the phone propped up when you're not holding it. The hard case clips into a belt holster so that you don't have to worry about it fitting in your pocket while transporting it.
You can pick up the two-piece case and holster combo for around $15 at Amazon.
OtterBox Symmetry Series
If you're in need of a more protective case but don't want something that looks bulky and ugly, OtterBox's Symmetry series is worth checking out.
The cases come in a variety of different colors and prints, and there's even a clear version. If you want to show off your phone while keeping it well protected, the clear version is probably the best choice.
If you'd rather add some flair of your own to your iPhone 7 Plus, you can do that as well with one of the other color choices. The Symmetry series offers a great amount of protection without a ton of bulk. At about $50, OtterBox is expensive, but it's the only case you'll ever need.
See at Amazon (opens in new tab)
Caseology Apex Series
Caesology makes wonderful cases for iPhone, and the Apex Series has a cool design and great in-hand feel. There's an inner shell of flexible and shock-absorbent TPU and the outer frame is hard polycarbonate to keep everything in place and sturdy-feeling.
I particularly love the color options for this series, with a cool "Aqua Green" option that's like navy blue and turquoise had a baby. There's also burgundy, black, "Ocean Gray", and a "Pine Green". $14 on Amazon.
See at Amazon (opens in new tab)
Vena Harmony
The Vena Harmony has one of the best in-hand feels I've ever had from a phone case, thanks to its wavy design on the back and its polycarbonate frame that has a grippier finish than most. I also love this case for its half-clear back, allowing you to lovingly gaze at the beauty of your iPhone 7 Plus without compromising protection.]
The button covers on this case may be the most responsive I've ever experiences. Very easy to find and very satisfying in terms of tactile response. You can tell your phone has a case on it, but the buttons feel totally free.
Harmony comes in jet black, space black, navy blue, pink, and teal, and is $10 on Amazon.
See at Amazon (opens in new tab)
Your favorites?
Do you have a favorite that is not listed here? Be sure to drop a link in the comments as well as a brief explanation of why you like it!
Updated November 2017: We've updated pricing and added the Caseology Apex Series and Vena Harmony to the list.
Get the best of iMore in in your inbox, every day!
Mick is a staff writer who's as frugal as they come, so he always does extensive research (much to the exhaustion of his wife) before making a purchase. If it's not worth the price, Mick ain't buying.
Speck and Case-Mate have some cases as well.

Tech21 Evo Mesh case for iPhone 7 Plus The Apple cases look good but they don't offer much protection.

Already ordered the black and saddle brown 7+ leather cases.
If only Apple can fix their stupid Apple upgrade program reservation process for existing customers then I can pick up one. Waiting for Sep 17th to see if there is available slot for upgrade and I'm pretty sure there won't be any and we have to pretty much get up every day and check if any slots are available for upgrade.

You just need to call Apple and they will take care of this. They set up a whole department just for this issue!

I am looking forward to this case that I have in order. If it's as good as it looks it will be perfect. https://www.amazon.com/gp/aw/d/B01L6S041E/ref=mp_s_a_1_3?ie=UTF8&qid=147...

Any chance my 6S plus case will fit? Sent from the iMore App

Because it will cover the dual cameras on the Ip7

Well, if this is true, the upside is many iPhone 6S Plus OEM and Genuine cases are about to get cheaper.

98% sure it will same size of iphone

Not getting a 7 Plus here but considering that is has 2 camera lens plus the flash, including the lens stick out more than in the 6S, it probably won't work. The 7 only appears to be merely millimeters thicker than the 6S but the size isn't the issue here, it's those camera lens.

I don't see any problem with the dual camera Sent from the iMore App

No, and it's not just due to the dual camera. The camera has actually move down a few mm so an iPhone 7 plus case blocks the 6s plus camera a little. Sent from the iMore App

Ringke Fusion works for me! Sent from the iMore App Me three!

That's my favorite as well!

Totally agree - I have my 7Plus in one of these w/ a Zagg Glass protector - very satisfied w/ it

The Incipio Octane Pure, co-molded impact, absorbing case. Military dropped tested and it's exactly what I was looking for. Thin, translucent, clean appearance and it's not big and bulky like the traditional cases. I love it!!!!

For those wondering no an 6S Plus case will probably not fit because of the camera despite being the same dimensions.

I've been using Spigen for years. Going with their Liquid Armor this time around. It just got delivered today. Great texture on the back....classic Spigen minimal design, yet protects very well. As I've found a few times. https://www.amazon.com/gp/aw/d/B01GIWG3D6/ref=mp_s_a_1_5?ie=UTF8&qid=147... Looks like their out of stock until the 12th.

I have the Spigen Tough Armor case and like it a lot. Feel like my phone is really protected well.

UAG cases has always been protective and fit like a glove, slim hold with no wasted space. Sent from the iMore App

Spigen thin fit, only case I use.

Don't forget Urban Armor Gear! Although they don't have the color options available for the 7 Plus that they do for the regular 7 (Citrine green? Yes!)....I ordered mine in the Ice color. Figured it would compliment the flat Black color I ordered. Just hope I get it in time for the phone arrival! Sent from the iMore App

While the price is high... I simply prefer the Apple made leather cases. Sent from the iMore App

I like them, but the bottom of my phone being COMPLETELY exposed aside from the corners...nah. Sent from the iMore App

UAG Monarch for me. 2x Milspec drop protection.

Mozo have a beautiful walnut real wood one. Up for preorder
They also have a beautiful white leather and rose gold one also for up for preorder. Sent from the iMore App

I have purchased and already received the Spigen Thin Fit and love it. Low profile but will protect the finish. Also there is space in the middle interior for a thin metal plate for my magnetic mount. Sent from the iMore App

I just ordered a Xdoria Defense Gear from Amazon. Has anyone used these before? Sent from the iMore App

Apple leather case for me, I have one on my 6s+ and I can't wait to get one for the 7+

Any bumpers? Posted via the iMore App for Android

I have ordered iPhone 7 Plus case from Zizo Wireless. Old memories still there for my iPhone 6 Covers. Great Military Grade Cover which are drop tested

UrbanArmorGear Plasma ICE for the 7+, I would go with the Magma version if offered but they are only offering it for the plain 7. I use their previous version of the ICE case with the iPhone 6 and love it, nice hard/clear exterior with soft rubbery interior. Hard buttons for easy operation of volume and power buttons and the case works with the official Apple lightning dock. It also meets military drop-test standards, but I image most cases with soft corners would. I've used this brand since the 4S and have not been disappointed yet.

Got the Apple iPhone 6s batter case last year - the new iPhone 7 fits perfectly (if you don't mind the redundant headphone jack on the case) Sent from the iMore App

I purchased a color match rose gold case from Amazon. Name is Tauri. Protective & give the phone a very rich look. Sent from the iMore App

My go to case will always be from UAG. It would've been Apple's leather case if only the bottom wasn't wide open. Sent from the iMore App

Apple Cases are the most beautiful cases but they to peel of after some months of use. I like them, a lot, but id rather buy a tech 21 evo mesh or that Spigen. Sent from the iMore App

UAG Plasma/Ice best case ever. Just put one on my new iPhone 7 Sent from the iMore App

i like Caseology leather case for my iPhone 7 plus.

I bought a Spigen Thin Fit ahead of pre-ordering my 6S+ last year, thinking it would be just a quick temporary solution to have a case on Day 1 in order to buy me some time to shop for a "real" case later. I was extremely happy with it and it quickly became my "real" case. Bought a 7+ version a couple of weeks ago ahead of pre-ordering the 7+. If you like magnetic car mounts, the inside of the case has a very shallow depression where their car mount magnet fits. I just started using that in my car and am super pleased as well.

Leather wallet cases are my favorite type of iPhone case. I'm currently sporting Shieldon's black leather model. Got it from Amazon for $25 and a discount code. I also love the kickstand feature. I hope it lasts me a long time. Sent from the iMore App

So far I have the pink sand Apple silicone case, the crystal clear spigen case and a moko clear TPU case. Sent from the iMore App

I got an iPhone 7 Plus from my local Apple Store this past Thursday. I got the black Apple leather case. It's so much better than the iPhone 6 leather case I had on my 6 and 6s. The back of the case feels smoother and sturdier. The aluminum buttons feel as if they are actually the ones on the iPhone itself. They are very clicky, which is another substantial improvement over the iPhone 6/6s leather cases.

Speck Presidio Grip is awesome, great fit, enough protection without the bulk, feels great in the hand , and Certified to meet or exceed MIL-STD-810G drop-test standards Sent from the iMore App

I agree. I switch to the grip from an OB defender. I feel just as confident in the drop protection without that large amount of bulk! Sent from the iMore App

I'm all for the Speck Presidio Grip as well. The case is amazing. Thin (in terms of the protection it offers) and great material. The fact that they changed from Candyshell (shiny) to Presidio (matte finish) makes the Speck cases even more appealing! Sent from the iMore App

Yep, best all around case

Currently have the Ringke MAX, Fusion, Air, Thin and Onyx. Got them for 99 cents each on a flash sale. Almost the whole 7 + collection for less than 5 bucks. Sent from the iMore App

I got the Ringke Slim for my 7+. Had it for my 6+ and also loved it then. Sent from the iMore App

Poetic cases... Sent from the iMore App

iPersonalised have iPhone 7 and 7 Plus cases that you can personalise yourself... Pretty cool.

I really like this one, militar drop rate https://www.amazon.com/dp/B01KK8TZMU/ref=cm_sw_su_dp?tag=hawk-future-20&... supcase

Otterbox really should be ashamed wanting $50 for that clear silicone case. I used to love Spigen cases but I see they are overly proud of their offerings as well.

there was one that looks like wood and was amazing looking case

I think this is the best slim case, it's a perfect fit on my 7 Plus. I don't use the attachment since let's face it, it's for the ladies or kids. The case though, is on point and is the best slim case I've found so far! iPhone 7 Plus Case , Vinve Ultra Slim Hard Cover With Phone stand Perfect Fit PC Case For Apple iPhone 7 Plus (Sparkle Black) https://www.amazon.com/dp/B01KWNJ0RI/ref=cm_sw_r_cp_api_.l6aybW7NHY5X?ta...

Element case has been my go to for the past three iPhones I've owned. Awesome look and protection. Unfortunately they only have one design for the 7 right now but more are coming. Sent from the iMore App

I am Rocking the Incipio DualPro® Case.
It has a Dual Protection Molded Layer and has a real Snug Fit. (Really Nice)
Had it on my iPhone Plus, and now my iPhone 7 Plus.

Bought the Rhinoshield case for my iPhone 7+. Excellent case and pretty resistant Sent from the iMore App

Im a fan of the apple leather cases myself. Had it on my 6 and it held up pretty good, took a few falls and survived. Not a scratch on the device itself. The inner lining keeps the out of the box look too. Pricey - sure but hey I got one on my iP7! Biggest problem is which color to choose....

Spigen is always a great case. I love the finish!

Any Urban Armor Gear case

Caudabe make the best thin cases. Sent from the iMore App

My favorite is Apple's silicon case. When I had my iPhone 6 I had four silicon cases to match each of my Apple Watch Sport bands. They don't offer as many colors for the iPhone 7, so I just have Ocean Blue and Black.

Just returned the storm grey 7 Plus leather seats. Too slippery' Sent from the iMore App

* leather case. Sorry. Sent from the iMore App

You should have broken it in. Takes a very short time for that slipperiness to go away. Once the leather is broken in it feels great.

Man... I wish I'd have know this (but boy was it slippery). Sent from the iMore App

The Dreem Fibonacci case is the best case for any phone I have ever used.

The i-Blason Transformer looks nice, but I prefer to use Quadlock. It's easy to slide out pockets, but still gives some grip, plus it locks on my bike.

Spigen thin fit on my Nexus 6P is perfect. Will use it on my 7Plus too.

i love the Rokform cases, not just a very protective case but a mounting system too. i take my phone and slap it down in my car and the magnet holds it, when i am on my bike it locks into the mount.

I have the MoKo Clear TPU case on my Rose Gold 7 Plus and I love the case! It doesn't make it feel too bulky and I love that you can still see my phone. Sent from the iMore App

Vaja, Element and Tumi for me

Never tried this case until now, but took a chance and I love it. Light and thin and great grip. And not expensive. https://www.amazon.com/gp/product/B01JTI24ES/ref=oh_aui_search_detailpag...

I couldn't follow the link. What kind of phone case is it? Sent from the iMore App

Rhinoshield, never gets mentioned, the CrashGuard is a bumper only 11.5 foot drop protection. The PlayProof is a full body case, a little thinner than the CrashGuard, is customizable, and still has 11.5 foot drop protection. They still have one unreleased yet, that's like the PlayProof but it's leather. I forgot the name though. Not to mention their screen protector you can drop a 200g ball on it from 4 feet or hit it with a hammer, and not break the phone or screen protector. Sent from the iMore App

Spigen Rugged Armor Case. Looks Great on the Matte Black

MoKo Clear TPU the best Sent from the iMore App

I liked the Speck case for Iphone 7 plus but the back is too slippery. I don't want a case that's has too much grip on the back AND I don't want one that adds more width either, like the Tech 21 mesh one. Suggestions? Sent from the iMore App

My case is now the Amazon basics clear case. Lightweight, air bubbles in the corners for a little drop protection, no branding, and it doesn't get that "rainbow" sheen some cases get. Oh, and it's cheap. Sent from the iMore App

Just received the Ghostek. I love it. It has a hint of color to it but also, on the back, there's some great grippage and it shows off the phone. Does not add a lot of bull either. I am VERY pleased with this case...finally!! Sent from the iMore App

I have a Ghostek, clear with a metal skeleton.

Spigen Neo Hybrid
http://www.spigen.com/collections/iphone-7-plus/products/iphone-7-plus-c...

I have the Zizo Bolt. I love it. It's rugged and it has a kick stand built in and a tempered glass screen. Currently 16.99 on amazon. This is the product description: iPhone 7 Plus Case, Zizo Bolt Cover with [.33mm 9H Tempered Glass Screen Protector] Heavy Duty Armor [Military Grade] Kickstand Holster Belt Clip Sent from the iMore App

Spigen Liquid Armour. low profile case. #love

Can't stand clear cases. They are always too glossy, slippery and fingerprinty. Wish somebody could make a nice, clear matte case.

Try the Peel case--awesome and matte.

I just recently got a Caseology Case that is pretty cool https://www.amazon.com/iPhone-Caseology-Parallax-Geometric-Textured/dp/B... Black with the Deep Blue

UAG is the best. I have the UAG Monarch case on my 7 plus and it's friggin awesome. Best case I've ever bought. It has a nice feel, not bulky and it looks great.

I just bought a drop protection case, it is a little bit heavy , but it works good for me http://amzn.to/2figlzh

Spigen Liquid Armour Best Thin case that I have come across.

Speck Grip series on all my iPhones. Sent from the iMore App

I like Case Mate and Kate Spade Sent from the iMore App

Rhinoshield Playproof and Tech 21 Impact Clear are my two go-to cases. Both are very thin and minimal while still offering higher than average drop protection.

Mophie for me. To be sure, it isn't anyone's idea of svelte. But, when you need more power and good protection, it's the way to go.

Love my Apple Leather Brown case

Vaja leather cases use amazing leather that smells great, gets grippy with use and the leather darkens with age beautifully. They're not as snug a fit as Apple's leather case.

MagBak, Definitely...great case, magnetic with magsticks that can allow you to mount it anywhere...
Thank you for signing up to iMore. You will receive a verification email shortly.
There was a problem. Please refresh the page and try again.