Best iPhone Cases For Teens in 2022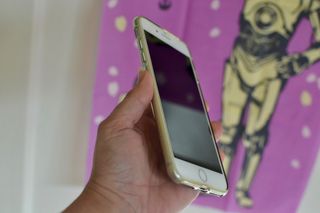 You want a stylish case, but you also want to protect your iPhone from damage when your friend sneaks it from you in P.E. class. You'd also like to be able to actually afford it on your wage (or allowance, if that's the case). You've come to the right place. We scoured the internet to find the best low-cost, highly protective, and also great-looking cases for the iPhone 6, iPhone 6 Plus, iPhone 6s, 6s Plus, and iPhone SE.
Have a newer iPhone? Check out our picks for the iPhone 7, iPhone 7 Plus, iPhone 8, iPhone 8 Plus, and iPhone X.
TrianiumProtek Series
Why you can trust iMore Our expert reviewers spend hours testing and comparing products and services so you can choose the best for you. Find out more about how we test.
Even though iPhone 5s cases will fit the SE, some users may want an upgraded look to accompany their new phone. This case covers all the requirements. It's sleek and stylish, a good price, and is ultra protective.
It fits snugly on the iPhone SE, with a low profile that makes it easy to slide into your pocket. Combining a flexible rubber interior with a hard outer shell, it offers two layers of protection.
It comes in colors that are designed to match your iPhone and ranges in price from about $12 to $14, depending on the color you pick.
See at Amazon (opens in new tab)
Silk Vault Slim Wallet
Teens are always on the go. This is a great case for you to keep your money, ID, and phone all together when you're on the run.
Reviews say it can comfortably hold three cards and a bill with no problems, letting you have a credit card, ID, extra cash, and whatever other card you need.
It comes in black, red, and a green/teal color for only $15. And the best part is a screen protector comes with it.
See at Amazon (opens in new tab)
OtterBox Commuter Series
There's a good reason OtterBox cases are everywhere. They've pretty much perfected protecting phones.
While the Defender series is a bit bulky, the Commuter is slim, while making sure the phone is still safe.
There are a variety of colors to choose from, and each case comes with a screen protector. All this and they're priced to move at around $20 - $25, depending on the color you want.
See at Amazon (opens in new tab)
LifeProof FRE Series
This is the most expensive case on our list, but it's worth the price.
It's still a sleek, slim case and comes in a decent variety of colors. However, what sets this one above is the protection it offers. It's completely waterproof and is sealed from any dust, snow, or dirt trying to make its way in there.
If you're extremely hard on phones, play sports, or just have an active outdoor lifestyle, this case is definitely worth your money. Even though it's a bit pricier than the rest, it still comes in at only $40 - $60, depending on the color you choose.
See at Amazon (opens in new tab)
Evutech Karbon SI
This is probably the most protective, yet insanely thin, case you'll ever see.
The lining is shock-absorbent and the outside is made with woven DuPont Kevlar. This material is five times stronger than steel and extremely scratch-resistant, so if you want a case that's going to stay looking as good as the day you got it, this is your option.
The case offers a sleek, yet tough, look, and the outside is perfectly tacky enough so it stays in your grip without sliding around. It costs between $17 and $27, depending on the color you choose.
See at Amazon (opens in new tab)
Spigen Ultra Hybrid
iPhones are known for their stylish design, so it's understandable if you don't want to cover that up.
These Spigen cases are completely clear on the back, allowing you to show off that rose gold color you snagged, while the bumper and raised edges still keep it safe. You can pick a color for the side, or go completely clear all-around.
If you're artistic, this is an awesome case to paint or give some of your unique style to. You can also slip stickers, small photos, or decorations in behind it, keeping them protected by the case, but still making it your own. It costs between $12 and $15, depending on the style you decide on.
See at Amazon (opens in new tab)
Smiphee Portable Charging Case
If you're constantly Snapchatting, you could use some extra battery life to get through the day.
This case provides that, but without all the extra bulk that's typical of portable charging cases.
It comes in black, blue or pink, giving you a bit of variety to choose from, while other charging cases have a strict color scheme. It boasts an extra eight hours of Internet use, or seven hours of phone gaming, perfect for when you're out and away from a charger. It costs $39.50, which for a charging case, is pretty darn cheap.
See at Amazon (opens in new tab)
Your favorite?
Are you a teen and have a favorite iPhone case? Tell us what you love and why in the comments section.