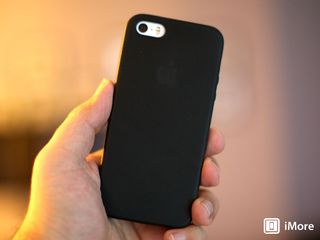 Interested in picking up the new iPhone SE, but not sure which case to pick up with it? From protective to thin and colored to clear, there are tons of different cases to choose from. Everyone has different needs and tastes, so making sure you get something that works for you and you like is really important. With that in mind, here's a look at the best options currently available!
Apple has made its own cases for the iPhone for a number of years, and its leather cases are one of the most popular options. The case is nice and thin, and the form-fitting design doesn't add a ton of bulk to your phone. It is made of real leather, so it ages nicely, and each case ends up looking a bit different depending how you use it. This case wraps around all four sides of the phone, with a small lip to that adds a bit of spacing should you place your iPhone SE face down. You can grab them from Apple directly in Midnight Blue or Black.
See at Apple (opens in new tab)
Apple's bumper case for the iPhone 4 was quite popular, but they haven't made any others since that one. RhinoShield is here to fill the void with its CrashGuard protective bumper. With this, you'll be able to protect all four sides of the phone, and the lip on the front and back help prevent scratches when setting the phone down. The package also comes with a clear skin to keep the back of the phone even more protected. They are available in a few color options at Amazon for $25.
See at Amazon (opens in new tab)
If you think you will need some additional protection on your new iPhone SE, an Otterbox case is probably the one for you. The Commuter Series case offers protection without excessive bulk. It has a two-piece design consisting of an inner rubber case wrapped by a hard plastic shell. You'll have some additional drop protection with this case and can add a screen protector of your choice to it. You can grab one for under $25 at Amazon.
See at Amazon (opens in new tab)
While iPhone SE comes in four different color options, sometimes it's fun to be able to easily change the look of your phone by sliding it into a case. Elago's Outfit Matrix series comes in a number of different colors from all gold to gray and champagne, red and blue and many others. You simply snap the phone into the case and you are set. The whole back of the phone is protected, and the lip on the front allows you to place it face down without worrying about scratching the screen up. You can grab one for around $10 at Amazon.
See at Amazon (opens in new tab)
If you are looking for a case to keep your iPhone SE protected without taking away from the color and design, you may want to look at Verus' Crystal Bumper. The case has a color-matched bumper with a clear hard plastic layer on the back. With this, you'll have great protection without having to add bulk or hide the color that you picked. You can choose between gold, rose gold, satin silver and steel silver. The cases run less than $20 at Amazon.
See at Amazon (opens in new tab)
If you are in love with the color choice of your iPhone SE and want to keep it protected while showing it off, this may be the case for you. Ailun's clear TPU case not only will protect your phone, but it won't get in the way of displaying the color choice you made on the phone. The whole case is clear, including the sides, so you won't have anything that will get in the way of showing off that new Rose Gold iPhone SE. One of the best parts? You can grab one for around $7 at Amazon.
See at Amazon (opens in new tab)
Joopapa Leather Wallet Case
Adding protection is a great benefit of a case, but cases are also great for adding functionality to your phone, such as holding your cash and credit cards. Joopapa's leather wallet case lets you hold multiple cards, as well as a key or some cash in the slot under the cards. This means you don't have to carry around your phone and wallet or purse, you can combine them into one. You can grab one of these in a variety of colors for less than $10 at Amazon.
See at Amazon (opens in new tab)
LifeProof Nuud Waterproof Case
Depending how and where you use your phone, you may find yourself in need of extra protection at all times. Should that be the case for you, LifeProof's Nuud case may be one of your better options. It waterproofs the phone without a screen protector, thanks to a gasket that seals between the case and the display. The case also adds great drop protection to the phone, and still allows for quick and easy access to your ports. Depending on your color preference, you can grab one on Amazon for around $40.
See at Amazon (opens in new tab)
If you are a heavy iPhone user, you may find yourself in need of some extra power to get through the day, and that's where Mophie's Juice Pack Plus comes in handy. While it adds protection to the phone, it also has a built-in 2100mAh battery so you can charge your phone even if you aren't near a power outlet. When you plug the case in at night, the power goes to your phone first and then the case, so you can charge them both without having to remove the case each evening. You can grab one for around $40 at Amazon.
See at Amazon (opens in new tab)
This is just a tiny sample of what is available out there for the iPhone SE. Since cases from the iPhone 5 and 5s will fit on the iPhone SE, it's possible that you have an existing favorite. Be sure to let us know your favorite case in the forums, and why you like it so much!
Discuss your favorite iPhone SE case in the forums!
Get the best of iMore in in your inbox, every day!
Jared started off writing about mobile phones back when BlackBerry ruled the market, and Windows Mobile was kinda cool. Now, with a family, mortgage and other responsibilities he has no choice but to look for the best deals, and he's here to share them with you.
As an added bonus people with an iPhone 5/5s will be able to rejuvinate their phones by adding more modern case designs. The websites of Spigen and Verus/VRS show new cases for the iPhone 5/5s/SE that were not previously available.

Check all the clearance bins for 5s cases too!

I thought I read the 5/5s cases will fit the SE. If thats true i'll probably reuse my 5s case when I get the SE sometime in April. Well... come to think of it, I might get a new case too because my 5s case is kind of scratched up. Looking forward to getting the SE!

If 5/5S cases count (since they supposedly fit the SE) then for me nothing would beat the Power Support Air Jacket series. I also quite like Apple's leather cases for the 5 series, since they cover the bottom bit, unlike their 6 series counterparts.

I use the Speck Candyshell Flip, because I still use the iPhone 5 dock on my desk. Pair it with a Zagg Intellishield Glass, and it's perfect for me.

I hate to be that person, but I do not recommend any elago case. Run like the wind! I ordered one for my 5s and it cracked in 2 places without ever being dropped in a 2 week timeframe. :/

Since it is raining today, my brand new SE is getting the waterproof treatment - a generic snack-size ziploc-style zipper bag. Otherwise, there is no case. Why make a phone bulkier and harder to fit in my pocket? If I wanted that I would have gotten a 6s. These phones are beautiful, don't hide them inside a box!

Yeah, it seems like a clear case would be my only solution.

"Why make a phone bulkier and harder to fit in my pocket?" To protect it. "These phones are beautiful, don't hide them inside a box!" The SE will look so beautiful when you drop it and the screen cracks and the metal gets all dented and scratched, right?

Who thinks Apple should bring back the 3.5" phone model?

I love a lot of the clear cases but I've found that they don't work all that well with tempered glass screen protectors. The case mate naked tough for example makes the screen protector bubble. It's too bad too because other than that it is a really nice case.

The Ringke clear case works perfectly with tempered glass screen protectors.

I can definently recommend Nillkin nature and Nillkin amazing H + or H + pro. The first is 0.3 mm and the pro model is 0.25 mm thin
They have 2.5D curved edges, you can find these really cheap on eBay, shield and case like 20 bucks. BTW. I have never had an Nillkin glas screen protector break on me. Cleans of easily, finger slides easier, not as many fingerprints and smudges. 2013sky_shop was the seller I ordered from. Just say Fredrik Johansson recommend you chek out the store and I'm shore you will be treated well. Another brand i would recommend is empire cases, they have both an URL store and a eBay Store with lower prices.
They have many different types of cases but I have always bought the quicksand model for better grip.

Recently got my new case for Iphone SE by uviyo.com. Very clean look. Like this case a lot. Makes my phone look nice amd feel thin.

Know it's a couple months old, but since people will find this thread when searching for case reviews, I'd like to add that my daughter loves herVerus Crystal Bumper. It perfectly matches her Rose Gold SE and the shape makes it look a lot like an iPhone 6/6s with the rounded edges. Well made case. Hint for this case: if you are using a Zagg Invisashield, absolutely get the case friendly option.

thanks for the great list of cases. My final choice is iphone se case by UVIYO, it is slim perfectly fits my phone https://uviyo.com/collections/iphone-se-cases-and-iphone-s5-5-cases

I got the RhinoShield bumper for my iPhone SE and found it no longer will charge or sync in the Apple iPhone dock. It prevents the phone from sliding far enough down into the lightning connector. : ( I guess I will just use the dock for my iPad Mini then.

I used the Belkin Grip line when I had my 5s, loved it.

Incipio Atlas for me. Minimal bulk waterproof with a scratchproof tempered glass screen. Need that sort of protection at the beach! Sent from the iMore App

I just ordered the Apple Leather in midnight blue for my new SE that's on its way
Thank you for signing up to iMore. You will receive a verification email shortly.
There was a problem. Please refresh the page and try again.