7 Best PopSockets for iPhone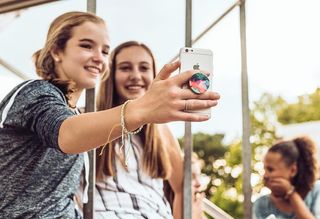 (Image credit: PopSockets)
Having a PopSocket on the back of your iPhone can be a super handy tool for watching videos, snapping pictures, or just getting a grip on your phone in general.
There are hundreds of different PopSocket designs, patterns, and colors available out there, but which style is the best for you?!
Here are 7 of the best PopSockets for the back of your iPhone!
Succulent Floral PopSocket
Add a little pop of floral to the back of your iPhone with this blooming, succulent-loving PopSocket!This design is the perfect spring and summer staple and can easily be adjusted on the back of your iPhone for the perfect grip.The Succulent Floral PopSocket will cost you $10.
If you've been on social media in the last 6 months or so, you've totally seen an opal accent on bags, nails, IG posts, etc: so why not add one to your iPhone?!This opal PopSocket is super popular and eye-catching, making it a great accessory if you like to stand out from the crowd.You can pick up this particular PopSocket for $10.
Cue the Darth Vader theme and put your love of Star Wars on display with this Death Star PopSocket!This PopSocket is perfect for your Star Wars lovin' self, or for any friend or family member who is obsessed with a galaxy far, far away…You can grab the Death Star PopSocket for $15.
Iridescent Snake PopSocket
Shiny, slick, stylish, and sleek: four perfect words to describe the Iridescent Snake PopSocket!This embossed snakeskin design is made from a tough, vegan leather, while its shimmery style is bound to turn heads as you chat on your iPhone.This particular PopSocket will cost you $15.
Love the look of a more natural, rustic material to contrast that sharp metallic modern moment of your iPhone? Then this Zebrawood PopSocket might be perfect for you.This wooden accessory gives you that beautiful accent of wood while still matching effortlessly with every iPhone color.The Zebrawood PopSocket will cost you $15.
Sure, you've heard of of the man on the moon, but what about the moon on the iPhone?This moon inspired PopSocket seems kind of like a no-brainer when you look at the shape of the moon and the shape of a Popsocket (spoiler alert: they're both round).You can pick up your very own Moon PopSocket for $10.
If you're someone who loves to add a li'l spice to your life, or maybe you know someone who's obsessed with slathering hot sauce on everything, then the Sriracha Popsocket might be a great option to consider.This bright red Popsocket is totally eye catching, and while it may not work with colors like gold or rose gold, it certainly works well with the RED iPhones.You can grab your own Sriracha Popsocket for $15.
How do you PopSocket?
Why you can trust iMore Our expert reviewers spend hours testing and comparing products and services so you can choose the best for you. Find out more about how we test.
Is there a particular pattern or design that you're obsessed with? Or maybe you prefer something like a Stylering over a PopSocket?
Let us know what your top picks and preferences are in the comments down below and we'll be sure to check 'em out!
Get the best of iMore in your inbox, every day!
Cella writes for iMore on social and photography. She's a true crime enthusiast, bestselling horror author, lipstick collector, buzzkill, and Sicilian. Follow her on Twitter and Instagram: @hellorousseau