Best Rugged Cases for iPhone 7 Plus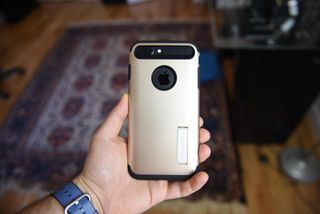 Your new iPhone 7 Plus is a BIG phone and you're going to want to take it everywhere with you, since those dual cameras are just begging to be used. You're gonna need a case that can go everywhere you go. A heavy duty case is your best option for keeping your iPhone 7 Plus protected and in one piece!
Here are a few of the best heavy duty cases you can buy for iPhone 7 Plus!
Spigen Tough Armor
Why you can trust iMore Our expert reviewers spend hours testing and comparing products and services so you can choose the best for you. Find out more about how we test.
Spigen makes great heavy duty cases that aren't big on bulk. If you're making the transition from a minimalist case to a heavy duty case, this is a great place to start.
Tough Armor is a two-piece affair, with a harder TPU body that fits around the whole phone and a hard, snap-on polycarbonate back that stabilizes the whole shebang. Speaking of stabilizing, there's a handy kickstand on the back of the polycarbonate shell that flips in and out for easy use.
If style is a dealbreaker for you, Tough Armor comes in gunmetal, black, jet black (which looks SO cool), champagne gold, rose gold, and satin silver (very sexy).
See at Amazon (opens in new tab)
Supcase Unicorn Bettle Pro
Supcase is in the heavy duty case master class and the Unicorn Beetle Pro is a great example of its work. As with many heavy duty cases, this one comprises a softer, flexible TPU body and a hard polycarbonate shell, which gives you excellent shock absorption and defence against scratches and dings.
You get a built-in screen protector with this one and it comes with a handy belt clip, just in case it feels a bit too bulky in your pocket. The Lightning port is covered so that you're not getting any dirt and dust in there (even though the iPhone 7 Plus has an IP67 rating, the Lightning port is still a hole and can still collect dirt), and the buttons are covered, but you still get a tactile response.
You have black, blue, green, pink, and white to choose from, and for around $20 each, you might as well grab a couple.
See at Amazon (opens in new tab)
Zizo Bolt Cover
The Zizo Bolt Cover is a military drop-tested heavy duty case that will more than stand up to whatever your day has to throw at it. This is a dual-layer case, again with TPU inside and hard polycarbonate outside, but the two are riveted together for top-notch stability and a solid feeling in your hand.
The back has a neat swirl design, which helps you hold onto your iPhone 7 Plus a bit better, and the cutouts are precise, especially for the dual camera lenses. One of the best features of the Bolt Cover is it's sturdy kickstand that folds away when you don't need it. You also get a tempered glass screen protector, which is ideal if you don't want to see a single scratch on your screen.
The Bolt Cover comes in nine colors, so finding one to match your style won't be a problem.
See at Amazon (opens in new tab)
i-Blason ArmorBox
The i-Blason Armor Box is similar to the Unicorn Beetle Pro, but it has a little more padding in the corners, which some folks may prefer. It also comes with a handy belt clip and the dual-layer design means great drop, shock, and scratch protection to keep your new iPhone 7 Plus in pristine condition.
The necessary cutouts are accurate and the built-in screen protector is handy and sensitive, so you won't be struggling every time you tap.
Many heavy duty cases take like to take life a bit too seriously, but your color options for the ArmorBox are bright and fun (aside from black); they are: black, blue, green, pink, and white.
See at Amazon (opens in new tab)
Caseology Titan
Caseology cases are wonderful. They're the perfect blend of style and functionality. They're like the Jason Statham of phone cases. The Titan is a great entry in it line-up. It may look somewhat similar to Spigen's Tough Armor, but it's a little sexier and having the back logo-free is a really nice touch.
You have your flexible TPU body and hard polycarbonate shell to protect your iPhone 7 Plus from the elements, though it'll slip nicely into your pocket and won't feel overly bulky or oppressive.
The necessary ports are open, but the buttons are covered, but in such a way that you can feel every press (rather satisfyingly so). The jet black, blue, and matte black options are a little demure, but fashionably so, like a well-made suit. If you need a little pizzazz, Caseology's version of rose gold (more of a bright pink) is sassy and eye-catching.
See at Amazon (opens in new tab)
UAG Plasma
Urban Armor Gear is just that – solid protection for your iPhone 7 Plus from whatever daily life has to offer. This is another case where the TPU inner body and the hard polycarbonate outer shell are one, adding a sturdiness to your iPhone 7 Plus that really feels like peace of mind.
With only three color options (ice, ash, and black) UAG Plasma is for more pragmatic folks who just want their iPhones in good hands and crack-, scratch-, and destruction-free.
The button coverings are exceptional and the tactile feedback is as though there's no case at all. The raised lip around the front protects your screen, should you lay your iPhone face-down, and the same goes for 'round the back, where your camera lenses are safe from scratches.
See at Amazon (opens in new tab)
How heavy is your duty?
Do you have a go-to heavy duty case brand? What's protecting your iPhone 7 Plus? Sound off in the comments below!
Get the best of iMore in your inbox, every day!
Mick is a staff writer who's as frugal as they come, so he always does extensive research (much to the exhaustion of his wife) before making a purchase. If it's not worth the price, Mick ain't buying.
I am looking for a phone holder that I can clip to my pants but I want to take the phone out of the belt clip holder to use the phone. I do not need heavy duty protection of the phone itself, just a reliable way to attach the phone to me so I don't set it down and forget it. Any thoughts on the best belt clip arrangements?

Search Trianium Duranium Series. Seems to have positive reviews on Amazon. Less than $17 currently.

Maybe a belt pouch is what your after. I use a Apple leather case on the 6S and it goes into the belt pouch which clips onto the belt or the belt can go thru it. Like you said, The iPhone stays with me, no laying it down somewhere to forget it, and I've got total freedom of movement. You should be able to find a belt on the net somewhere thats fits the 6S perfectly even with case.