Best Ultra-thin Cases for iPhone 7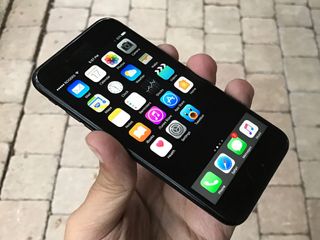 (Image credit: iMore)
Yes, you love that new jet black, or black, or rose gold iPhone 7, but if you want to keep it looking like new, you'll need a case! You could get something bulky and protective, but keeping things minimalistic and sleek can really show off the modern contours of your new toy.
Ultra-thin cases are great options if you're looking for something to add a little extra security without feeling like you're carrying around two iPhone 7s stacked on top of each other.
Here are some of the best ultra-thin cases to check out if you just picked up your new iPhone 7!
The Scarf
Why you can trust iMore Our expert reviewers spend hours testing and comparing products and services so you can choose the best for you. Find out more about how we test.
If you're looking for an iPhone 7 case that's almost invisible, fits like a glove, and comes in a range of fun, customizable colors, then take a peek at The Scarf from totallee.
While The Scarf isn't the most protective case by any means, it will protect your iPhone from regular wear and tear like scratches or small falls. A brushed finish allows for a little bit of extra grip, while its translucent design really allows the minimalist beauty of your iPhone to shine through.
You can pick up The Scarf in six different colors, including frosted white, jet white, matte black, jet black, grey, navy blue, burgundy red (hint hint Product(RED) iPhone owners), and deep green.
Oh! And the case only costs around $18!
See at Amazon (opens in new tab)
Ringke Extreme Lightweight Cover
Thin, super lightweight, and designed to withstand falls and drops, the Ringke Extreme Lightweight Cover is a great minimalist case for your iPhone 7.
The Ringke cover is designed with a raised bezel to protect the screen of your iPhone 7 if you lay it down flat, while the entire case is certified Military-grade drop-tested despite its slim design. The cover is also incredibly thin, adding just 1.3mm to the overall bulk of your iPhone.
While the Ringke comes in a classic, clear style, it also comes in a few variations of the transparent design, too, including a tinted rose gold crystal color for your rose gold iPhone 7, and a smoke black tint for your black or jet black iPhones 7 for around $10.
See at Amazon (opens in new tab)
Peel Super Thin iPhone 7 Case
With the Peel on your iPhone 7, your new gadget may feel naked and exposed, but it's actually being protected from dirt, scratches, and more with the help of this super-ultra-mega-thin case!
The Peel is a minimalistic case with a modern design that's meant to fit your iPhone 7 like a second skin. At just 0.35mm, the case secures firmly to your iPhone with an additional little bezel around your camera to prevent scratching your lens.
While the Peel is not the most protective case by any means, it does have its somewhat protective factors (and it should for a $22 price-tag!)
The Peel comes in four different colors that are designed to match your new iPhone 7 perfectly, including rose gold, gold, silver, and black.
See at Amazon (opens in new tab)
RANVOO Ultra Thin Protective Clear Case
If you're looking for a durable, reliable, ultra-thin case that gives you a little added fall protection thanks to its resilient bumper, then take a peek at the RANVOO Ultra Thin Protective Clear Case.
This particular super thin case is totally transparent except for its hold bumper which you can buy to match the color of your iPhone 7 (it comes in black, gold, red, silver, and rose gold).
The RANVOO Ultra Thin Protective Clear Case fits like a glove to your iPhone and won't stretch out after multiple uses — plus you'll never have to take your iPhone in and out of the case to adjust your music or charge your device because the RANVOO Ultra Thin Protective Clear Case gives you access to all ports and buttons.
The entire case is made from a flexible TPU material which adds little to no bulk to your iPhone, but if there are any issues with the case, you get a 30-day money back guarantee and a one year warranty. You can pick up the RANVOO Ultra Thin Protective Clear Case for around $10.
See at Amazon (opens in new tab)
GOOSPERY i-Jelly Case
With just 1.8mm of additional thickness, the GOOSPERY i-Jelly Case is a bright, vibrant (yet still clean and modern-looking) case for your new iPhone.
Designed with a flexible material for better shock absorption, the i-Jelly is made with a coat of sheen for discoloration protection. The sheen coating also helps keep your iPhone 7 from sliding off certain surfaces if it's in the case.
The GOOSPERY design has a raised bezel around your iPhone's screen, along with a bezel around the camera, so you don't have to worry about scratching your lens while carrying your iPhone in your pocket.
The case comes in a ton of different colors, including black, blue, gold, gray, green, hot pink, red, rose gold, and silver. You can pick up the GOOSPERY i-Jelly Case for around $9.
See at Amazon (opens in new tab)
What's your go-to?
Is there an ultra-thin, minimalist iPhone 7 case you can't help but love? Let us know so we can try it out for ourselves!
Updated August 2017: Removed the i-BlasonClear Halo Series from our list and added RANVOO.
Cella writes for iMore on social and photography. She's a true crime enthusiast, bestselling horror author, lipstick collector, buzzkill, and Sicilian. Follow her on Twitter and Instagram: @hellorousseau
My go-to iPhone case is the Speck Candyshell. I like the way it feels and the protection is excellent. It's not an ultra-thin, but is far from bulky. If I chose from this list, the clear Ringke Extreme would be my pick.
Thank you for signing up to iMore. You will receive a verification email shortly.
There was a problem. Please refresh the page and try again.