Best wallet cases for iPhone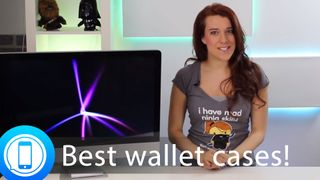 Wallet cases are an incredibly convenient accessory for your iPhone. They let you keep all your credit cards, cash and ID cards all in one place, safely tucked away beside your phone. There are several different kinds of iPhone wallet case to choose from, however. There are wallet cases with elastic straps and without. Made from leather and made from nylon. Small and large. But which one is the very best?
Pad & Quill Little Pocket Book for iPhone
You can always trust iMore. Our team of Apple experts have years of experience testing all kinds of tech and gadgets, so you can be sure our recommendations and criticisms are accurate and helpful. Find out more about how we test.
The Pad & Quill Little Pocket Book is a beautifully crafted wallet case for the iPhone 5 and iPhone 5s. The luxurious top-grain leather on the outside, a hand-finished wooden cradle and room for your credit and ID cards, and cash, on the inside, and an elastic strap to keep it all closed.
If you want the ultimate in old-world luxury for your new world tech, get the Little Pocket Book.
$64.99 - Buy Now

(opens in new tab)
Twelve South BookBook wallet case for iPhone
Twelve South's BookBook wallet case for iPhone 5s and iPhone 5 looks, for all intents and purposes, like a gorgeous old leather-bound book. Like something out of a pulp-fiction library or fantasy role-playing game, magic bound within. And indeed there is! Open the BookBook up and your iPhone — and cards and cash — are safe and secure inside!
If look and feel is the most important thing to you, the BookBook is the wallet case to get!
$59.99 - Buy now

(opens in new tab)
DODOcase leather wallet for iPhone
The DODOcase leather wallet for iPhone is everything you love about the DODOcases for iPad made pocket-sized. Made in San Francisco, the DODOCase leather wallet for iPhone combines fine, old world leather sewn onto sturdy book backing with three "slash" pockets and one window pocket to hold your credit and ID cards, and a tray to hold your iPhone.
If you want a wallet case that's as sleek and solid, go for the DODOcase!
Ayano Shadow wallet case for iPhone
Bling my Thing's Ayano Kimura Shadow wallet case for iPhone 5s and and iPhone 5 is for those who want something closer to a wallet than a case. Not only does it fit your iPhone snugly, it has a full-sized pocket for your paper money so you don't have to fold or otherwise mangle your bills just to carry them around. And... there's a change purse and even a key holder!
If you want something that's more wallet than it is case, go for the Ayano Shadow!
$40.73 - Buy now

(opens in new tab)
Vaja Lucy Clutch Case for iPhone
The Lucy Clutch is totally decadent. Totally. But that's how Vaja does things,right? And the Lucy Clutch for iPhone is the opposite of an exception. A combination iPhone case, wallet, and carry bag, it's hand crafted like all of Vaja's creations, soft, protective, easy to use, and offers space beyond what it's small size would suggest. I
If you want the ultimate in premium cases and you're willing to pay for it, go Vaja!
Your favorite wallet case for iPhone?
Whether it's one of the ones I picked or one you think I missed let me know — do you have or are you considering a wallet case for your iPhone and, if so, which one?
Get the best of iMore in your inbox, every day!
Senior Editor at iMore and a practicing therapist specializing in stress and anxiety. She speaks everywhere from conferences to corporations, co-host of Vector and Isometric podcasts, follow her on Twitter @Georgia_Dow and check out her series at anxiety-videos.com.
I like the Speck Smartflex for iphone 5

Wouldn't go back now I have got my BulletTrain SafeWallet :) http://www.bullettrain.com/SAFEWallet.html Sent from the iMore App

I waited 8 months for this case(bullettrain SAFEwallet) . It was not worth the wait. Speck smart flex case was far superior and much cheaper. I hated it so much, I only used it for about two hours.

My favorite is the Wally case which originally started on Kickstarter: http://www.distilunion.com/collections/mobile/products/wally-case_iphone... Also available as a "stick-on" if you do not want to use a case or want to bring your own favorite case:
http://www.distilunion.com/collections/mobile/products/wally_iphone-wallet

how long have you been using the Wally case? how much can you put in it?

About a year now (I have the stick on and use it on my own case). I regularly use 2 credit cards and an ID in there, theoretically 4 cards would also fit (but may expand the slot so that any less cards then would fall out)

I have to disagree on the Dodo case. I bought one and decided to return it. I have been using the Twelve South for over a year now, and its been great. I bought the Dodo, cause it looked a little sleeker and because of its review on here. For one, they glue the iPhone holder in. Twelve South has it under its leather, so there is no way it can come off. On the Dodo Case, I saw separation from the glueing immediately. Also, you can not put more than an ID and two credit cards with out seeing the material separate. The glue is horrible. They need to stitch things more, like Twelve South does. I hate to say this, cause I love you guys, but this isn't a good review of these products. I actually bought the Dodo case because of your first review and I was extremely disappointed after I received it. In fact, I didn't even use it for a day. Just trying to transfer from my Twelve South to the Dodo was enough to tell me that it was not going to hold up. I have not used the pad & quill yet, but I might order it to give it a try. My only worry is if you drop it, will the wood/bamboo? split. I had an original Dodo case for my iPad, and one drop and it was ruined.

Speaking of nude, keep the nude feel of the iPhone and go Card Ninja, baby!

Finally you all removed some of the comments that were not needed or appropriate!

How many other wallet cases did you review before coming up with this "best of" list? Sent from the iMore App

I have the bookbook case. I love it. I carry it around playing pranks on people "excuse me do you have a minute to talk about Jesus Christ our Sacior?" Sent from the iMore App

Nice cases, found some cheap cases on Casezz store.

I love the Sena Antorini. Quality leather great customer service, a tad pricey, but I think for the quality it is pretty awesome and lasts a long time. I had been using the Sena case since the 5 came out, and now I use the Antorini for the 6 plus. http://www.senacases.com/product/antorini-iphone-6-plus/