Best Wallet Cases for iPhone 7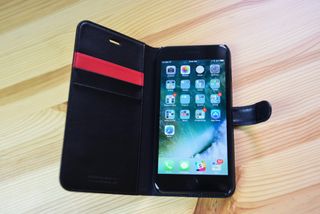 Your new iPhone 7 could certainly use a case, but maybe you don't care to go the rubber or rugged route. If you like to carry your phone in your pocket but feel like it's just one more thing, then consider blending your wallet and your phone into one functional package!
Here are our favorite wallet cases for iPhone 7!
Vena vCommute
Why you can trust iMore Our expert reviewers spend hours testing and comparing products and services so you can choose the best for you. Find out more about how we test.
As far as really cool cases go, this Vena's vCommute takes the cake. It's a pretty heavy duty case that protects your iPhone 7 with flexible TPU and a hard polycarbonte shell, but where it gets really awesome is in its wallet design.
Rather than having a flip cover with some pockets inside, this case has a sort of turtle shell on its back with a fragmented magnetic cover that can comfortable hold about three cards and maybe a couple bills. Looking at it, you'd think that it'd be hard to get your cards back out, but Vena thought of that and there's a little incline so you just slide them up and out.
If you want an excellent, protective wallet case with a great wallet design, check out Vena's vCommute. Comes in space gray, rose gold, or gold.
See at Amazon (opens in new tab)
Spigen Wallet S
The iPhone 7 is getting a lot of Spigen love and that's lucky for everybody because Spigen makes great cases. The Wallet S is a testament to that. Made of PU leather, this case is durable and lets you carry three cards with you and a bit of cash.
The inner shell that holds your iPhone in place is made of hard polycarbonate, protecting your device from bumps and dings, and the flip cover that secures with a magnetic latch protects the screen from scratches and pits.
If you like to watch videos hands-free, the cover folds back into a handy stand so you can YouTube it up, even whilst munching on hot wings (hooray Auto Play!).
Comes in black or brown.
See at Amazon (opens in new tab)
Dreem Fibonacci
Some folks don't like wallet cases, since they can get in the way when you just want to text or play a game. But there's still the matter of carrying your wallet around with you as well. So what if you can have your cake and eat it too?
Enter the Dreem Fibonacci. Coming in eight stunningly gorgeous colors, this wallet case is actually a 2-in1! A TPU bumper with a faux leather back fits onto your iPhone 7, just like any slim case, and then the wallet folio snaps on via magnet. So when you're hitting the town, just attach the folio onto your case and away you go. If you're in for the night and don't need your wallet with you, just take the wallet part off. BRILLIANT.
Unlike other wallet cases, you can comfortably fit 3 to 6 cards and 5 to 10 bills in the Fibonacci. At about $35, this might be a bit pricey for some folks, but if you want the best of having a slim case and a wallet case, this is the perfect solution.
Better yet, you can use the folio as a kickstand and the case is ready for any magnetic mounting system.
See at Amazon (opens in new tab)
Abacus24-7
We've talked about Abacus24-7 wallet cases on iMore before because they're sturdy, synthetic leather cases that just plain work well.
The protective cover holds up to three cards and a bit of cash will fit in the larger cash slot, and you can fold the cover back for hands-free gaming or viewing. The synthetic leather is flexible and durable, as well as fashionable, available in black, blue, purple, and rose gold (more of a taupe).
If you're worried about identity theft, Abacus24-7 thought of that and added and RFID-blocking layer to the front cover of the case so that you credit cards are safe and your identity is even safer.
See at Amazon (opens in new tab)
TUCCH
TUCCH's wallet case is typical wallet case fare, but it's made well and fits your iPhone 7 to a tee.
The magnetic closure is secure but flick of the thumb will still get it open. The front cover, which holds up to three cards and a bit of cash, folds back into a stand, and your phone is held in place by a TPU shell, which is excellent for shock absorption.
You have your choice of classic-looking black, brown, or red.
See at Amazon (opens in new tab)
Shieldon
Shieldon's genuine leather case is a folio-style case that makes for easy access to your iPhone 7's screen – just flip it open.
Like most wallet cases, this one has room for three cards and a bit of cash, but it isn't just your run-of-the-mill wallet case. A closer look shows excellent craftsmanship and attention to detail.
The polycarbonate inner shell holds onto your iPhone, and the durable leather outside protects it from the elements, while a soft, breathable interior protects your phone from scratches.
Shieldon's case look great and add a sense of sleek style and sophistication to your iPhone 7 that's just as great for a night on the town as it is for a Monday morning meeting.
You have your choice of black or brown and you can even go with one that has the magnetic closure (I think it looks better without).
See at Amazon (opens in new tab)
Silk Vault
The Silk Vault ain't your grandma's wallet case (probably because cell phones weren't invented then, but whatever). It's a TPU bumper that's a little thicker than most minimalist cases, so your iPhone 7 is in very protective hands and the textured sides are grippier than most cases, so it shouldn't slip out of your paws.
On the back is a raised slot that can hold up to three cards comfortably and the flat surface is wide enough, so your phone won't wobble when you set it down on its back.
In the box, you get a screen protector that isn't tempered glass, but it'll do in a pinch if you want to protect your screen from scratches and pits.
You have your choice of black onyx, gunmetal gray, and purple orchid (my favorite – it looks like Barney!)
Spigen Slim Armor
Spigen's tough cookie of a case has a little secret in its backside – a secret stash for two cards or some cash.
Slim Armor is a two-layer case with a TPU bumper and a hard polycarbonate shell, so you get all the shock absorption and force dispersion on the inside and protection from pokes and dings and scratches on the outside. The front also has a raised lip, just in case you lay your iPhone 7 face-down, but the real fun is on the back.
Within the polycarbonate shell is a slidable door that opens to reveal a little compartment in which you can comfortably store up to two cards or a little bit of cash. In the interest of staying slim, you can't pack a whole wallet in there, but if you're headed out for a night on the town, pop in your ID and a credit or debit card, and you're off.
If you happen to make your way to an establishment serving libations, you'll be glad to know that Slim Armor is military drop-tested to 48 inches, so a stumble and a tumble shouldn't mangle your mobile.
You have your choice of gunmetal, black, or rose gold.
See at Amazon (opens in new tab)
What's your wallet on?
Are you using a sweet wallet case for your iPhone 7 that we didn't mention? Sound off in the comments below!
Update November, 2017: Added the Vena vCommute and Dreem Fibonacci.
Get the best of iMore in your inbox, every day!
Mick is a staff writer who's as frugal as they come, so he always does extensive research (much to the exhaustion of his wife) before making a purchase. If it's not worth the price, Mick ain't buying.
Wow! Just after the Pad & Quill contest thread, you publish this and exclude them. Didn't see that coming--and I bet they didn't either. Have they called yet for an explanation?!

I went with the Spigen. Excited to get my iPhone so it can get used. It's patiently waiting.

imao, sena makes the best wallet cases a iphone, a bit steep 80 bucks but it's easily imo the best one, the ones listed here are quite cheap.

I just got the Sena Lugano Wallet for $48 for 7 plus. My last one lasted 2 years on the iPhone 6 plus. They do last!

I see that many don't protect top and/or bottom of the phone. While that's probably fine since the wallet part is taller than the phone, I still like prefer all four sides to be covered. Also, I think the interior should be TPU frankly. Polycarbonate is plastic hard shell isn't it? Otterbox Strada is another good, if pricier, option. My wife likes Maxboost Wallet case.

I like the TUCCH. tried these type of wallets ages ago, but i just have too many cards... Ended up going back to a normal wallet that i 'never loose' and for for me,, the only practical thing to do :)

Ordered the Shieldon via Amazon UK today...just what I'm looking for & has great reviews. Thanks iMore for the heads up!!!

I am getting my Speck Presidio Card tomorrow:
https://www.imore.com/e?link=https2F2Fi2F852... Looks like the Silk is a ripoff of Speck's design. I had a similar case for my iPhone 5 from Speck that was great.