Best waterproof cases for iPhone 6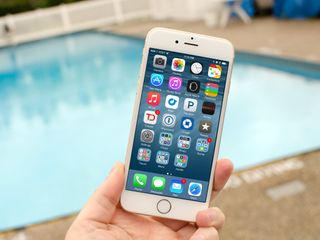 With the summer almost upon us, many of us will be toting our iPhones to the pool or the beach. Aside from keeping sand, water, dust, and other harmful materials out of your iPhone 6 in everyday situations, a good waterproof case also lets you take your iPhone places you normally wouldn't be able to. Whether you're catching waves or flying down the slopes, these are currently the waterproof cases we recommend considering before any others!
When purchasing a waterproof case for your iPhone 6, it's important to understand waterproof ratings and what they mean. You'll normally see an IP rating followed by a two digit number on any case that boasts waterproof capabilities. Deciphering these two numbers is important. You can check out an IP rating chart to learn more about waterproof ratings and to help you decide what rating level is adequate for your needs.
Aquatik by Lunatik
Why you can trust iMore Our expert reviewers spend hours testing and comparing products and services so you can choose the best for you. Find out more about how we test.
Slim, yet powerful protection
Waterproof and bulky case options don't have to go hand in hand. The Aquatik comes in a few different brightly-colored options and is about as slim as waterproof cases come. With an IP-68 rating, the Aquatik case can be submerged to at least one meter for up to a half an hour. It also features Gorilla Glass to protect your display from impacts and optically clear lens covers so your photos above and below water stay crystal clear. The Aquatik also supports Touch ID.
Lifeproof Fre
Full-body protection at a reasonable price
Lifeproof's Fre case has an IP-68 waterproof rating as well, but actually boasts protection beyond that: According to Lifeproof, the Fre can be submerged for up to an hour in two meters of water. With full-body protection, support for Touch ID, and a two-meter drop rating, the Fre is a great full-protection option — even if you're on a budget. That said, the built-in screen guard is not Gorilla Glass like the Aquatik, which may be something to keep in mind if that's important to you.
Lifeproof Nuud
For those that loathe screen protectors
Lifeproof's Nuud case offers a lot of the same features as the Fre, but without the built-in screen protection. Instead, it uses a seal around the screen's edges to prevent water, dirt, and dust from getting to the important parts of your iPhone, though it comes at the cost of being slightly thicker than the Fre in order to accommodate the waterproof seal. The Nuud also carries an IP-68 waterproof rating. If you want a waterproof case, but shudder at the thought of covering up your beautiful glass screen, the Nuud is for you.
Catalyst Waterproof Case
Deeper depths on a shallow budget
Catalyst may not be as well-known as Lifeproof or Lunatik, but that hasn't stopped the company from making a serious waterproof solution for iPhone 6. The Catalyst is rated for up to 16 feet underwater (five meters), and sports drop protection up to two meters. The Catalyst waterproof case comes in five different color combinations to choose from; you can also order mix and match replacement parts and add-on accessories for the whole series — something most other case manufacturers don't offer.
Your pick?
If you already picked up a waterproof case for your iPhone 6, which one did you decide to go with? And if you're debating, which cases are you trying to decide between and why? Let us know in the comments.
Get the best of iMore in in your inbox, every day!
iMore senior editor from 2011 to 2015.
The Aquatik isn't even available yet according to their website. Is this true?

Looks true. Just checked it out. Says "pre-order"... How can it be the best if it's not out yet??

The word i got from Aquatik was that it's out but they're having a hard time meeting demand. They send out pre-orders as they have them available.

It was supposed to be released in Jan 2015, but they ran into "production problems." I'm just hoping they release it and the more rugged Taktik Extreme 360 before the next iPhone is announced.

I was hoping to see some 6 Plus waterproof cases in this too but I know there are not that many out. Its really disappointing since we're nearly 8 months into the product cycle. I haven't gone near Lifeproof since their disaster Fre series began with the iPhone 5. There was a huge gap between the screen and the screen protector that caused the touch screen to be unresponsive, the plastic was cheap and flimsy, and the sound was the worst ever. Not to mention my Lifeproof Fre on my iPhone 5 and my wife's on her iPhone 4s failed in the pool on the same day. We saved her phone but mine died.

Working on that right now in its own article :)

I'm currently using the Catalyst case. There is minimal bulk, the screen protector is more flush to the screen compared to the fre series which tends to have a gap similar to an Otter Box Defender. (Imagine That) I also think the Nuud series is pretty solid as well but is quite larger than the Catalyst. I along with a few others had some real issues with the Dog & Bone cases so be careful when considering those as an option. Great article!!! Sent from the iMore App

I'm waiting delivery of a generic case sold by Ariza Imperial on Amazon. It's reasonably priced and gets 4.5 star rating, so I'm hoping it will be satisfactory for accidental splashes and drops when I'm at the beach. It kind of reminds me of the brick Otterbox Armor, which I loved using for my iPhone 5. (Disclosure: I have no affiliation with the companies mentioned in this comment)

I had the Fre and sold it inside 2 weeks. The real let down is the screen protector. It's made of a flexible plastic and while I had every confidence it would do its job it completely ruins the iPhone experience. It diffuses and dulls the appearance of the display and there are always little bubbles (I think they are called Newton Rings) that you can never completely get rid of. I know there will be trade offs when waterproofing a phone but for me the trade off with this case was too high. Sent from the iMore App

Should have gotten the Life Proof Nuud. Sent from the iMore App

The Merit waterproof case looks to have pretty good reviews. I think I'll give it a try. http://www.amazon.com/gp/product/B00TD3QJE6/ref=as_li_tl?ie=UTF8&camp=17...

Don't buy "waterproof" cases from OVERBOARD!
I bought one for my iPhone and took it to Mexico with me for the first time and I took it to water-park with me. I used it in a snorkeling place and I wanted to take a picture. I tapped the screen and I realised the screen was black and couldn't feel any air inside the case. I got out of the water and was shocked to see my iPhone was off and case was filled up half way with water. I was devastated as I had all my pictures from the water park on my phone, all the contacts as well and I lost it all. I ended up without a phone in Mexico when I really need it. I looked at the case and I can see there is no hole, but what happened was, left top side of the case, when both parts are welded together split slightly creating a hole and that's how water got inside. I contacted customer service and sent my case back and was told that this was accidental damage and the company didn't do anything about it. I explained that I kept the case safe, didn't scratch it against anything so there was no reason for his "accidental damage" to happen. I lost my iPhone and everything I had on it. It was bad quality product and that's all, and then they don't want to take any responsibility if something goes wrong - don't buy from them!!!

I can't speak for the other readers above, but I've had Dog & Bone cases on a couple of phones now and find the protection is awesome! Definitely worth a shot!

Nice message! I also think that it is important to have a waterproof protective case and NOT bulky. At this moment i have ghostek iphone 6 waterproof case atomic 2.0 http://casetastic.com/product/ghostek-atomic-2-0-iphone-6-waterproof-case/

I got a waterproof case for my iPhone 6 from https://uviyo.com/. This case is really the great one balance between protection and slimness. I am very satisfied with my decision

Keep your phone dry with this $6 waterproof case
http://www.amazon.com/Universal-Waterproof-Case-Motorola-diagonal/dp/B01...
Thank you for signing up to iMore. You will receive a verification email shortly.
There was a problem. Please refresh the page and try again.