Best waterproof cases for iPhone 6s Plus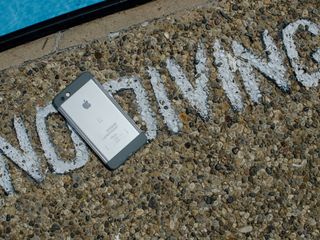 iPhone 7 Plus may be officially water resistant but iPhone 6s Plus is not. Sure, it's got some gaskets and seals that might save it from accidental splashes or dips, but if you take your iPhone 6s Plus into the water, you can't expect to return with it in working order. Unless, of course, you have one of these waterproof cases! Slap one on, dive in, and let iPhone 7 Plus be jealous of you for a change!
Mophie Juice Pack H2PRO
Why you can trust iMore Our expert reviewers spend hours testing and comparing products and services so you can choose the best for you. Find out more about how we test.
Keep your iPhone 6 Plus full waterproof and protected (while still staying charged and ready to use) with the Mophie Juice Pack H2PRO case!
The H2PRO has been Military drop tested, which means that your case will be protected against treacherous falls, vibrations, dust, and foreign objects. Not only is the case durable, but it can survive in 1.2 meter deep water for up to 30 minutes and provide 70% more battery life with it's mighty 2,950mAh power source.
Even though the case is waterproof, you still get full access to all buttons and ports, and despite being a battery case, the Juice Pack is quite slim – around as slim as a deck of playing cards.
Seido OBEX Waterproof case
Protect and shelter your iPhone 6 Plus with the expertly designed Seido OBEX Waterproof case. Not only will it prevent your phone from getting damaged, but it also comes in black, gray, white, and a bright yellow/gray combination!
The Seido is a rugged, durable case that is designed to withstand drops of up to 6 feet and is made from a combination of a tough polycarbonate outside, and a flexible silicone material to absorb the shock of impact.
This case is made with an anti-reflection with waterproof membranes to protect the iPhone while underwater, while rubber stoppers prevent dust and liquids from flooding into your 6 Plus' ports, nooks, and crannies.
See at Amazon (opens in new tab)
Lifeproof FRÈ
The Lifeproof FRÈ waterproof case for the iPhone 6s Plus comes with a plastic screen protector that, along with the case material, forms a protective seal around your iPhone 6s Plus to keep out dust, dirt, snow, ice, and water.
It has an IP68 rating, which means that at the minimum, it will keep water out to a depth of 6.5 feet for 30 minutes and is virtually impervious to dust and dirt – how awesome is that. The FRÈ also protects your iPhone against drops of up to 6.5 feet, so it offers great all-around protection for your expensive mini-computer that can also make calls.
Although this case completely surrounds your device, which is to be expected from something that is waterproof, it doesn't interfere with your iPhone's functionality at all. The touchscreen is still accessible and Touch ID works just as well. While the ports are covered, you can easily access them by opening their flaps!
If you're looking for a waterproof case that will also protect your iPhone 6s Plus from drops and won't impair its functionality, the Lifeproof FRÈ is the one for you.
See at Amazon (opens in new tab)
Pelican Marine Waterproof case
The Pelican Marine Waterproof case for the iPhone 6s Plus seals your phone inside a protective layer of elastomer that's surrounded by a tough, polycarbonate shell.
Rated at IP68, this case will keep water out up to a depth of 6.5 feet for immersions lasting up to 30 minutes. In other words, if your phone takes a dunk in the swimming pool or the surf at the beach, you don't have to cast about in a panic for that bag of rice.
Oh, and it also protects your iPhone against damage from drops!
Pelican offers a two-year warranty on this case, so if anything goes wrong, you can get a replacement with no questions asked. That's plenty of peace of mind.
If you're looking for a waterproof case that protects against drops and comes with an extended warranty, the Pelican Marine Waterproof case is your top choice.
See at Amazon (opens in new tab)
Catalyst case
Keep your iPhone 6s Plus dry and secure up to five meters with the durable, Military drop tested Catalyst waterproof case!
Put together with a high quality, non-slip rubber exterior, sensitive screen protecting film, and a guaranteed waterproof design, the Catalyst is a reliable accessory that allows users full access to all buttons, ports, cameras, and touch IDs, so you'll never have to worry about sending your iPhone 6s Plus to a watery grave.
While some waterproof cases can mess with photo quality, the Catalyst case allows your iPhone 6s Plus' camera lens to capture clear images, blocking dirt, snow, or water from ruining your perfect snapshot.
The Catalyst comes with a rainbow-like film that covers the screen, and it also comes in four different color combos, including all black/gray, plain white, white with a pop of green, and black with a pop of red.
See at Amazon (opens in new tab)
Lifeproof NÜÜD
If you want a waterproof case that offers good protection from drops as well, but you don't want anything between your fingers and your iPhone 6s Plus' touchscreen, then the Lifeproof NÜÜD is a good option for you.
It features the same ingress rating of IP68 as the Lifeproof FRÈ, but unlike the FRÈ, it does not cover your iPhone's touchscreen. This means that absolutely no water will penetrate up to a depth of 6.5 feet for 30 minutes of immersion. That's enough to survive a dunk in the toilet for sure. Don't laugh — it happens much, much more than you think...
Although this case is solid enough to also protect against drops of up to 6.5 feet, it has a slim design that doesn't add bulk to your already large iPhone, which may be important for you.
Since it does not cover your iPhone's screen, fit is especially important: its waterproofness depends on it forming a tight seal around the edges of the screen. While you can use a screen protector with the Lifeproof NÜÜD, it isn't recommended because it may interfere with this seal and Lifeproof's warranty will be null and void.
See at Amazon (opens in new tab)
Vansky Universal Waterproof case
The Vansky Universal Waterproof case is basically a fitted waterproof bag that you can slide your iPhone 6s Plus into and loop around your wrist with the attached lanyard when you're in the water.
Designed for phones with screens up to 6 inches in size, you can easily slide your iPhone 6s Plus into it, even if you have it in a relatively slim case.
It has an ingress rating of IPX8, which means that it can survive immersion in up to 100 feet of water. Basically, his is the kind of case you want if you're going to take your iPhone scuba diving. While you could use this case for everyday protection, it's not really meant for that.
It has a clear window on both sides so that you can access your iPhone's touchscreen and take pictures and if you want to capture pictures of cool-looking fish while reef-diving Down Under, you can easily do that with The Vanksy Universal case (although depending on how the case is positioned, your photos may not be the clearest).
If you're looking for a waterproof case that you can dive with, the Vansky Universal Waterproof case is the one you want to consider!
See at Amazon (opens in new tab)
What's your favorite waterproof option?!
We've given you our picks for awesome waterproof cases for the iPhone 6s Plus, but what about you?
If you know of any great waterproof cases that we didn't include, let us know about them in the comments below!
Get the best of iMore in your inbox, every day!
Cella writes for iMore on social and photography. She's a true crime enthusiast, bestselling horror author, lipstick collector, buzzkill, and Sicilian. Follow her on Twitter and Instagram: @hellorousseau
Can't believe you didn't do the Catalyst. It goes deeper than any other and is fantastic. I've tried them all and the Catalyst is the only one that actually kept water completely out for prolonged periods of time. It's the only one that keeps working even after taking the case on and off a bunch of times and it goes deeper than any of the others by more than double. I also picked up a floating strap for it so even if it falls off me while in the water or on the boat I can retrieve it.

I 2nd the Catalyst. I take it off and on all the time and never have a problem. I don't know about the others but I didn't have to retrain Touch ID and the sides around the screen have a low profile so you can still use gestures.

100% agree that the Catalyst is superior to both lifeproof offerings. It is smaller, has a wrist strap included and is more durable. It goes on and off easier and it looks much better. Hard to imagine it isn't at the top of this list. Sent from the iMore App

I'd like to know more about their warranty process. A hundred dollars or so could be a good insurance policy for a phone that would cost up to $950 to get a replacement.
How difficult is their warranty process if something does happen? In the mean time, I will stick with a bigger Pelican case to leave my phone in, if I need to be near water.

I use the LifeProof Nuud since I like to have unrestricted access to the screen. And, I only use it under conditions where it might be subjected to water. I do have some concern about the seal over time but since I do not subject the iPhone to severe conditions (underwater for long periods of time), it does the trick.

The problem with the nüüd is that you can use no gestures (swipe for control center), you could only use the stock plug and the same for headphones. Sent from the iMore App

None of this is true. Using the nuud and gestures work perfectly fine. I am also using an Amazon charger no problem, and the case comes with a headphone adapter for any third party headphones you have.

what about the Mophie JuicePack H2o?

Vansky is great for the boat.