Best waterproof cases for iPhone SE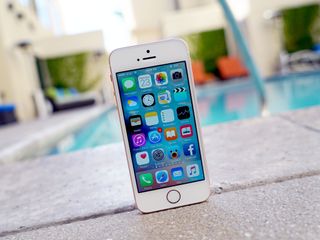 Your iPhone SE is one awesome phone, but it's not waterproof. With summer comes beach-based road trips, lazy days poolside, beaches and baths, and plenty of opportunities for your iPhone to accidentally find itself submerged. Or maybe you're looking to capture some of your watery adventures right in the middle of the waves? You need 'em, we've got 'em: the best waterproof cases for your iPhone SE.
Catalyst waterproof case
Why you can trust iMore Our expert reviewers spend hours testing and comparing products and services so you can choose the best for you. Find out more about how we test.
Hands down, the best reviewed waterproof case for the iPhone SE comes from Catalyst. It's been tested for up to 16.4 feet of submersion, as well as 6.6 foot drop impacts. The clear front and back of the case show off your chosen iPhone SE color, and it's built with a polycarbonate shell and integrated touch screen film. The hard coated optical camera lens protects yet allows for crystal clear photos and videos.
The air and watertight acoustic membranes allow for great music output. The Catalyst case comes with a durable, slim lanyard for your neck or wrist, and a great add-on accessory is the floating lanyard, which attaches easily to the case and keeps your phone bobbing just under the surface of the water while the flotation device stays in sight.
See at Amazon (opens in new tab)
LifeProof NÜÜD waterproof case
The great thing about the iPhone SE is that it's the same dimensions as the iPhone 5s, so the LifeProof case made for the 5s is a perfect fit. The screenless waterproof seal allows you to use your screen functions without interference, but the case ships with a plastic screen cover in case you want a little extra assurance.
The LifeProof NÜÜD is rated for up to 6.6 feet of submersion for up to two hours. It's thin, lightweight, and absolutely nice enough to use as your everyday case. It doubles as accidental drop protection, and you can use the headphone adapter to listen to music without having to remove the case to access the headphone jack.
See at Amazon (opens in new tab)
Submariner waterproof case by Kona
The Submariner case by Kona has easy open and close levers that keep everything out and your iPhone SE safely in. It stays effective for up to an impressive 100 feet of submersion, so snorkel and frolic to your heart's delight.
The case fits your iPhone SE and extra items, too, like a little cash, credit card, or key. Its touch- and talk-through design lets you answer the phone without rushing to remove your phone to take that important call. The five year replacement guarantee is some nice added security, too. Bonus feature: if you squeeze the bag lightly before locking the top, it will give the bag buoyancy so your phone will float rather than drag through the water.
See at Amazon (opens in new tab)
Goton waterproof case
If you love the look of LifeProof cases but you'd like to pay much less, the case from Goton will do the trick. It's been tested for up to two hours beneath 20 feet of water, and it also protects against drops of up to nine feet.
The Goton case allows you to use the multitouch screen, since the case seals around your phone screen completely. You'll have access to all the necessary buttons and functions, and the case comes with a headphone adapter that won't compromise waterproofing or require you to remove your phone from the case. It comes in four color varieties so you're bound to find one that's just the right look for you.
See at Amazon (opens in new tab)
YOSH universal waterproof dry bag
The universal waterproof bag from YOSH is incredibly popular and is consistently well-reviewed. Since it fits phones up to six inches, you'll have room for your iPhone SE as well as credit cards and a little more, or just your phone with a heavy duty case.
There are six different colors available, like the vibrant orange pictured here. YOSH offers a worry-free lifetime guarantee, so go ahead and put it through the paces. It's effective for up to two hours of shallow submersion, and the swivel lock secures your phone inside. It comes with a tough lanyard that won't come apart from the case while you're active.
See at Amazon (opens in new tab)
Ace Teah waterproof bag
Road tripping or flying to a beach destination with friends? The waterproof bags from Ace Teah can be purchased in twos (or more) so you can be the hero who treats everyone to iPhone waterproofing for the week.
The bag will leave you with enough room to fit a hotel room key, credit card, or ID with your phone as long as you remove any bulkier casing. The easy locking system secures your phone but grants quick access when you need it. It's available in several color combinations so no one will get their phone mixed up with yours. The non-toxic PVC material is touch sensitive even in the water, and will remain waterproof in up to 50 feet of water. The cases also include lanyards, which are removable.
See at Amazon (opens in new tab)
Take the plunge
Did your favorite waterproof case for your iPhone SE make our list? Tell us why you love it, or if you've come across another great case, tell us all about it in the comments below!
Get the best of iMore in in your inbox, every day!
I was excited to see this headline show up in my morning Feedly read....iMore typically has good things to say and as a recent 5S purchaser who is about to head out on vacation, a waterproof case might be a good thing. But I've dug into your first two choices and I have to assess a minor infraction on both. Case 1, you claim "Hands down, the best reviewed waterproof case for the iPhone SE comes from Catalyst"...yet the link to Amazon has exactly 1 review, albeit 5 stars, 1 review seems a bit slight to warrant that kind of accolade from iMore. Perhaps you are aware of another reviewing site/method? Seemed a bit weird to me. Case 2, the Lifeproof Nuud is not available for the 5S (according to the Lifeproof site) & your link to Amazon is for the 5C Nuud version...again not a big deal, but just a little hinky. Because of these two fouls, I'm moving on to something else shiny. Come on iMore, you're better than this! Just thought you'd love to hear my opinion....

I have owned the Catalyst case for the iPhone 6s for 6 months. Coming from the Lifeproof cases, the Catalyst case is better IMHO. Clean lines and I've dropped and submerged it so many times. The fit and finish are top notch. I would imagine much hasn't changed for the SE.

That's because these articles, while somewhat informative, are meant more for search engine clicks and affiliate links more than anything else.

Unless something has changed the membrane that's over the fingerprint reader/home button is terrible. We could never get ours on our 5s to rad fingerprints properly. Sent from the iMore App

Edit: meant to say "recent 5SE" purchaser....

While one should NOT swim with iPhone 6s, one of its great benefits over iPhone SE is waterproofing for occasional "oops, I walked into the pool with phone in my pocket" or "taking photos in the pool" moments.

Thanks for giving the SE some love and attention. Sent from the iMore App

I find it humorous that many of these cases were on sale at clearance prices until the SE was announced and then all of a sudden what was old is new again... And more expensive. Sent from the iMore App
Thank you for signing up to iMore. You will receive a verification email shortly.
There was a problem. Please refresh the page and try again.